The NSW Department of Planning and Environment has released a new proposal for the "Ribbon" redevelopment of the IMAX Theatre at Sydney's Darling Harbour for community feedback.
The proposal, designed by Hassell for developer Grocon, modifies an earlier proposal for the site that received planning approval in 2014.
In addition to serving as a new home for the IMAX theatre currently on site, which is due to be demolished, the earlier proposal was primarily comprised of offices with some retail. The new proposal will instead house a hotel, serviced apartments and retail.
The modified scheme replaces the continuous diagrid glazed panels that wrapped the building with a combination of louvres and panels in a metallic finish. A void has also been carved into the eastern elevation, breaking up what was previously a continuous surface in the earlier design.
The new submission also proposes a "city screen" for the lower levels of the western façade, to be used for tenants of the building and for the public screening of special events, such as sporting finals.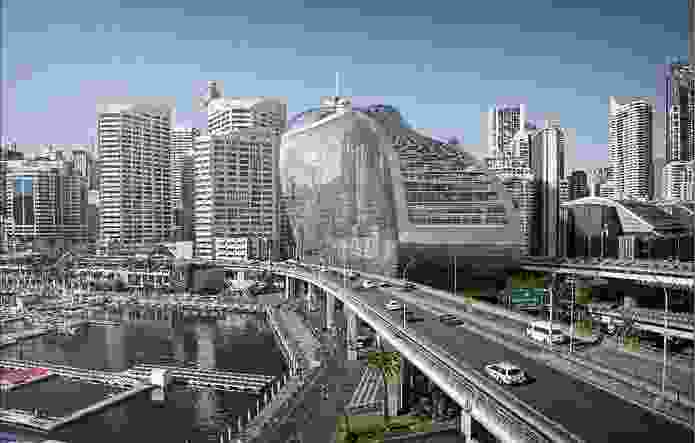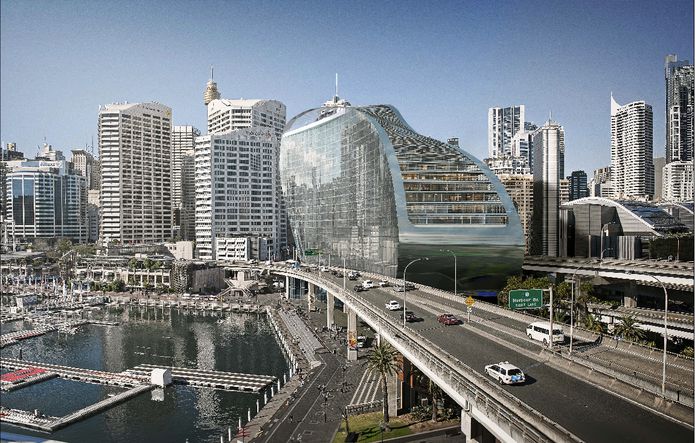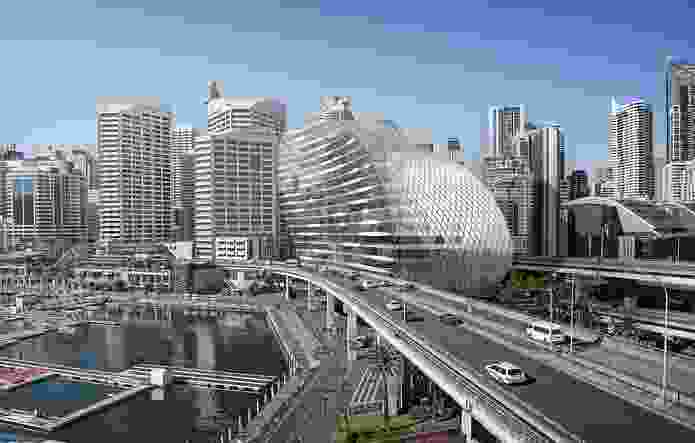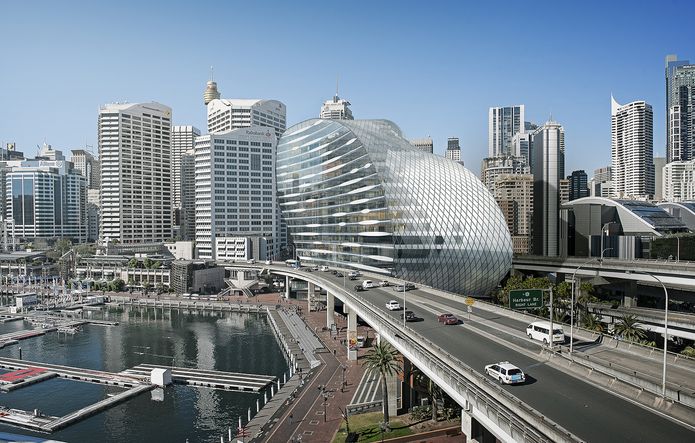 In May of 2015, the Australian Financial Review and The Australian reported that the original project's prospective tenant was big-four bank Westpac. While Grocon has said it is still pursuing office tenants, interest is also now being sought from global investors for a hotel option.
Grocon's Head of Development, Dan McLennan, said Grocon had purchased the IMAX site from its development partners on the original scheme, Markham Corporation, in early October of 2014 and is now considering all options for the re-development.
"Multiple uses are permissible on the IMAX site, with the exception of residential. With the completion of the ICC Sydney next year and the fact there is significantly increased market appetite for hotels, we have decided to explore this as an option."
As Grocon states, the hotel scheme has been designed within the existing approved planning envelope. The planning framework allows separate Development Applications to coexist on the site thereby providing Grocon with multiple options to redevelop.
Both office and hotel schemes provide for a new IMAX cinema.
To make a submission or view the Environmental Impact Statement for the new proposal, visit www.majorprojects.planning.nsw.gov.au.
Related topics