The inaugural New Urban Agenda Conference will be held at the Melbourne Conference and Exhibition Centre from 4 to 5 May and will look to provide opportunities for those working in planning, infrastructure and economic and social development to discuss ways of implementing the United Nations' New Urban Agenda (NUA).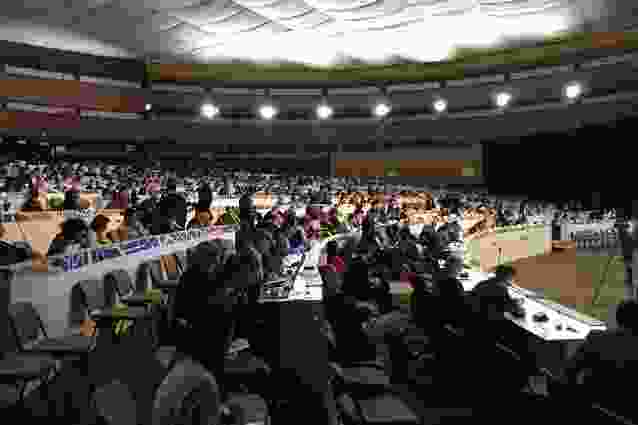 The NUA was agreed to by UN member states at the third United Nations Conference on Housing and Sustainable Urban Development – often referred to as Habitat III – held in October 2016 in the Ecuadorian capital city of Quito. Previous Habitat conferences took place in Istanbul in 1992 (Habitat II) and Vancouver in 1976 (Habitat I). The NUA sets a global standard for sustainable urban development. Key commitments set out in the agenda include the reduction of air pollution, action against climate change, support for green initiatives and an increased provision for green and public spaces.
Reporting for Landscape Australia in October 2016 from Habitat III, Lucinda Hartley wrote, "From gender-equity to youth-empowerment, participatory planning to inclusive public space, The New Urban Agenda sets a high benchmark for the type of urban development we should strive for and a global accountability framework for achieving it. Its catch-cry to 'leave no one behind' commits to reducing urban inequality. This is a challenge that we can take up and apply to every city and neighbourhood."
Writing for The Conversation in March 2017, a group of University of Sydney researchers argued that large cities have become "engines of inequality" that concentrate wealth in small, central nodes in the middle of a much poorer periphery under-served by planners and government.
"While Australian cities are considered some of the world's most liveable, the New Urban Agenda remains relevant," said Hartley. "Australia falls short in the area of national urban policy. Our cities are becoming increasingly divided, with inequitable access to space, jobs and services, and we are vulnerable to the impacts of climate change. Equally Australian urban professionals have knowledge and innovation that can assist other cities to improve on liveability, that we can share through peer-to-peer learning."
The Habitat III conference recognized the increasingly important role of cities. The United Nations World Urbanization Prospects, published in 2014, found that while 54 percent of the world's population lived in cities at the time, it was expected to increase to 66 percent. In 2008 the International Energy Agency estimated that cities were responsible for 70 percent of all greenhouse gas emissions.
The two-day conference will involve workshops, lectures and panel discussions with a range of local and international planners, architects and sustainability experts.
For more information on the conference, go here.
Related topics