A $40-million addition to Victoria's Parliament House designed by Peter Elliott Architecture and Urban Design and Taylor Cullity Lethlean (TCL) officially opened by the Governor of Victoria, Linda Dessau, on 8 August.
Parliament House was designed by Peter Kerr and built in stages from 1856. However, Kerr's grand vision for the building, which included a dome and additional wings, were never fully realized, leaving inadequate space to accommodate offices for members of parliament.
In the 1970s, a temporary, demountable structure was erected at the rear of the original building to house members. The structure, affectionately known as the "chook shed," was intended to stand for five years but remained in place for more than 40 years before a new building was constructed in its place.
The new free-standing building is constructed within the historic eastern gardens of the parliamentary precinct, believed to be designed by William Guilfoyle, and linked to Parliament House via a bridge, a tunnel and a laneway.
The building is shaped like a three-sided pincer around an open courtyard in the centre. Its bluestone-clad, one-storey outer portion is nestled in the existing garden, while the two-storey inner portion faces a new sunken and open courtyard. The building was also arranged to protect existing heritage trees on the site.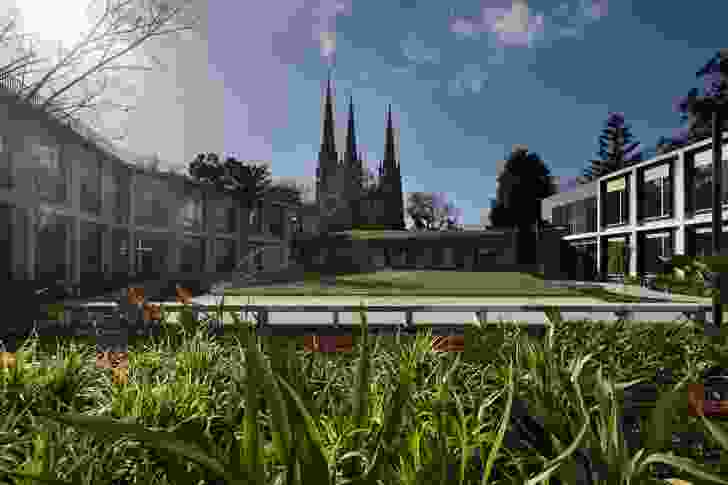 Peter Elliott Architecture and Urban Design established a view datum from the terrace of the dining area of Parliament House, which dictated the maximum height of the new building in order to protect views across the garden and toward St Patrick's Cathedral.
The building is then partially embedded into the ground, a design strategy that is strongly influenced by the neighbouring Cardinal Knox Centre, the offices and presbytery to St Patricks Cathedral, designed by architect Roy Simpson of Yuncken Freeman in 1971.
The new parliament annex building houses 102 identical offices for parliamentarians and their staff. Each has views to the new sunken courtyard or the existing gardens.
The sunken courtyard allows access to natural light from the offices. It comprises a sloping lawn and terrace that provides a social space for events, framed by 12,000 plants.
"The landscape design approach was to soften the edges of the new building and create a dynamic garden threshold between the new and the old," said TCL director Perry Lethlean.
The new structure is conceived as a building in a garden with its entire footprint covered by a rooftop garden. Designed with Paul Thompson, the roof garden is conceived as an Australian meadow comprising native shrubs, grasses and wildflowers and a sinuous, meandering path made of bluestone.
"When you're on the roof of the building, you really feel like you're in the treetops," said Peter Elliott. "It doesn't feel like you're walking on a building."