Developer Century Group Aus has unveiled a new design for redevelopment of Melbourne's former Convention Centre site by Fender Katsalidis.
The developer purchased the site in late 2016, after an Elenberg Fraser-designed 27- to 34-storey, three-tower proposal was approved by Victoria's planning minister Richard Wynne.
The former proposal for the site comprised 1,060 residential units, which has now been reduced to 500 apartments.
The new proposal, to be known as Flinders Bank, will contain three towers up to 33-storeys, with 167 hotel rooms and 2,100 square metres of retail spaces in a three-level podium connecting the towers.
The buildings will have a terraced form which is intended to reduce the impact of overshadowing on the Yarra river. To contribute a sense of vibrancy, the Spencer Street facade will include an active skin.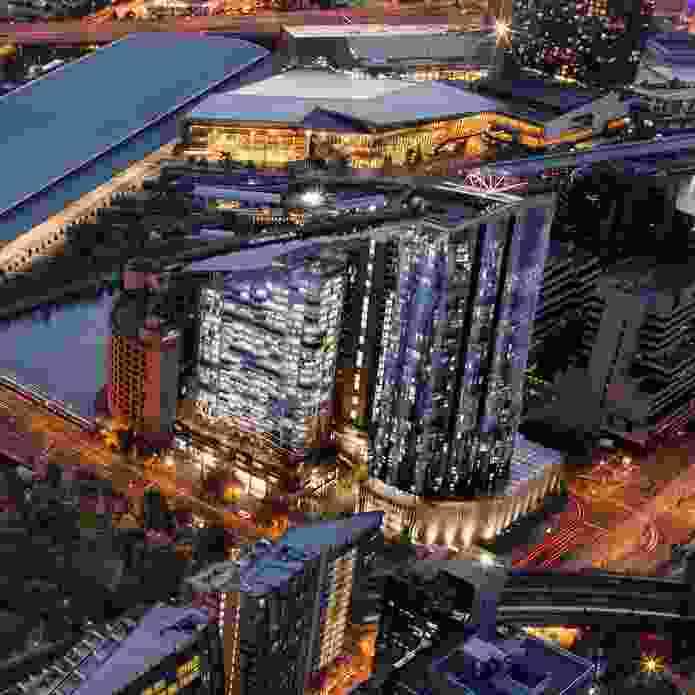 The development will be the third Fender Katsalidis project in the south-west CBD precinct, following the Melbourne Quarter residential tower trio opposite the site on Flinders Street and the redevelopment of a heritage cargo shed into a 17-storey residential and hotel tower west of the site along the Yarra river.
"That Fender Katsalidis is overseeing the broader area holistically, means Melbourne will benefit from a fully integrated approach that redefines this key part of the city and reimagines it as a vibrant area in which to work, live, play and stay," said Century Group Aus CEO Connie Wu.
Karl Fender, founding partner of Fender Katsalidis said, "Flinders Bank will contribute enormously to the betterment of this part of the city, where a new DNA is emerging and lots of new life is being created.
"This is the front door to the city and what is being created here is a whole new precinct that has people at its heart. Holistically, this strengthens the connectivity of Docklands to the CBD and increases the stature of our city."
The proposal will create a new laneway linking Flinders and Siddeley street as well as a public plaza on Siddeley Street.
The development will be constructed in three stages, which will commence in 2019 and is expected to be completed by mid 2021.
The former Convention Centre, which was designed by the Australian Institute of Architects' 1980 Gold Medallist John Andrews, has now been demolished.
Related topics