Plans for a new landmark science and technology research and teaching building at the University of Newcastle have been published as part of an NSW State Significant Development Application.
The project is designed by Lyons and EJE Architecture, with landscape architects Aspect Studios contributing to the project. Lyons and EJE were appointed to design the STEMM building in December 2018. The two practices also previously designed the university's NeW Space building in central Newcastle.
The project will being together the university's science, technology, engineering, mathematics and medicine departments into a single building. In a statement, the architects said the building would act "as a visible showcase of its activities to both internal users and external passers-by."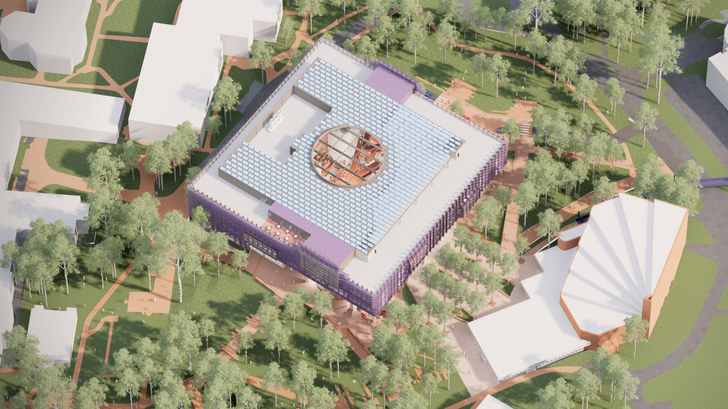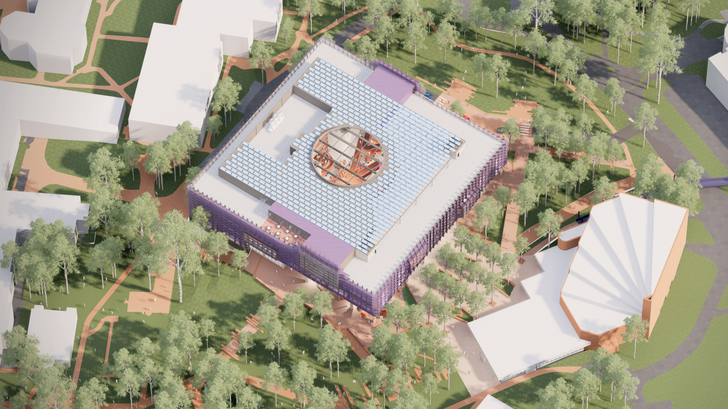 The wide, relatively low-rise square building will comprise three "super-large" floorplates that emphasize the equal representation of faculty and students, and consideration has been given to the internal program that distributes both sets of activities to avoid stratifying or siloing either.
A triple-height atrium in the middle of the building, with a floating "collider" platform will connect all three floors using staircases and walkways at its centre. The atrium will double as a light well, with the geometry of the space designed to reflect diffused natural light into various arts of the building.
The "collider," the architects said in a design statement, is "designed to bring people together in a highly dynamic way – using open and highly visible stairs connecting each major level of the facility."
The building will make use of a hybrid structural system, comprising both engineered timber in the workplace and teaching areas, and concrete for the research and teaching labs.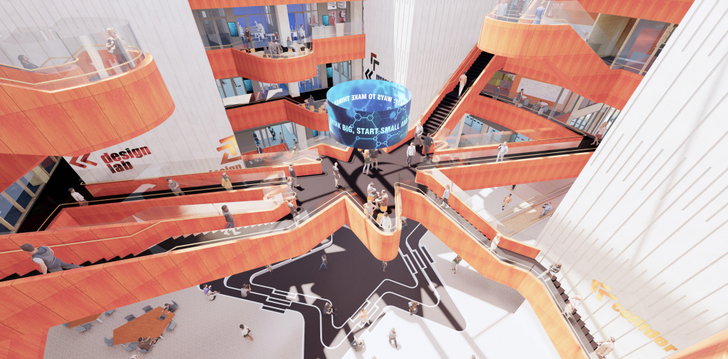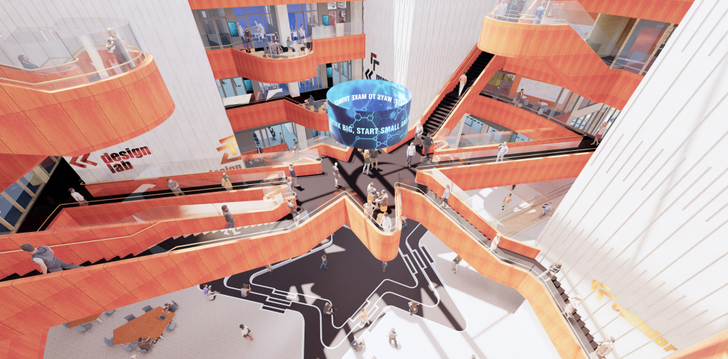 "The interlocking of these two functionally specific structures is not only practical, but further conceptually embodies a key principle of STEMM practice, where a unified whole is greater than the sum of its individual parts," wrote the architects in the design statement.
The building will be clad in an anodized aluminium facade in sage green and dusty purple - a colour scheme intended to reference the bark of surrounding spotted gum trees. The grid shape of the facade references the grilled concrete ceiling and soffit of the existing Great Hall building on the campus, which is adjacent to the proposed site. The Great Hall was designed by Ancher Mortlock Murray and Woolley and built in 1973. The project will also involve the creation of a new plaza between the STEMM building and the Great Hall.
The proposed STEMM building is due to open in 2023.
Related topics