Renzo Piano Building Workshop (RPBW) has submitted designs of a trio of towers at Sydney's Barangaroo South to the New South Wales government's Department of Planning and Environment for approval.
The Italian practice was appointed design the tower complex in March 2015, following an international competitive bid that attracted 25 submissions with six shortlisted concepts.
The cluster of three buildings, to be collectively known as One Sydney Harbour, will accommodate luxury apartments with small areas of retail on the ground floors.
The towers will be located south of the yet-to-be-designed Hickson Park, and south-east of the proposed Wilkinson Eyre-designed Crown casino tower.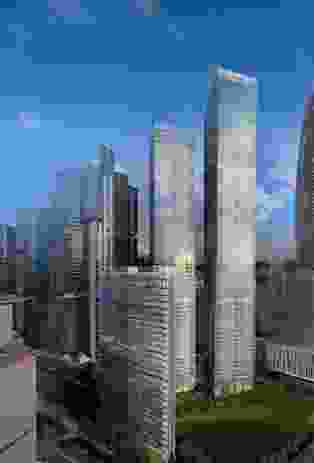 The three towers will stagger in height: R4A, will be 250 metres tall (71 storeys) with 360 apartments; R4B will be 210 metres tall (60 storeys) with 297 apartments; and R5 will be 106 metres tall (29 storeys) with 151 apartments.
According to RPBW's design statement, the towers' design is derived from Sydney Harbour's "constant kaleidoscopic motion of colour and sparkle," as captured in a 1992 photography by David Moore.
"For One Sydney Harbour, the objective is to design a [group of] buildings with a gentle presence in the cityscape and in dialogue with the harbour waters and the Barangaroo Waterfront," the design statement continues.
"The residential towers have been conceived as 'crystals,' elegantly skinned with highly transparent glass facades."
All three towers will be triangular in shape – a form that RPBW says is determined by the site's exposure to the south and east as well as view lines towards Sydney's landmarks. "This geometry also aims to enhance access to natural light and ventilation," said RPBW.
The tower will feature "crystalline facades, reflecting the sparkling harbour waters."
"Each tower will shimmer in the brilliant clear Australian sky while offering superior thermal comfort and control for its residents with the use of terraces and wintergardens in the apartments," the design statement continues.
The operable opening for the wintergardens at the upper levels and the open balconies at the lower levels will create a sense of movement and animation with the skin of the buildings.
"Looking up, the proposed six kinetic north-, west- and east-facing facades, across the three buildings, play with the light, alluring from every angle. The brightness of the sky will be captured, refracting the glittery Sydney light, right to the top of the buildings where the penthouse apartments and gardens merge into the sky," said RPBW.
The designs are on exhibition for public comment until 14 November 2016. To view the application, click here.
Related topics