New visions for WA beach revamp
The WA government unveiled new vision for the redevelopment of Perth's Scarborough Beach public realm along with an $18 million funding boost announced in the 2016–17 state budget.
The redevelopment will be designed by a consortium led by Taylor Cullity Lethlean along with UDLA and Arup.
The transformation of the beach front public domain includes the creation of new precincts including the centrepiece of the redevelopment, Scarborough Square, which will be surrounded by cafes, restaurants and shops. A sloping hill with views of the ocean, new promenades and nature-based activity spaces will for the new Sunset Hill.
Other public domain spaces also include an intergenerational plaza, which will feature multi-use spaces for sports activities such as a skate par, climbing wall and a half-basketball court, as well as a transit hub to connect Scarborough to the city.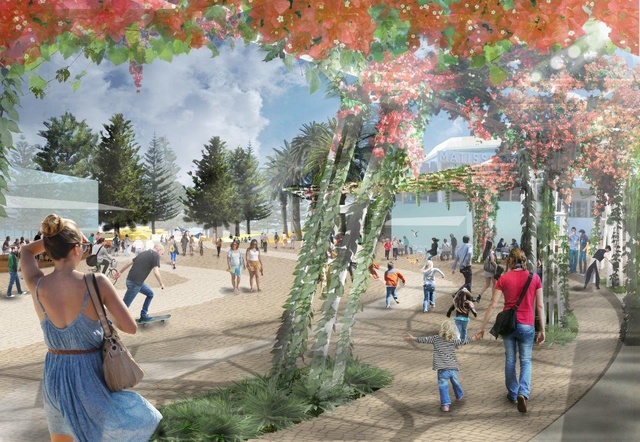 A new beach hub, designed by Hames Sharley, will include the new Scarboro Surf Life Saving Club (SSLSC), which is to be relocated, along with a mix of recreational and retail spaces.
WA's planning minister Donna Fargher said the government, in collaboration with the City of Stirling, would invest $75.4 million over the next three years to reshape the foreshore. 
"The government, through the Metropolitan Redevelopment Authority and in partnership with the City of Stirling, are working together to revitalize Scarborough Beach," said Fargher. "We will draw on its unique identity to create a vibrant hub of activity with facilities, events and activities and enhance its reputation as a great meeting place for families and people of all ages."
In January 2015, the WA government unveiled a draft masterplan for the redevelopment of Scarborough Beach prepared by Place Match, urban planners Chappell Lambert Everrett and Mackay Urban Design and landscape architects Taylor Cullity Lethlean and Place Laboratory.
The government expects a contract would be awarded soon to start forward works at Scarborough Beach, including excavation works ahead of construction of a waterfront swimming pool.
The redevelopment is open for public comment until 1 June.