A tower of "urban pixels" designed by Kengo Kuma and Associates and Crone has been submitted for planning approval.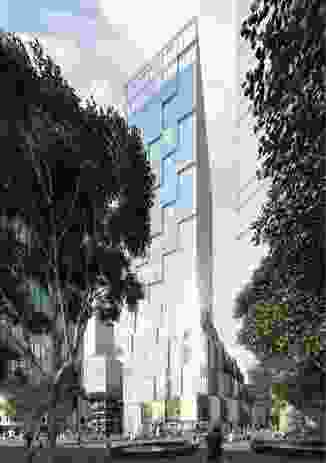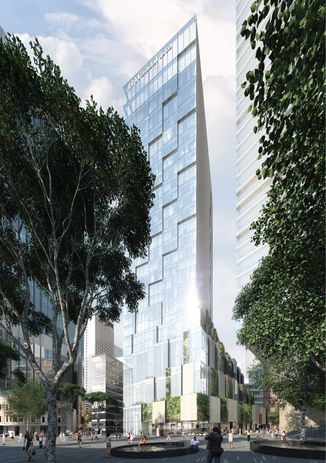 Kengo Kuma and Crone partners won a competition to design the 25-storey hotel tower for Chinese developer Dalian Wanda Group in September 2016.
The tower will be situated within the Alfred-Pitt-Dalley-George (APDG) precinct in Sydney's Circular Quay. It will replace the existing Gold Fields House designed by Peddle Thorp and Walker in 1966.
The 110-metre hotel tower (Tower B) will be situated adjacent to a proposed 185-metre apartment tower (Tower A) designed by Kerry Hill Architects. The pair of towers will form the western bookend of a strip of Circular Quay undergoing urban renewal, with the 3XN-designed AMP tower proposal at the eastern end.
The hotel tower's design "matches the geometric clarity [of Tower A] at the top and twists its way gently toward the ground," the design statement reads. The building volume has a "pixelated" form, which rotates gradually. The twisting design appears to be similar to the form of the 3XN-designed tower, which consists of stacked blocks rotating towards the sky.
The facades of the tower will be designed as a series "urban pixels" made of glass, sandstone and verdant green walls. Each pixel will be seven metres high (two storeys) and four metres wide. The pixels allow each elevation of the building to be expressed differently depending on the corresponding urban condition.
The northern and eastern facades will feature predominantly glass pixels to allow views towards Circular Quay and the Sydney Opera House. The southern and western pixels will be made of sandstone with vertical gardens towards the base of the building.
The vegetated panels will also continue onto the roof (the fifth facade) as well as the terraces created by the building's twisting form.
The building will accommodate a ballroom, pool, gym, spa, dining facilities and a rooftop bar in addition to hotel rooms.
The designs are on exhibition for public comment until 31 January 2017.
The hotel tower is Kengo Kuma and Associate first tower project in Australia and the second Sydney project following the proposed library, The Darling Exchange.
Related topics