Revised designs for a mixed-use, two-tower development at Perth's Elizabeth Quay, by New York-based practice Rex (design architect) and Hassell (executive architect), have been submitted to the Metropolitan Redevelopment Authority.
The proposed development will occupy lots 5 and 6 in the Elizabeth Quay development area. It will comprise a 56-storey tower containing retail, residential and hotel amenities, and a 21-storey tower contain retail and office spaces.
Originally dubbed "Perth+" for its distinctive cross-shaped insertion in the centre of the vertical volume of the taller tower, the revised design omits what was once the titular cantilevering section that was present in the In Principle Development Approval application. The three-level section was to contain publicly accessible amenities including restaurants, bars, a ballroom, a gym and meeting facilities. Instead, the entire upper volume of the taller tower, which will now contain apartments and a hotel, has been extruded to the east and cantilevers over the tower's lower portion. The proponents say it will "maximize the number of apartments and hotel rooms facing north and south."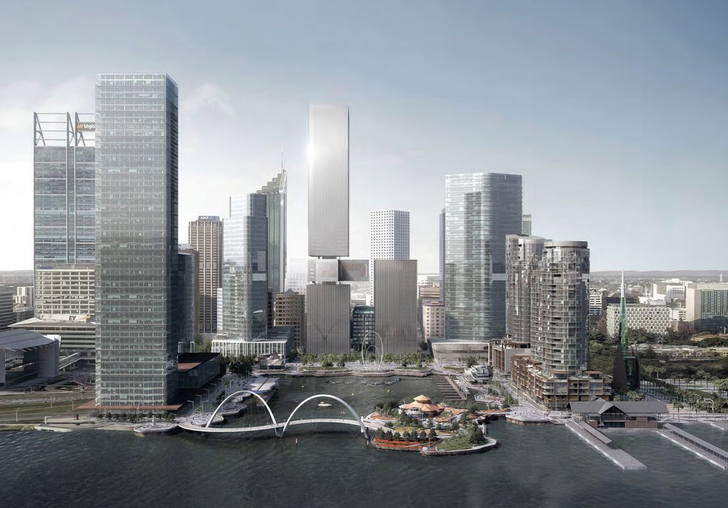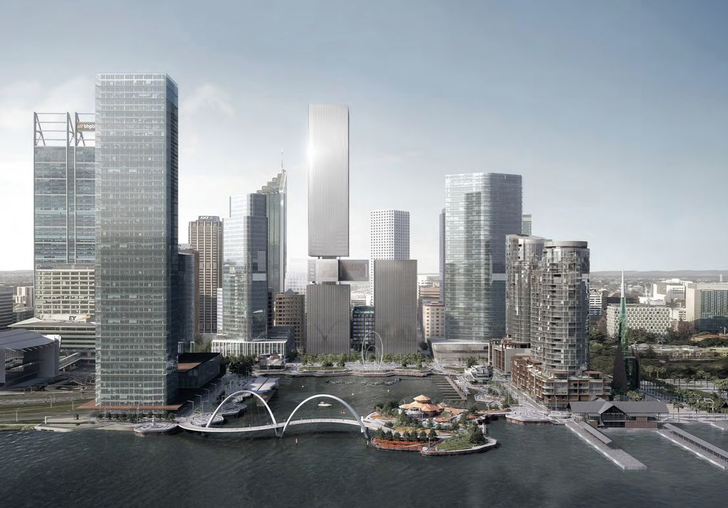 The removal of the "plus" and the rearrangement of the upper portion of the tower has created two large rooftop terraces for residents and hotel guests.
The revised design forgoes a podium to allow for more public space at the base of the towers, but includes a 22.3-metre-wide open-air, landscaped pedestrian space traversing the area between The Esplanade and Geoffrey Bolton Avenue.
The facades of both buildings will be made of a unitized aluminium curtain wall.
In a design statement, the architects said, "The tall tower stands as an icon in the city and on the Quay, an elegant, lean volume interrupted by the dynamic amenities zone, itself a beacon visible from afar as a symbol of the lively activity down on the Quay day and night.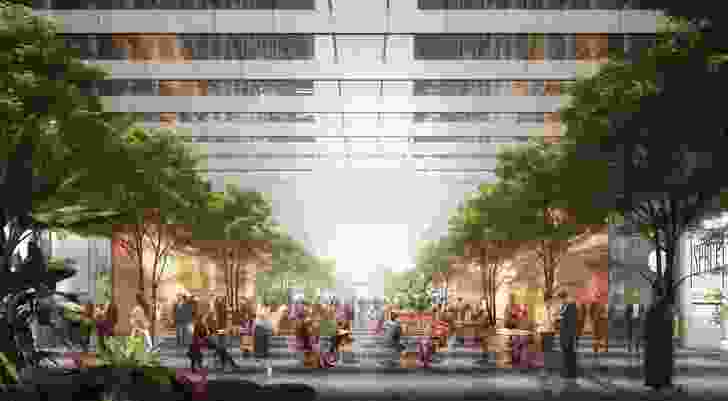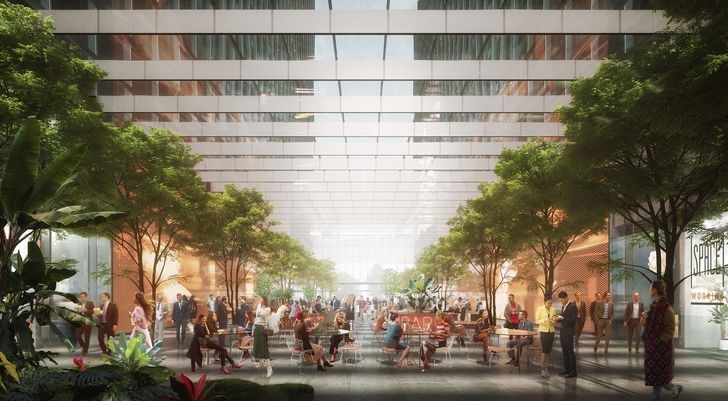 "The lack of clear differentiation between the three uses inside the towers conveys a unified simplicity and humility that is heightened by the internal, visible animation of the amenities zone while the massing and the long fins of the façade emphasize verticality."
Rex is headed by Joshua Prince-Ramus who was founding partner of OMA New York, which was rebranded as Rex in 2006. The practice's best known works include the Seattle Central Library.
The project is one of a number of privately developed sites within the Elizabeth Quay precinct, masterplanned by ARM Architecture, including a tower complex by Cottee Parker Architects, a 180-metre tower and high-rise art museum by Kerry Hill Architects and the proposed Australian headquarters for Chevron by Hassell, which began construction in January 2020.
Related topics