A recently completed house in the northern beaches of Sydney designed by Pritzker Prize laureate Glenn Murcutt has been listed for sale.
The Donaldson House, commissioned 10 years ago for a growing family with three children, was originally designed as a weekend retreat that later became the family's main residence. It was completed in September 2016.
Sited on a steeply sloping 715-square-metre block in Palm Beach, 45 kilometres north of Sydney's CBD, the house is surrounded by native bushland and has views of Pittwater to the west. The site contains a number of trees, some hundreds of years old.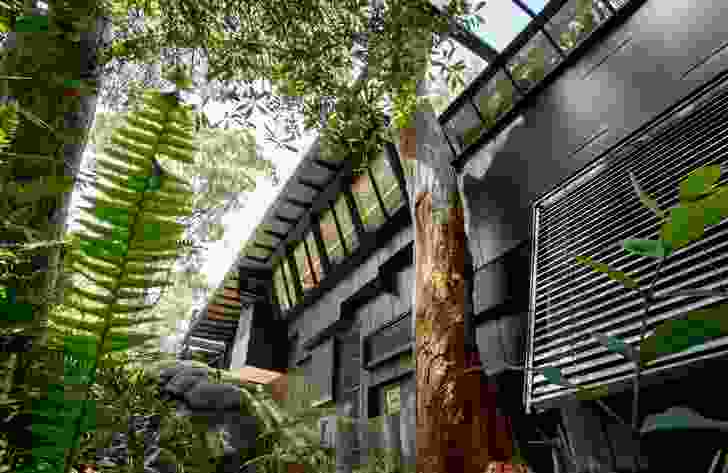 "It was of considerable importance that in designing this building, as many of these trees as possible should be retained," Murcutt said in the January 2017 edition of Casa Bella.
The house is sited below the sandstone shelf that separates the roadway from the land, making it almost invisible from the street with the roofline of the house flush with the rock.
"The site was too steep to have vehicular access to the building, so cars, storage, and a shower for washing off sand after beach activities was planned at the street level," Murcutt said. A suspended concrete staircase provides access to the house from the street.
"The house is planned on five levels that follow the topography [of the site], falling to the west," Murcutt said. The main bedroom is adjacent to the entrance and features a large glass wall that faces the sandstone shelf. "[The] overhanging rock shelf provides privacy from the street."
The upper levels also contain a foyer, kitchen, dining room, sitting room and a bathroom with three additional bedrooms, a bathroom and a laundry set on the lower levels of the house.
All the rooms of the house are oriented to the north to capitalize on solar access.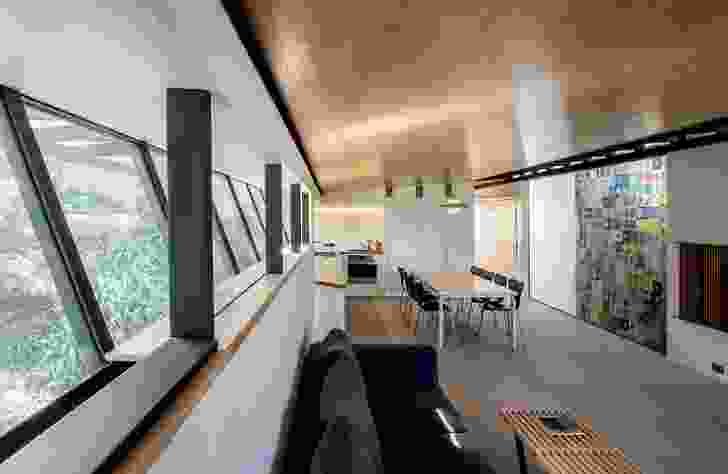 On the southern wall of those hangs a tapestry, Orion M.C. by Victor Vasarely, which originally hung in the public lobby of the Harry Seidler-designed Australia Square. The tapestry was sold in 2003 and was replaced by a mural by New York artist Sol LeWitt, which Harry Seidler commissioned.
An important part of Murcutt's brief for the Donaldson House was to find a place in the house where the tapestry could be viewed. The tapestry is positioned on the wall adjacent to the main internal staircase." The work of art is naturally lit by the white opal glass roof lights and is viewed through a glass wall from the dining room into the stair well," Murcutt said.
The house is located in a high risk fire zone and is made with robust materials such as reinforced concrete, steel stud framing and zinc cladding.
Donaldson House is being sold by Modern House, a specialist real estate agency for architect-designed residences. To view the listing, click here.
Related topics