Sydney's Green Square Library and Plaza, designed by Stewart Hollenstein in association with Stewart Architecture, has won the Architectural Review Library Award 2018. The project was judged against libraries, and other "buildings for books," from all over the world built since January 2013.
"This 'community pantechnicon' unites contemporary library uses with diverse community activities in a thoughtful, elegant and generous manner," said AR Library Award judge Demetri Porphyrios.
The design of the library and plaza is the result of a 2012 international design competition. Stewart Hollenstein's scheme was unanimously chosen by the jury, which included Australian Pritzker Prize laureate Glenn Murcutt.
"It was the only scheme to challenge the notion of placing a building in the plaza, managing to put forward a strong argument for placing the plaza over the Library, thereby providing both a building and a suitably scaled urban plaza for the future developments around the site, becoming a beacon and an oasis for the whole Green Square community," said the jury.
The project comprises a 3,000-square-metre underground single level library, with geometric elements that punch out into the 8,000-square-metre plaza.
A circular sunken garden occupies the heart of the library and includes a space for outdoor reading, a children's circle and a "story tree." A series of 49 circular skylights bring natural light into the underground library.
A triangular-shaped glass pavilion provides an entrance hall into the library. "The triangle is oriented in a way to firstly to act as a signifier – it's a tall element and it directs you down as the main entry into the space below," said Matthias Hollenstein, a director of Stewart Hollenstein. "It's also oriented to reduce the amount of shadow that it would cast back onto the plaza."
A separate six-storey tower with a square-shaped floor plate houses a double-height reading room, a computer lab, a black-box theatre, a music room and a bookable community space. This collection of spaces are stacked together to provide functional separation from the other library facilities.
Finally, a trapezium-shaped outdoor amphitheatre is also sunken into the plaza.
"The site has a really unusual geometry and there are a lot of roads that come at the site from different directions," Hollenstein explained. "For us it was about finding a geometry that was free from those and could form its own logic. That became the form of layout and it was really important to create a fluid space that was conducive to a community space and would allow different groups and spaces to mix together, rather than a formalist approach, which would create clear distinctions between different zones."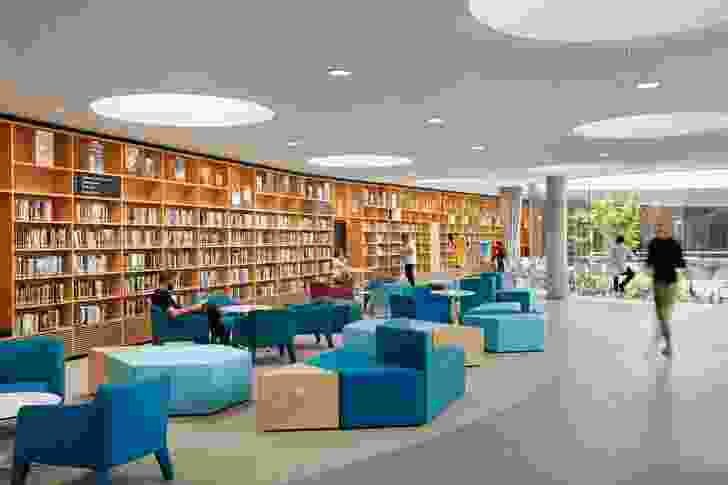 Stewart Hollenstein's approach to the project was to treat both the library and the plaza with equal importance.
"There'll be about 61,000 people who will live in the neighbourhood so for us it a question of not only how do we build a library here but how do we actually maximize the amount of public space for the community and what role does the library play within that?
"That's where we decided that actually the plaza was as potent a community facility as the library. Whereas in the [competition] brief, it was foregrounding the library."
The design is a evolution of the tradition library typology, from a receptacle for books to a place that could host a number of public uses.
"We were very aware then of what other kinds of spaces this library could draw on. [At the time of the competition] there was the Occupy Wall Street movement, there was talk about the value of public spaces and spaces for protest and spaces for gathering, not just for a space for someone to sit down and study for their HSC," said Hollenstein.
"It was really about creating a gathering space for all sorts of activities and using the library as a starting point to kind of pull in all these other potentials.
"We're really excited, having witnessed the way the public were responding to it on opening day, to see this library as a really relevant blueprint for community buildings in new precincts with these sorts of densities.
"It wasn't our aim to build a heroic image. Our aim was to create a backdrop for the community to build on."
Related topics