The $360 million Western Sydney Stadium, designed by Populous, is officially open, with the first big crowd filling its 30,000 seats over the Easter weekend.
Funded by the New South Wales Government and built by Lendlease, the stadium replaces Pirtek Stadium, which was designed by Cox Architecture and built in 1986.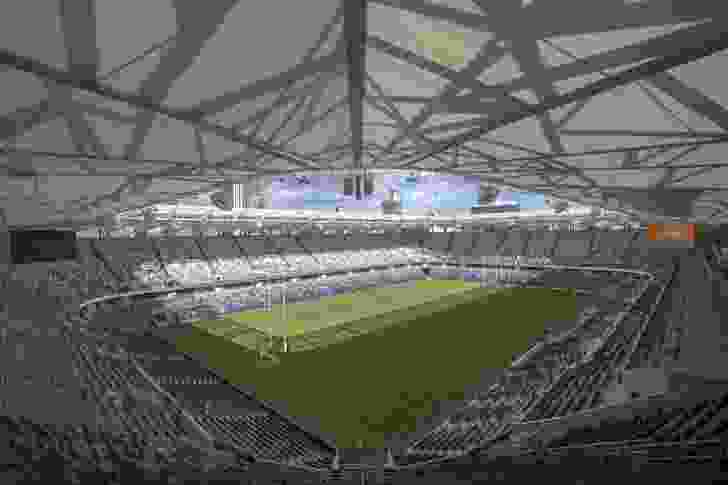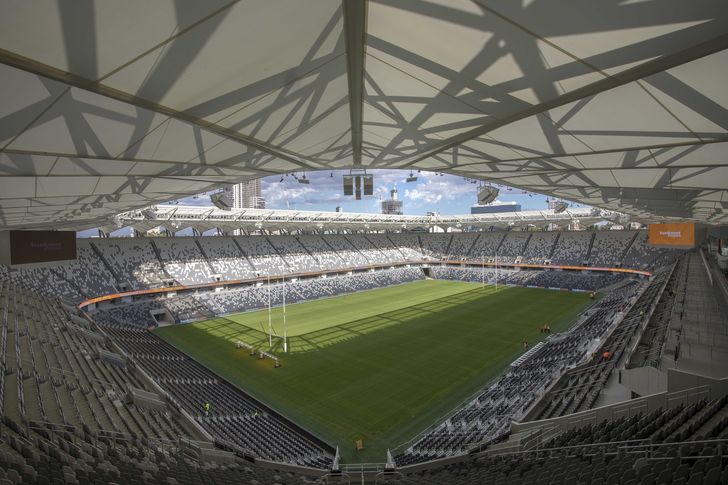 The stadium has been named Bankwest Stadium as part of a sponsorship deal.
Stadium design specialist Populous said the design references the history of the area.
"One of our key design inspirations was to incorporate aspects of the manufacturing and industrial heritage of Parramatta and the greater Western Sydney area," said Populous lead architect Al Baxter. "The use of exposed steel on the exterior of the stadium, on show in the concourse entries, as well as the precast concrete units which create the distinctive, horizontal patterned facade, are all an unapologetic nod to western Sydney's industrial roots."
Another key aim of the design was to maximize the "game day experience" for spectators.
"Our design for Bankwest Stadium was driven by a focus on making live sport extraordinary – the atmosphere, proximity to the pitch, great amenities and being there to support local teams in our national sporting codes," said Baxter.
"We wanted to create an experience that draws the Western Sydney community together, again and again."
The height of the stadium has been designed so as not to impact on views from the nearby Old Government House, and the training field has been lowered to provide views of the Old Kings Oval.
New South Wales premier Gladys Berejiklian officially opened the stadium on 14 April. It held its first sporting event on Easter Monday, 22 April, a clash between the Parramatta Eels and Wests Tigers rugby teams.
"Delivering Bankwest Stadium means Western Sydney will now be a focal point for international sport," said Berejiklian at the opening.
Related topics