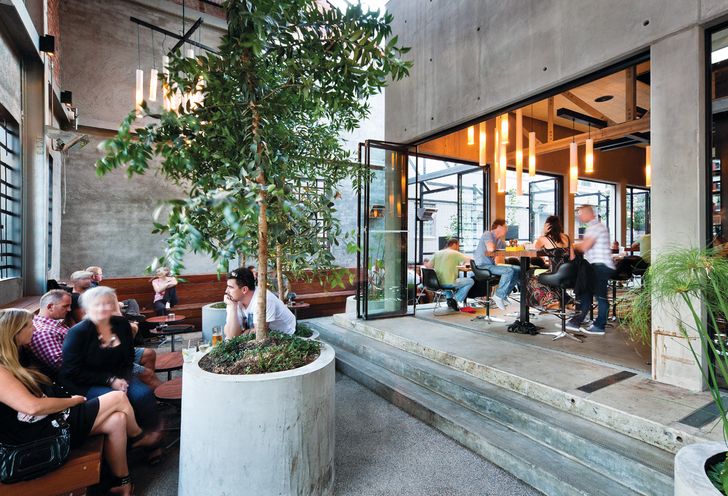 "The job tells you what it needs," says the design architect of the Newmarket Hotel in St Kilda. Not that Mark Healy needs to be told: the firm he co-directs is a veteran at hospitality design. The site for the new pub was long and skinny. "I like a venue where you can wander about a bit," says Healy, so the challenge was to create paths, to make it feel open, to belie its narrow site. The threshold to the street is the facade of the old Newmarket pub that the council wanted to keep. Rather than integrate the new building with the old pub, it sits behind, creating a transitional courtyard space, and turning the propped-up facade into a pretty ruin, an architectural curiosity. It would be wrong to assume that the architect lacked sympathy for history in the act of demolishing the rest of the old pub. On the contrary, Six Degrees, in its mastery of hospitality venues, has become a master of history, subtly layering past and present in working with existing spaces.
But the firm's vision of history is not narrowly focused on one hundred years ago. It encompasses, for example, an interest in 1970s fake timber Laminex. The tables in the front bar, just as you walk in, are finished with this man-made material. (They had some difficulty sourcing it.) During the demolition, a fragment of kitsch 1950s figurative wallpaper was found behind a wall panel in the old front bar. They carefully documented it and made an exact reproduction, and the new digital print runs the length of one wall. The central bar is lined with bricks – not bricks from the demolition, but bricks that refer to the broader St Kilda context. "No-one will get that," admits Healy, "but it's not about anyone getting it; it's just where stuff comes from. It's about St Kilda's history, those kind of nicotine-stained interiors."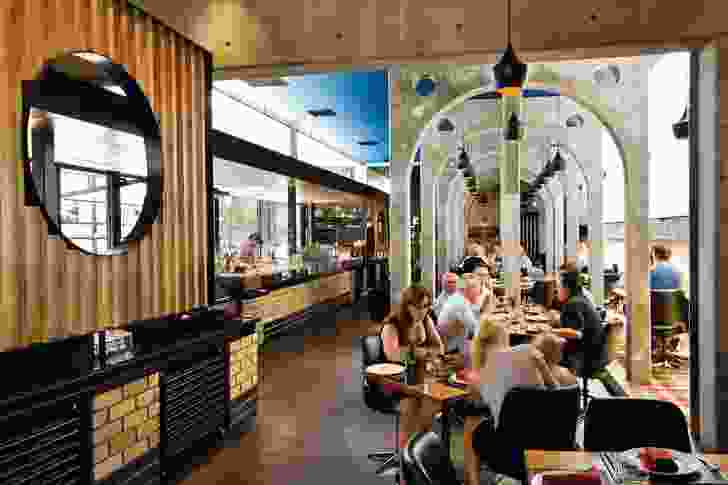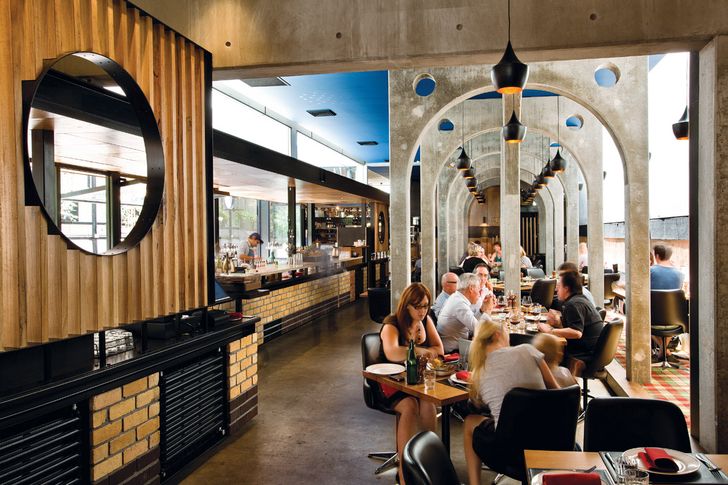 In order to create zones and a diversity of spaces within the linear building, different materials and spatial dividers are employed. Healy is keen to look after the psychological needs of the shy and the extroverted, of the large groups and the small. You can creep into the bar undetected, or there is a triumphal way; there are things to lean against, spaces in which to sit alone while you wait for your mates to arrive. One delineated zone is the restaurant table area. To create intimacy, a colonnade is introduced between the tables. The colonnade is made from arches of raw precast concrete. It feels a bit Islamic as we sit there eating Spanish tapas, but Healy reveals a surprisingly specific architectural reference. "Do you know the Foundling Hospital?" he asks. Any student of architecture will remember this key early Renaissance work by Filippo Brunelleschi in fifteenth-century Florence. This makes sense of the circular holes either side of the arches, referring to Brunelleschi's roundels. "My work is getting more and more ancient," he jokes. This is the point at which Healy explains that the job tells you what it needs. "It's not as if you say to yourself 'let's put a hypostyle hall in the next job!' " (A hypostyle hall is one that is filled with columns, invented by the ancient Egyptians.) Which brings us to the little gold stars painted on the night-sky-blue ceiling: "Have you ever been to Egypt?" Healy asks …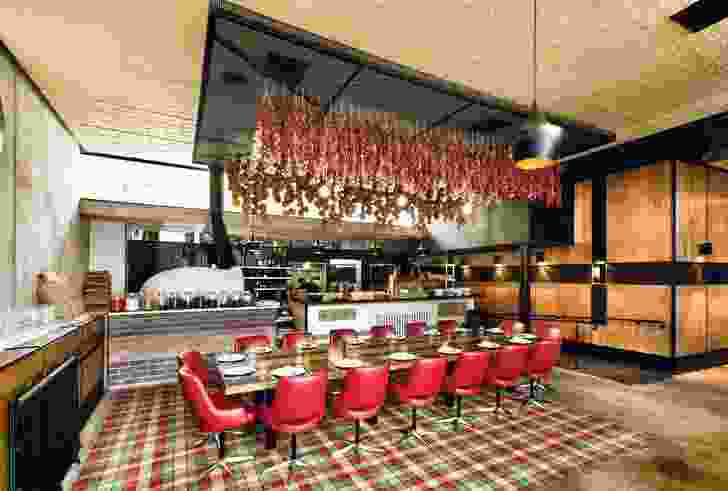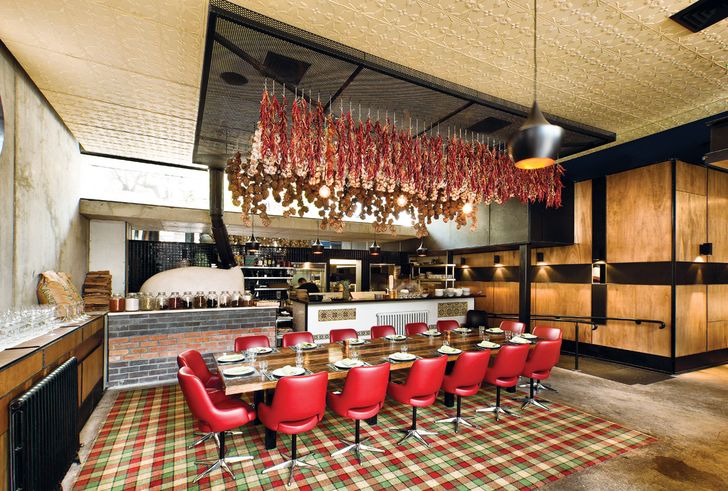 So: we have a one-hundred-year-old facade, a twenty-first-century rational building behind it that contains reproduction 1950s wallpaper, reproduction nineteenth-century pressed metal ceilings, reproduction 1970s Laminex, references to fifteenth century Renaissance Florence and the funerary architecture of thirteenth-century BC Egypt. "There's a ton of stuff. All those layers, the program, people-watching, resolving the rubbish collection – all that stuff just adds up and you try to do it in a way that feels like a whole. It doesn't need to be a big white box to be a unified thing," says Healy. Bad casino furniture (Healy's words), cheap concrete arches, compact fluorescent lighting inside PVC pipes hanging from the ceiling, stained glass, screening devices and some ancient precedents – these make up a comfortable, low-key unity, Six Degrees style.
Products and materials
Walls

Concrete; Classic Ceramics tiles; Custom wallpaper; Locker Group perforated metal; Dulux paint.
Ceiling

Compressed fibre cement sheet; Pressed metal.
Windows

Steel frames.
Flooring

Concrete; Brintons carpet; Hardwood timber floorboards; Altro safety vinyl.
Finishes

Recycled brick to bar from Paddy's Bricks; Stainless steel bar; Formply joinery; Classic Ceramics travertine benchtops; Big River Timbers Armourply panels.
Lighting

Lampada Custom pendant clusters; Masson for Light general lighting; Pendants supplied by customer.
Bathroom

Caroma fittings.
Credits
Design practice

Six Degrees Architects
Melbourne, Melbourne, Vic, Australia
Project Team

Mark Healy, Michael Frazzetto, Mia Hutson, Dan Butler, Robyn Ho
Consultants

Accessibility consultant Davis Langdon (formerly Blythe Sanderson Group) Melbourne
Acoustics Marshall Day Acoustics
Builder Tate Constructions
Building surveyor Building Strategies
Services NJM Design
Structural Keith Long and Associates

Site Details

Location 34 Inkerman Street, St Kilda, Melbourne, Vic, Australia
Site type Suburban

Project Details

Status Built
Category Hospitality, Interiors

Client

Client name Newmarket Hotel
Website Newmarket Hotel, St Kilda

Source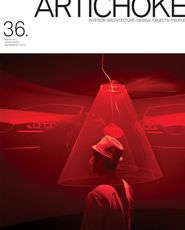 Issue
Artichoke, September 2011
Related topics