Corporate Culture showroom, designed by Corporate Culture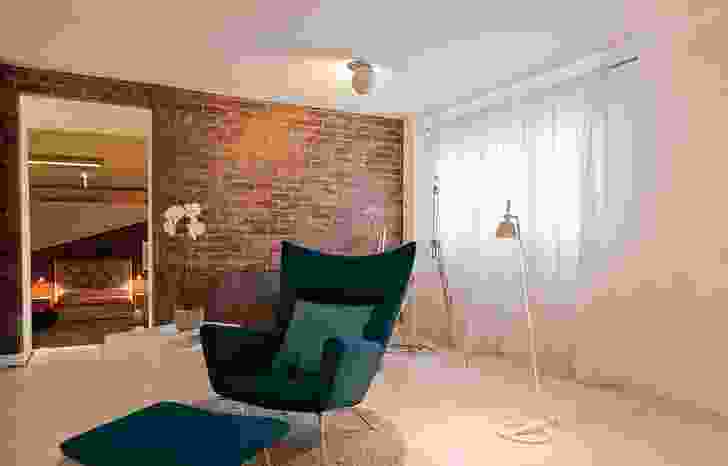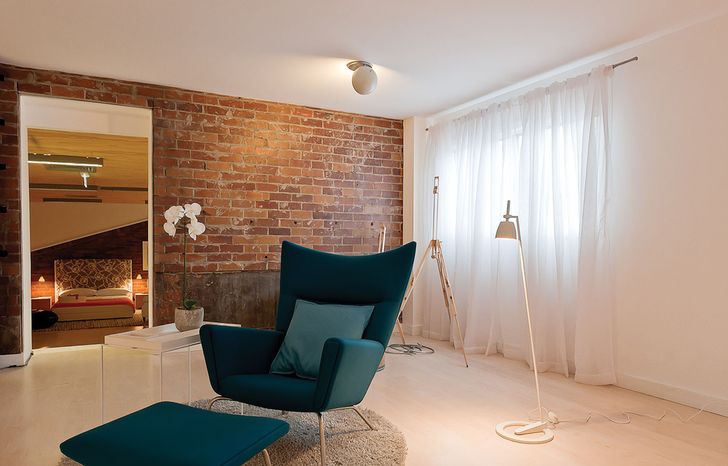 This Brisbane showroom has been a long time coming for Corporate Culture. The two-level space is a dedicated presentation zone for designers to set up as they wish so clients can experience the pieces in situ. The empty stage can be styled and revamped with products easily and quickly. With an emphasis on flexibility, the space can transform into a generous garage on the street side, where functions are also accommodated. Brick walls and concrete floors maintain the warehouse aesthetic of the original 1920s building. The loft space, with original sawtooth roof, establishes the smart but relaxed ambience that characterizes the product.
Corporate Culture
+61 7 3852 4220
corporateculture.com.au
Pieces of Eight gallery, designed by Fitt de Felice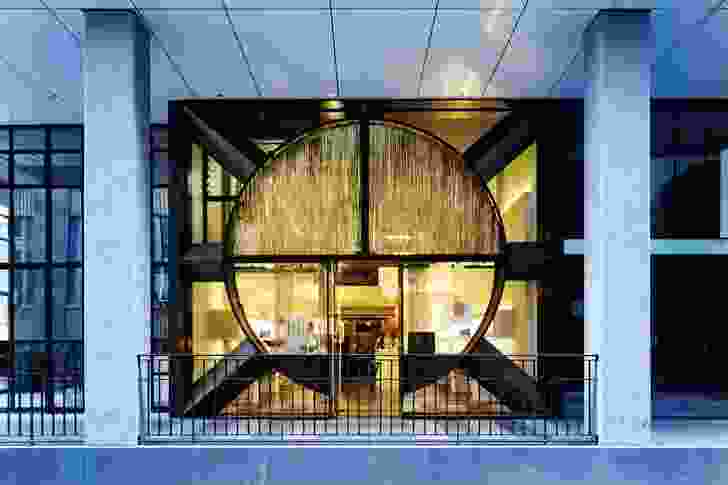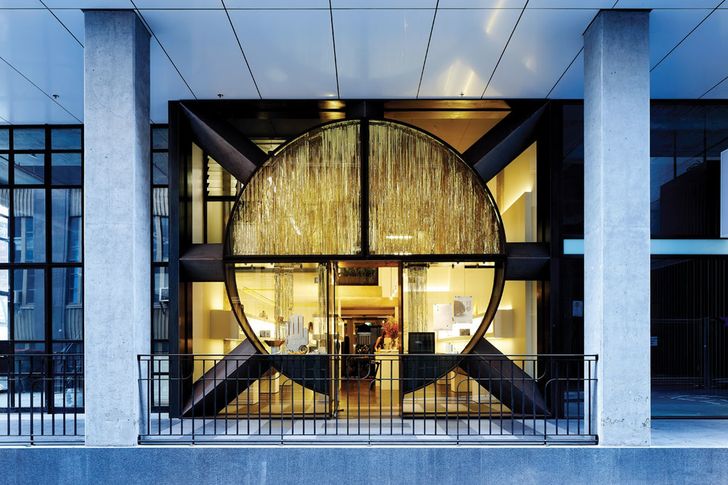 This gallery in the Melbourne CBD has received all the finishing touches. The gallery houses tables and chairs by Konstantin Grcic for Magis, and an oversized hand mirror created by Tim Fleming of Flatland OK. Cabinetry and facades were all custom made in order to maximize storage opportunities. Polished bluestone tiles, high-gloss cabinets and velvet tiles contrast with exposed concrete walls and painted yellow fire sprinklers to create a "rough luxe" feel. Upstairs in the office and workshop space, desks are made from discarded steel doors with yellow (the gallery's signature colour) Acapulco chairs adding jolts of colour.
Fitt de Felice
+61 3 9654 9100
fittdefelice.com
Aesop Myer window display, designed by Dennis Paphitis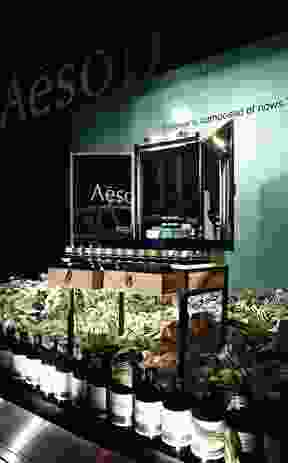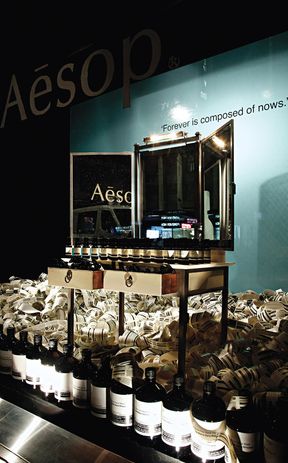 In May, Aesop unveiled its window installations in the Myer city stores in Melbourne, Sydney and Brisbane. In the Sydney and Brisbane store windows, Robert Arnold's 1999 film The Morphology of Desire is featured, exploring romantic love in popular culture. In Melbourne, the windows feature twentieth-century designs by Geoffrey Hatty. Aesop chose to include work outside the beauty industry to show its respect for creative expression. Aesop products feature heavily in the windows and, with their understated packaging, appear like an assembled army. In each window, mounds of autumn leaves, coils of paper labels or brown glass bottles cover the floor.
Aesop
+61 3 9412 8910
aesop.com
Arthur G showroom, designed by Robin Michelson Design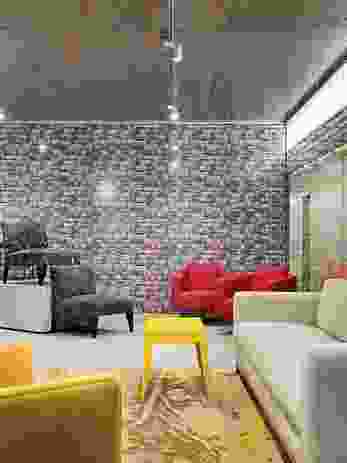 Arthur G has opened its Sydney flagship store in a très chic location in Surry Hills, in what was originally an electrical works factory. The two-level showroom situated on the ground floor consists of exposed concrete, white columns and walls, and carefully placed downlights. This stripped-back aesthetic allows the furniture's scales and forms to be appreciated, with accessories such as rugs and lamps dotted in for good measure. Arthur G's classic European aesthetic is perfectly placed in this showroom, with the harmonious and elegant forms of the furniture fitting right in. Keep an eye on this area as it's slated to be a burgeoning design precinct.
Robin Michelson Design
+61 421 399 081
Calibre Global office, designed by Valmont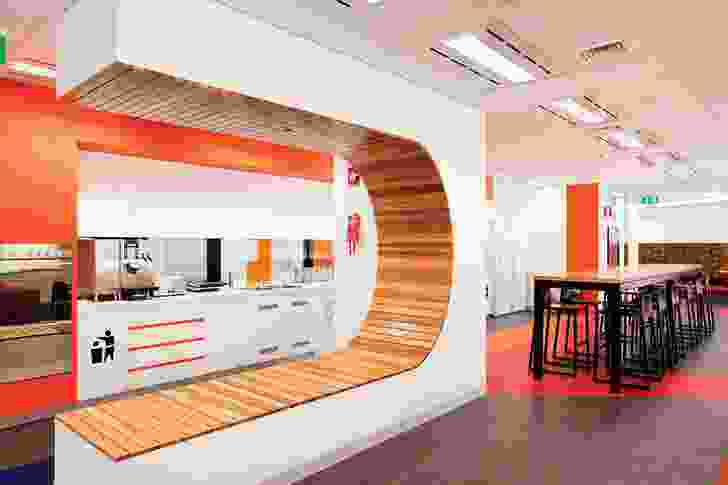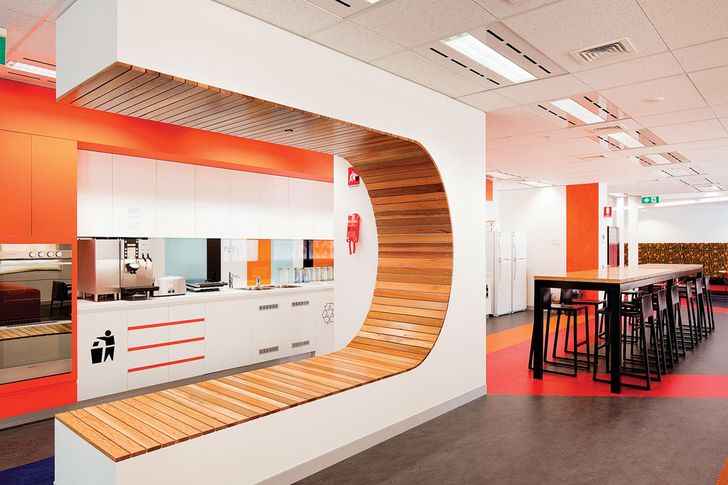 With just two months to complete a fitout of nine floors of office space for consultancy group Calibre Global, design team Valmont had to think quickly and plan carefully. Valmont has divided the immense office space into breakout spaces, which can easily alternate between meeting spaces and informal lounges. Offices surrounded by workstations were also created to break up the floor space. Workstations have been placed on the outer edge of the building to maximize natural light. Valmont incorporated Calibre Global's mining influence into the office space with colour, shading different floor spaces in burnt orange, sky blue and moss green.
Valmont
+61 2 9698 8605
valmont.com.au
Peppertree Cafe, designed by Joel Sampson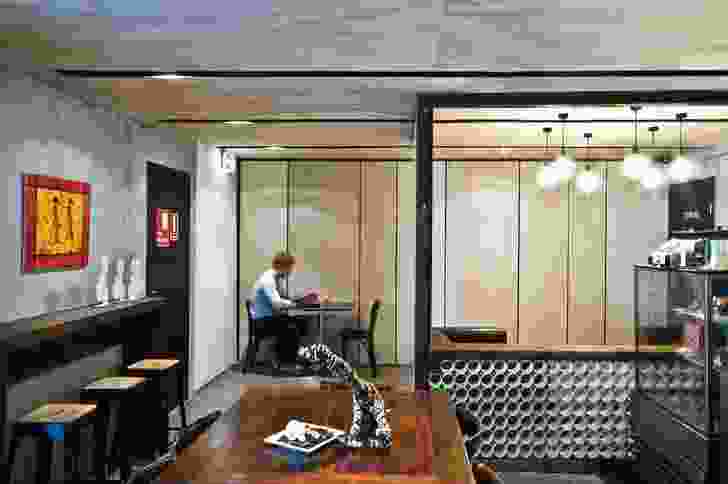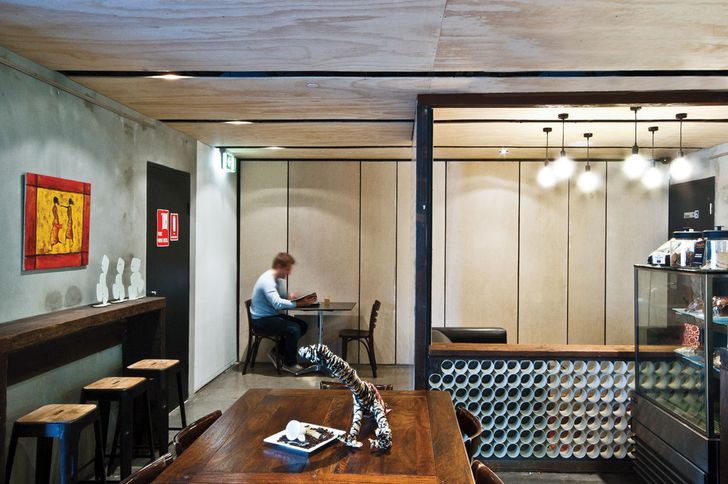 It was a chance meeting between interior designer Joel Sampson and a woman lost in Darlinghurst that led to the design of this cafe. By the time Sampson escorted the lady to her destination, he had volunteered his expertise on a little cafe she was helping to develop. Peppertree Cafe is located in the heart of Bankstown and aims to be an intimate spot where locals can catch up. The design incorporates recycled materials, including bricks from a brick salvage company, recycled furniture and existing industrial pipework, to give the space a raw feel. Screens created from recycled PVC pipes with timber framework create small pockets of intimate areas within the cafe.
Joel Sampson
joelsampsondesigns.com.au
Source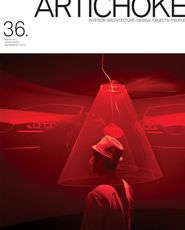 Issue
Artichoke, September 2011
Related topics