Just off the grittiest end of King Street, where the chimney-stacks of Sydney Park dominate the skyline, sits a street that personifies the diverse Newtown experience. Large, freshly painted two-storey terrace houses with sleek balconies and Scandinavian-style mailboxes face single-storey, slightly grimy residences adorned with colourful flags. At the end of the row a small, unassuming terrace is built snug to its neighbours' boundary walls. I checked my phone twice; yes, this was the right place.
When I visited the house for this review, I expected it to be unoccupied. But after emerging from the poorly lit hallway at the front of the retained original terrace, I was surprised to see the tenant, her two teenage daughters and their Siamese cat all within a single frame, staring back at me from a variety of stacked, split-level spaces. These spaces are arranged vertically, in a manner reminiscent of the social scenarios generated in the work of Japanese architect Sou Fujimoto. There are other parallels to Fujimoto's architecture here: a drive for compactness, the balance of the social connections between spaces, and their dialogue with intimate, enclosed private volumes.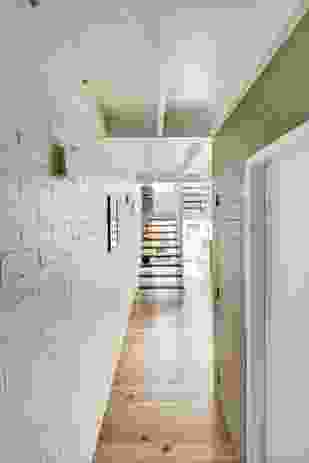 "This is the first place we'll be really sad to leave," she says, and it is not difficult to see why. The extension has a distinctly open and honest quality. Materials traditionally used externally have been used inside. This, along with the central void and lofted skylights, creates a space that is in essence an enclosed, habitable courtyard. It is the literal antithesis of the dark, tightly felt space that had previously occupied the 117.8-square-metre site.
After setting up their own practices in 2010, Jamie Hall and Liz Bowra worked together informally before establishing Hall Bowra Architects in 2012. They were then approached by two friends, Mark and Carmel, who asked the architects to embark on a serious upgrade of their terrace. Mark, a carpenter and the owner-builder of this project, had previously taught Jamie woodwork and worked with him at a design and construct company. Mark saw the terrace project as an opportunity to build the renovation with his son Ollie; minus the electrical, plumbing and bricklaying components, the two built everything between the brick walls.
The split-level resolution came from a discussion about maximizing space while retaining a small-scale envelope – the owners wanted the benefits of three storeys without the excessive mass that would be likely to disrupt the neighbours. The sloped site aided this scenario, and was dropped even further at points to gain height, and the concept of "shared space" was introduced so that each room feels larger than its given dimensions. Construction materials were mostly recycled, repurposed and kept to a minimum. Offcuts from the recycled timber flooring were transformed into a feature mirror, and leftover concrete from the polished kitchen floor was repoured to fashion benchtops. Brick from the demolition of the original extension was hand-cleaned and re-laid to become a prominent feature of the new work.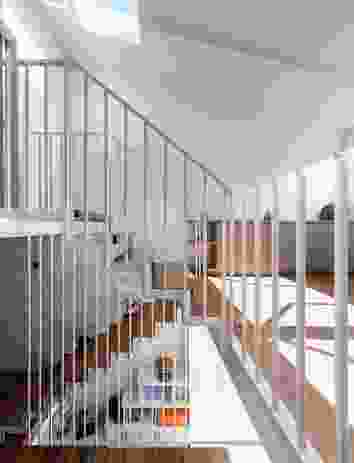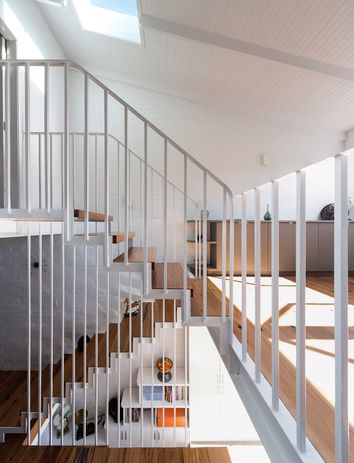 For both aesthetic and cost reasons, the number of necessary trades was minimized and plasterboard avoided. Instead, V-joint pine interior walls and grooved plywood ceilings continue the exterior aesthetic to create an intimate and whimsical volume that hangs over the dining room, continuing the sense of voyeurism as you move up the vertical axis. "It's my children's favourite room in the house," remarks Renee, referring to the main bedroom. "Sometimes they just sit in there after school."
In the main bedroom you feel completely removed, as if you have crossed a garden and snuggled yourself into a private granny flat. Keyhole windows frame unconventional views of chimney tops and terracotta tiles. When you're in bed you can look out the internal window, across the void and up through the skylight to watch planes fly overhead. These clever frames are not a simple layering of quirk but a rigorously considered response that brings ample light into a form built to each boundary edge. The central void, skylight and feature stair are integral to the success of the design, allowing the continued sharing of light, space and view. And it is here that the approach of spending more on a particular focal element is so effective. The white steel stair, meticulously welded on site, visually speaks to the clever verticality of the house's programming.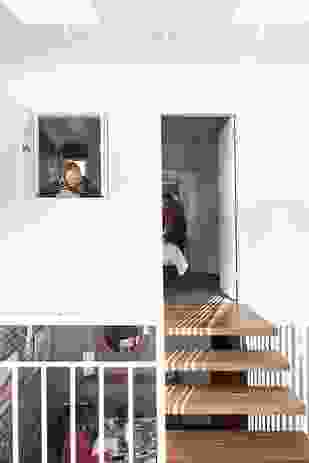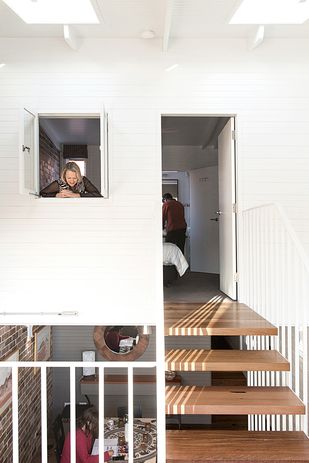 For an architect, there is a distinct set of concerns that comes with engaging in the owner-builder model, particularly a fear of loss of design integrity and control. But Mark was aware of the potential for this and addressed it quickly: "You don't buy a dog and then bark yourself. If you have architects, get them to design it."
Yet in the final outcome, a physical manifestation of multiple personalities is evident, and Hall Bowra Architects' negotiation of these personalities stands as a testament to the design. Liz explains that after they completed the design to development application stage, the detail resolution unfolded between the architects and owner-builder over almost a year's worth of Friday night beers.
On our way out, we popped our heads into one of the original front rooms, throwing our eyes over the custom mantelpieces. "You got a little fancy on those, didn't you?" says Jamie. "I did, mate," replies Mark. The house sits as a successful by-product of strong human relationships – between architect and builder, teacher and pupil, colleagues, father and son, husband and wife.
Products and materials
Roofing

Stramit Corrugated cladding in Colorbond 'Shale Grey'; Fletcher Insulation Insulmist 800 and R4.0 pink ceiling batts.
External walls

Austral Bricks dry pressed bricks in 'Bowral Mix'.
Internal walls

Austral Bricks dry pressed bricks; V-joint pine in Dulux 'White on White'.
Windows and doors

Custom-designed cedar frames by owner-builder.
Flooring

Ironwood Australia recycled mix flooring finished in Synteko Classic; seasoned hardwood exposed floor joists.
Lighting

Lights 2 You Aluminium Pendant Lights.
Kitchen

Concrete benchtop custom-built by owner-builder.
Bathroom

Methven tapware; Ironwood Australia benchtops made from recycled train sleepers finished in Synteko Classic; tiles from Classic Ceramics.
Heating and cooling

Coldbuster underfloor heating.
Other

All joinery custom made by owner-builder.
Credits
Architect

Hall Bowra Architects
Sydney, NSW, Australia
Project Team

Liz Bowra, Jamie Hall
Consultants

Builder Owner
Engineer Partridge
Interiors Harlequin Colour and Design
Landscape Owner
Private Certifier Residential Certifying Specialists
Surveyor PJ Baker and Associates

Site Details

Location Sydney, NSW, Australia
Site type Suburban
Site area 117 m2
Building area 115 m2

Project Details

Status Built
Design, documentation 12 months
Construction 11 months
Category Residential
Type New houses

Source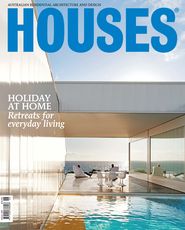 Issue
Houses, December 2015