The National Gallery of Victoria's 2019 Architecture Commission, designed by Yhonnie Scarce and Edition Office, has opened.
Each year the NGV conducts an open competition that invites architect-led teams to create a temporary, site-specific installation for the Grollo Equiset Garden.
The 2019 winning entry, In Absence, "celebrates and acknowledges Aboriginal infrastructure – agriculture, aquaculture, built forms and smoking trees – that has been happening for thousands of years and still exists in Australia," said Scarce, an Indigenous artist.
The structure consists of two nine-metre-tall black-stained timber towers that invoke both smoking trees and stone houses found in many Indigenous communities.
The timber towers create two identical chambers which are bisected by a chasm that metaphorically represents "the denial of terra nullius."
"This crack refers to the name of the project, In Absence, on a couple of levels," said Kim Bridgland, director of Edition Office, "It refers to the legal framework of terra nullius which modern Australia was founded upon, calling out the fallacy of that, and it refers the false absence of a civilization here."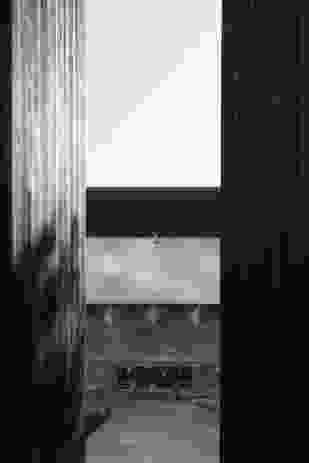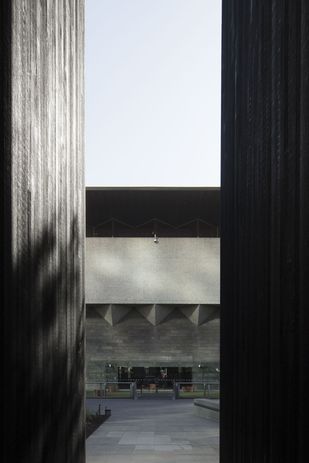 The chasm is aligned directly with the centre of NGV and the waterfall at the gallery's entrance in a direct dialogue between the gallery building and the installation. "It was really important to us that [our installation] equated to the might of this building." The chasm also creates a compressed entrance that leads visitors to the two chambers inside.
The chambers are lined internally with 800 glass yams each which increase in density as the tower rises. "The yams represent eels, water, and medicinal sap from the trees," Scarce explained. "For me personally, it's [also] metaphorically mapping stars and waterways."
Edition Office director Aaron Roberts said, "We've always been interested in work that is highly experiential and atmospheric and also connected to the notions phenomenological qualities.
"Here we focused on the sky and on cloud movement. We feel like that might link you to broader cyclical systems that Indigenous communities have been well aware of for thousands of years. In fact the nature of their lives are highly connected to those cycles whereas we're typically disassociated from them.
"There aren't many spaces in the city that allow you to have that focused sense of phenomenological aspects of space."
Each chamber is also fitted scent diffusers concealed within the walls – one with an aged, burnt timber scent the other a scent of eucalypt leaves. The garden surrounding the structure is planted with wallaby and kangaroo grasses.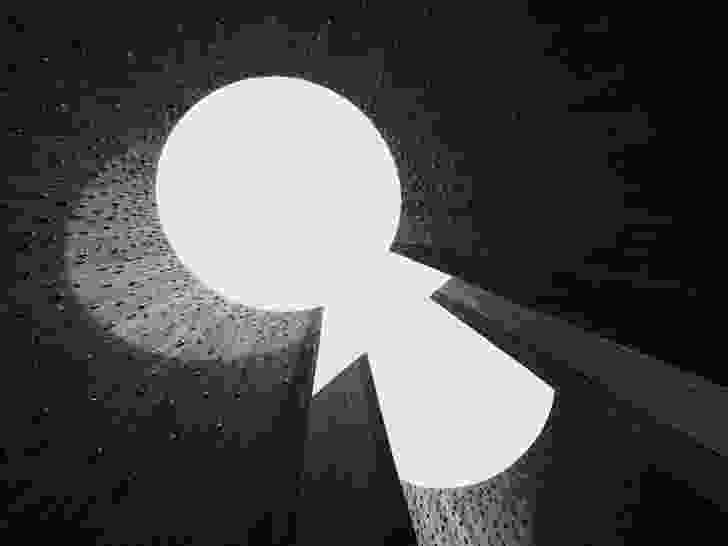 "This project is a platform or a framework through which Indigenous communities can tell their stories," Roberts said. "In a sense every element of the project is specific and relates back to those stories."
NGV senior curator of design and architecture Ewan McEoin said, "At its core, this project is a conversation around Indigenous knowledge and culture that is not a strong part of our architectural discourse and should be a stronger part. It's a type of conversation that should be hosted at the NGV. Also architecturally it's a very primordial, simple, strong idea."
The competition for the 2019 architecture commission received 100 submissions which were assessed by a jury comprising Jill Garner (jury chair, principal of Garner Davis Architects and Victorian Government Architect), Corbett Lyon (co-founder of Lyons Architecture and NGV trustee), Andrew Clark (deputy director of NGV), Clare Cousins (principal of Clare Cousins Architects and immediate past national president of the Australian Institute of Architects), Timothy Moore (director of Sibling Architecture).
The commission will be on display until April 2020.