There's a lithe young man stretched out on the floor trying to plant a flower sticker under a bed while two adolescent boys giggle as they predictably place their blooms in a lavatory bowl. Not far away, barefoot strangers lie still, gazing at the ceiling, snuggling into a woolly rug. And in a nearby dark room, a woman rotates slowly, her attention focused intently on her feet. This behaviour, which would be odd enough in the privacy of one's own home, is even more peculiar in a public place. Art, it seems, makes people do strange things, or do ordinary things in strange ways, and this is especially true of the work in the National Galelry of Victoria's (NGV) inaugural NGV Triennial, an exhibition currently on show at NGV International in Melbourne.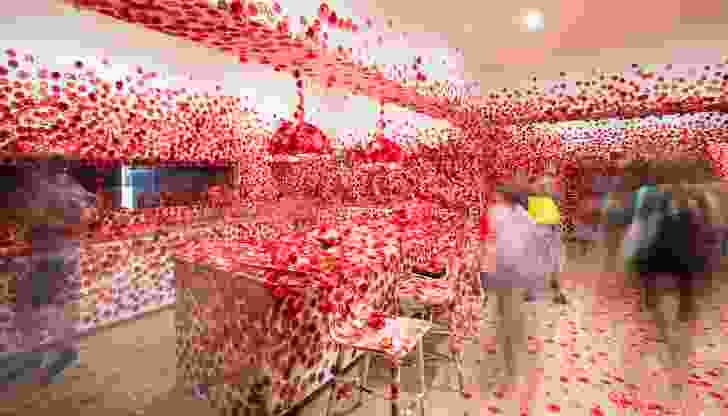 This consciously ambitious undertaking is replete with works that catalyse spatial and environmental awareness – including Flower obsession by Yayoi Kusama, Santa Cruz River by Alexandra Kehayoglou and Moving creates vortices and vortices create movement by TeamLab referred to above. The exhibition gathers together more than 100 contributors from 32 countries. And though the predominant content is from the fine art world, the inclusion of architecture and design material is both explicit and pervasive. Make no mistake, this show is a blockbuster not only because of its size and crowd-pulling appeal, but also because of its multidisciplinary scope.
The exhibition's sprawling ambit has been organized into five thematics – movement, change, virtual, body and time – and the catalogue is splendidly comprehensive: a who's who of incisive, readable essays. It's also a pure bargain for its tactile graphic design. But like many curatorial agendas, the conceptual labels seem less vital to appreciating the event than an impulsive wander through it guided by, or perhaps trying to avoid, the milling crowds.
Art galleries are the new cathedrals of our secular age. Once solid bastions of culture and obligatory fodder for tourist itineraries, they are increasingly places of delight, diversion and transcendence. We visit them on a regular basis, for a stimulating family day out as much as for didactic instruction. If the line between "high art" and entertainment has been blurred in the NGV Triennial, so much the better, just as the boundaries between art, design, craft and technology dissolve with the deliberate placement of Triennial pieces within the NGV's permanent collection.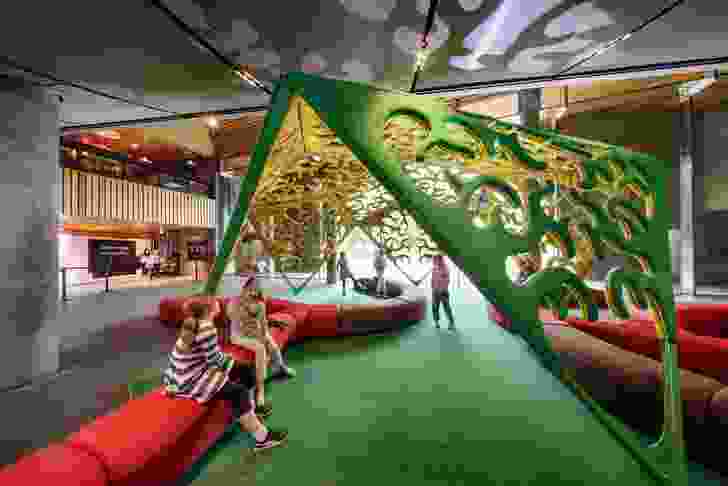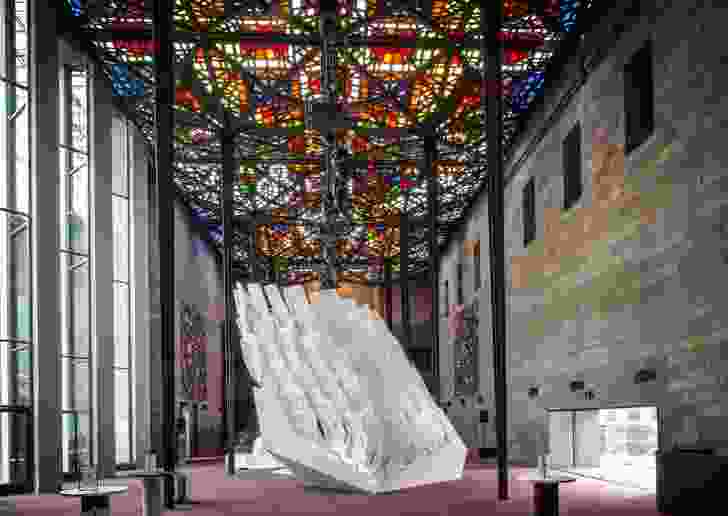 Spatiality and dynamic sensory effect have become prime tactics in contemporary art practice, and architecture is a clear beneficiary in this expanded field. Simultaneously, architectural research uses exhibitions and curations to explore ideas outside mainstream practice. The NGV has a sustained tradition of understanding this relationship and the Triennial builds on the successful Melbourne Now exhibition of 2013, which included core components of architecture and design. In addition to the gallery's annual NGV Architecture Commission, NGV Triennial embeds more than a dozen primarily architecture and design works into the exhibition, and these works bookend and punctuate key pathways through three floors of globally significant art. The major design works include the pavilion-scale Victoria Amazonica by Estudio Campana (in collaboration with Yarrenyty Arltere Artists and Elliat Rich), Roland Snooks's Floe (part of NGV Triennial Extra, a 10-day summer festival in January), Melbourne School of Design's participation in the multimedia editorial project Triennial Voices, which features a Jetsons-like bar,and the 2017 Architecture Commission, Garden Wall by Retallack Thompson and Other Architects. In turn, these works offer sensory immersion, intellectual stimulation or gentle reflection and remove when the sheer density of the exhibition becomes overwhelming.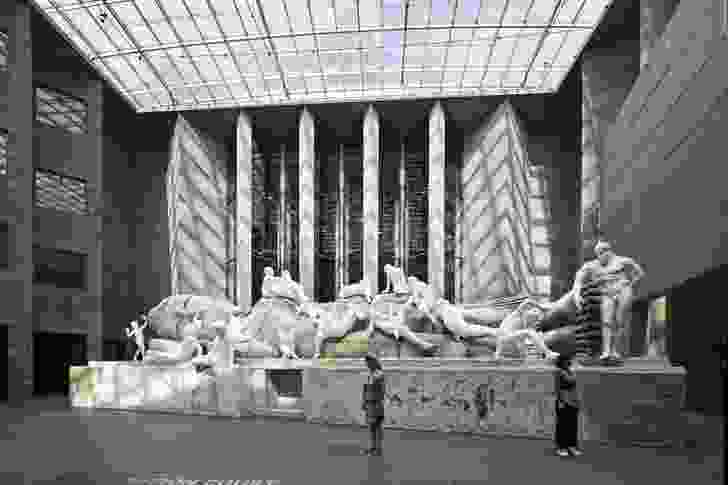 If the thematic curation is a little unconvincing, the overarching strategy of the journey through the show is clear. It's classic "activated ground plane" stuff with the most interactive, accessible and dazzling installations found on the entry level. Beyond Xu Zhen's massive Eternity-Buddha in Nirvana…, a statue of a reclining Buddha adorned with Greco-Roman, Renaissance and Neoclassical nudes, Snooks's robotically-produced monolith, Floe, is calmly beached in the lofty nave of the Great Hall for a short time. A drift of cool mist surrounds what is perhaps the most literally atmospheric architectural work in the Triennial. A collaboration with sound artist and fellow RMIT academic Philip Samartzis, Floe evokes an experience of being around and inside an iceberg, using field recordings of Antarctic glacial accretion. The soundscape is sublime (if one can suppress the immediate urge to micturate brought on by its preliminary gurglings and tricklings). Listening to crunching, grinding plates of ice moving against each other, while sitting in the nacreous glow of the inner sanctum, may be a benign hypothesized version of the real thing, but it is authentically transporting. Overlapping translucent polymer panels create a modest meditative space for a handful of people: I watch a priest, a senior couple and young mother with toddler all settle, close their eyes and sink into Buddha-like smiles of their own.
Norwegian architect Sverre Fehn tackled similar themes and sound effects in his 1991 Norwegian Glacier Museum in Fjaerland, Norway, but his palette of concrete and stone is different to this ethereal work. The tiny blips and striations in the manufacture of the pearlescent cladding of Floe add verisimilitude to the precision of robotic modelling, and the tracery of the steel structure is deft. Less successful, however, is a supporting podium of painted timber panels, smudged with sneaker trails and "keep off" signs. Nor does this translate as a site-specific work: it may have been better suited to the cool light and granite of the Federation Court to reinforce its elemental sources.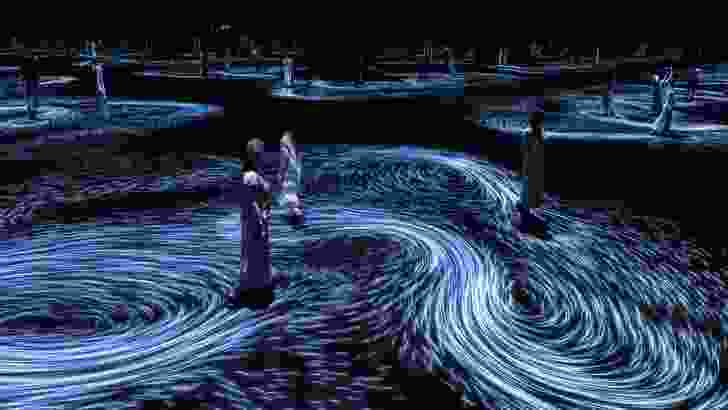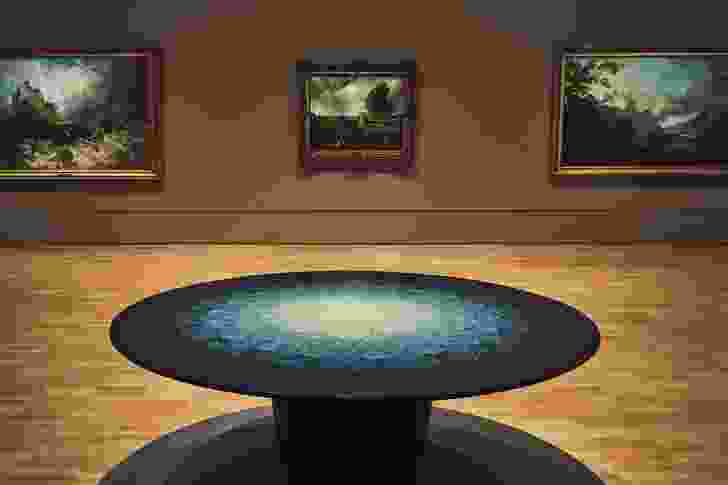 The recourse to environmental and elemental mimesis is characteristic of a number of the most memorable installations on the ground floor, which highlight the natural environment and its immediate fragility through commensurately large-scale works of impressive ingenuity, manufacture and technology. In Moving creates vortices and vortices create movement, for example, TeamLab transforms spectators into masters of natural phenomena, able to change digitized global weather and water patterns with a mere pirouette. On other floors visitors encounter smaller-scaled but similarly motivated artefacts, such as Brodie Neill's Gyro, table, a mosaic specimen table composed of discarded plastic in an exquisite taxonomy of ocean degradation. Yet the very appeal of these things and experiences is cumulatively unsettling: I can't help wondering if they aren't soothing our consciences about our effect on the planet, rather than pricking it. Studying Louisa Bufardeci's covetable series of needlepoints The sea between A and I, which document ocean depths at the GPS coordinates where refugee boats have sunk, I'm suddenly ashamed of my acquisitiveness and struck by the way beautiful craft has perplexed the obscenity of the subject matter.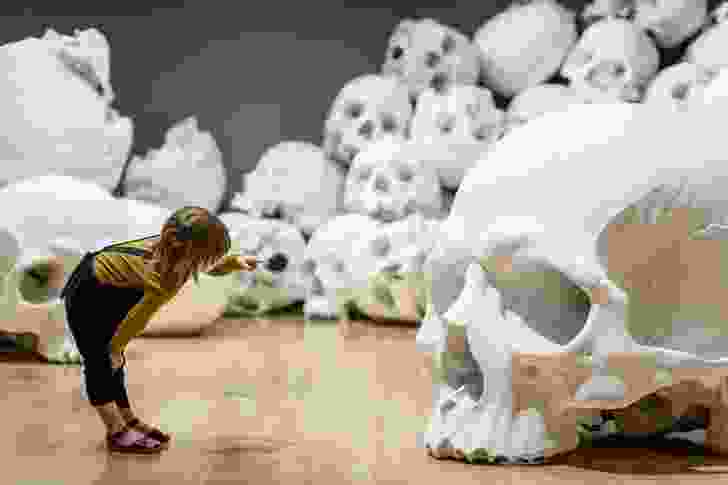 On the second floor, Triennial pieces integrate optimistically with the canons of the gallery, creating deliberately cheeky juxtapositions, such as the monstrous installation of fibreglass skulls, Mass, by Ron Mueck. Is this a natural progression of the 17th-century vanitas genre or a modern-day selfie arena? By the top floor, things get serious, with contrasts between the hideous realities of international conflict and hypothetical indulgences of virtual experience heightening the critique of the curation. It was hard not to turn away from the enveloping video installations of Candice Breitz's Wilson Must Go and Richard Mosse's Incoming, which deal unflinchingly with the refugee crisis, whereas Tom Crago's virtual game room Materials was turning them away in droves, as patrons queued up for their turn to play "virtual travellers on an awe-inspiring ship".1 In this group of works, the substance of architecture seems elusive, almost irrelevant – a good counterpoint to earlier installations that celebrate material and graphic qualities, such as Nendo's impeccable exploration of two- and three-dimensional culture in Manga Chairs and Trace Sconce.
Against these undeniably riveting works, there are many that might seem comparatively passive, yet reward sustained viewing. Yamagami Yukihiro's Shinjuku calling, for example, conveys a ghostly sense of everyday life with a nostalgia for the fading status of the pencil drawing. I felt a related sense of evaporating occupation in what should have been one of the most tangible architectural pieces in the collection – the Garden Wall commission. The structure and catalogue argument for this site-specific installation might well be elegant, but as a series of welcoming spaces to rest, shelter or play it appeared dramatically underutilised, and this was at the end of the school holidays when the rest of the gallery was a churning washing machine of children and conversation. Unlike Yukihiro's precisely aligned dynamic and fixed renditions of Shinjuku, it seemed to have slightly missed the point.
Ultimately the NGV Triennial is a profound demonstration of the full spectrum of what art – and perhaps architecture too – is capable of: its capacity to make us curious, to inspire us and to make uncomfortable commentary on truly troublesome issues, without necessarily the power or authority to change things as much as we would wish. Get there before it closes. Stick your decal flower to the mast of contemporary cultural critique, buy the badge or the t-shirt. Or if you've missed it, buy the catalogue and start counting down the 36 months until the next one.
The NGV Triennial is on display at NGV International, 180 St Kilda Road, Melbourne, from 15 December 2017 to 15 April 2018.