NH Architecture and Woods Bagot complete Melbourne Convention and Exhibition Centre expansion
An expansion to the Melbourne Convention and Exhibition Centre (MCEC), designed by NH Architecture and Woods Bagot, has officially opened.
The $205 million expansion adds 20,000 square metres of new space to the centre on Melbourne's Southbank, comprising 9,000 square metres of exhibition space, a multi-purpose events space, a 1,100-seat theatre, and a number of meeting rooms and hospitality spaces. 
The two practices previously collaborated on the design of the existing Melbourne Convention Centre, which was completed in 2009. The expansion is sited on what was previously a car park, located between the existing Melbourne Exhibition Centre, designed by Denton Corker Marshall and opened in 1996, and the South Wharf DFO shopping centre.
The expansion has created a central "hub", which stitches together the exhibition centre, the existing convention centre and the new spaces.
This central hub space, which is accessible from all of the buildings that make up the facility, provides access to the new, 9,000-square-metre Exhibition Hall and features a covered, timber-decked courtyard that acts as an "integrated external space."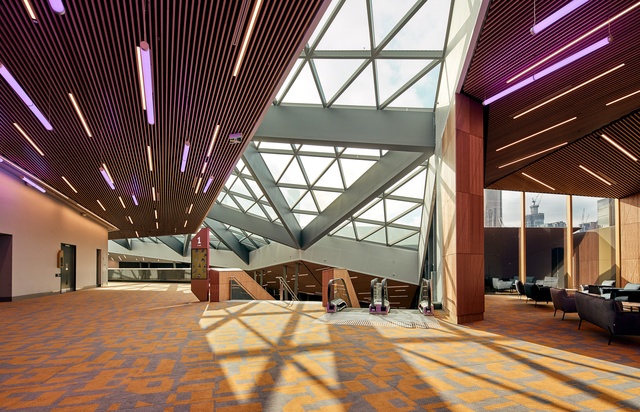 Additionally, the project involved the creation of a new 20-storey hotel tower, also designed by NH Architecture and Woods Bagot. The tower sits atop a six-storey car park podium, with the car park linked to the extension with aerial bridges, separating pedestrians and vehicle traffic.
Hamish Lyon, NH Architecture's director of architecture and design, said, "Architecture and design are at the very heart of the MCEC expansion, which is a continuation of the outstanding qualities of the existing building." 
Andy Gentry, Woods Bagot principal and project director, said, "The design resolution enables the commercial outcome. This is now a totally integrated precinct, a mix of world-class exhibition and meeting facilities with supporting infrastructure of a new hotel and carpark."
"Whether a visitor is here for a one-hour meeting or a three-day conference, the experience is cohesive, and it feels part of the Melbourne culture."
The design of the extension was unveiled by the Victorian government in 2016, with the government fully funding the $205 million project.