The architect-led Brunswick apartment development Nightingale is facing a new objection from the owner of the neighbouring property, Chaucer Enterprises.
Last year, Chaucer Enterprises successfully challenged the planning approval given to Nightingale by Moreland City Council in the Victorian Civil and Administrative Tribunal (VCAT), on grounds it did not provide adequate car parking. VCAT ruled in favour of Chaucer and revoked Nightingale's planning permit, which led to its proponents, including the building's architect, Breathe Architecture, submitting a new planning application with car parking.
Nightingale's new application, submitted in October 2015, includes three car park spaces on the ground floor.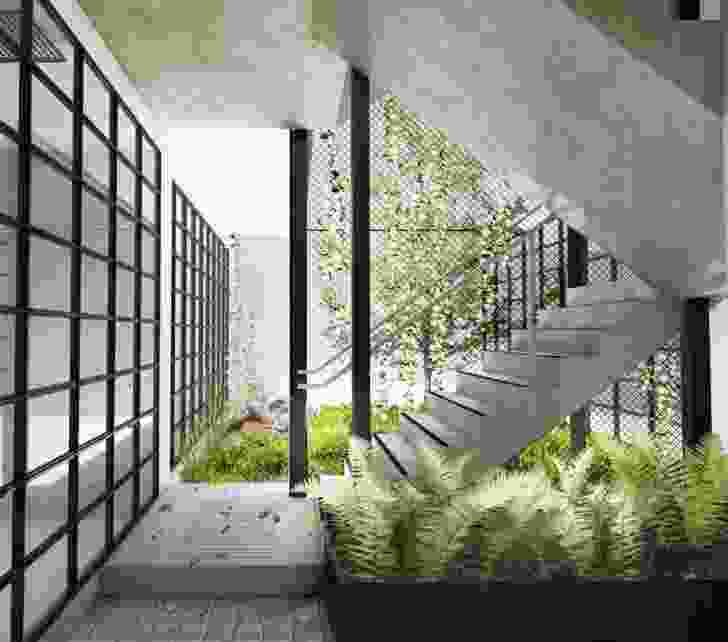 According to the traffic report submitted in the new planning application, a total of three car spaces would adequately meet the car parking demand of the proposed development, based on surveys of car ownership and car use levels of residents of the Commons, a predecessor of the Nightingale located across the street.
This has attracted a new objection from Chaucer Enterprises. ArchitectureAU obtained the letter of objection, prepared by Planning and Property Partners on behalf of Chaucer. It states that Chaucer is objecting, again, due to the "failure of the proposal to provide an appropriate provision of car parking spaces."
Since the Nightingale ruling, there have been two cases where VCAT granted a car parking waiver: the first in the City of Stonnington, where two tribunal members agreed "a car parking reduction to zero is acceptable;" the second is in the City of Moreland, the same municipality as the Nightingale, where a car parking waiver was granted in exchange for an increase in bicycle parking spaces (from 14 to 20) and a reduction in motorcycle parking spaces (from seven to five).
Nightingale was unanimously approved by Moreland City Council in March 2015. The council received 177 letters of support and three objections. The new planning application began its two-week advertising period on 17 January 2016.
Following VCAT's overturning of the original permit, Moreland councillors called on the Victorian planning minister Richard Wynne to review the car parking regulations and address "the major flaw [in existing planning laws] for progressive and sustainable design in Victoria," Councillor Meghan Hopper told the Herald Sun. "If people choose to go without a vehicle and to contribute to a more environmentally conscious world, they [should] not be forced by outdated policy to have a carpark."
Related topics