A Melbourne council has approved a major residential development comprising seven apartment buildings, designed by seven local practices and delivered under the Nightingale Model.
Dubbed "Nightingale Village," the seven buildings are designed by Architecture Architecture, Austin Maynard Architects, Breathe Architecture, Clare Cousins Architects, Hayball, Kennedy Nolan and Wowowa.
The development, now approved by Moreland City Council, is the latest in a series of projects being developed under the Nightingale model, a housing development system that is led by architects and has a focus on affordability and sustainability. The model, pioneered by Breathe Architecture in their National Architecture Award-winning Nightingale 1 building in Brunswick, uses equity investors to raise funds and places a cap on profits.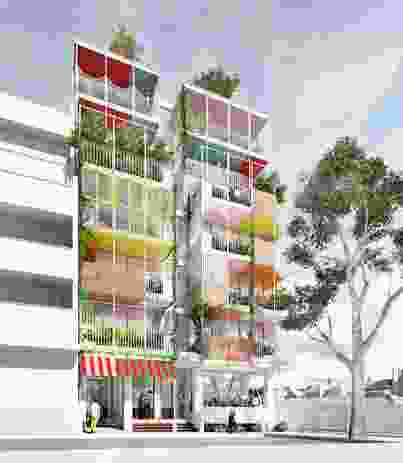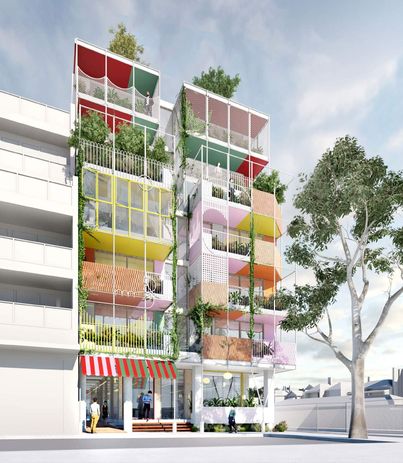 Located on Duckett Street in Brunswick, Nightingale Village is located near both tram and train lines. The council's approval included a reduction of the standard car parking requirement, something that held up the first Nightingale development.
The designs for the apartment buildings are all distinct, but they have been developed with reference to one another and the precinct as a whole has been jointly masterplanned.
Wowowa and Breathe have collaborated on the design of one building that will have a distinctive façade made up of a mish-mash of pool fences, glazed sunrooms, chain-link mesh, half-height brick walls and metal balustrades that mimic the picket fences prevalent in the Federation and Arts and Crafts-style houses in the area.
A design by Austin Maynard Architects calls for the use of brickwork made by recycling parts of an existing warehouse. Hayball's building will explore "flexibility in private and communal living" and is centred on a central light well intended to boost communal living. Walkways at each level expand at apartment entries and the lift to create "gossip areas."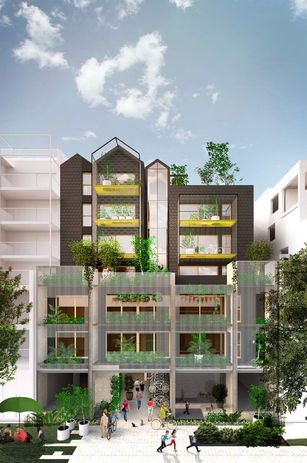 Breathe's solo building has been designed to "celebrate Brunswick's eclectic migrant heritage while also acknowledging the site's industrial history," which has been achieved, in part, with arched façade shrouds that are a reinterpretation of the "iconic Mediterranean houses scattered around the suburb." Kennedy Nolan's apartments will be clad in red brickwork and dusty pink precast concrete.
A tower by Breathe and Architecture Architecture has been designed for co-housing collective Urban Coup, a group that will jointly own and manage common facilities and share community open spaces. Clare Cousins Architects' design is set back from the street to create a publicly-accessible space the practice describes as a "mews."
A key principle of the Nightingale model is that it pools certain amenities, like laundry facilities, to save space and spread environmental impact.
An urban design principles report attached to the application, prepared by Andy Fergus and Openwork, says "Site by site development [in the area around the development] to date has been of a low quality, characterised by poorly considered building massing, siting, apartment planning and material use.
"The calibre of the team assembled offers an unparalleled opportunity to demonstrate a case study of how an architect led approach to development can create high quality environment for people, not just investors."
Related topics