The newly completed Faculty of Engineering and IT (FEIT) building for the University of Technology, Sydney (UTS) City Campus opns on 12 June 2014. It is the first and largest of three state-of-the-art buildings for UTS under its billion-dollar City Campus Master Plan, that also includes Frank Gehry's Dr Chau Chak Wing Building, currently under construction.
FEIT is an integral piece of a rapidly transforming western gateway to the creative and technology hub along Sydney's Broadway, and joins another recently completed landmark down the road – One Central Park by Ateliers Jean Nouvel and PTW Architects.
Designed by Denton Corker Marshall (DCM) and delivered by Lend Lease, FEIT is sited on the corner of Broadway and Wattle Street, Ultimo, at the southern edge of the campus. It will accommodate up to 5,000 students and staff in purpose-built research and teaching spaces, including robotics, computer and human-centred design labs, and a 3D data visualisation facility (the Data Arena), all set around a light-filled atrium.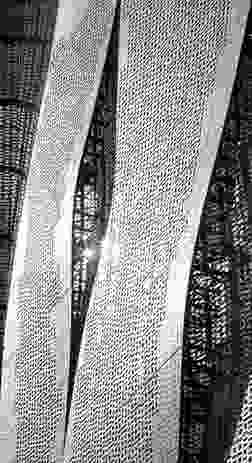 The 12-level, 44,000-square-metre building is cloaked in a shimmering aluminium veil stamped with a binary code of '1s' and '0s' and creased with 'gills' to punctuate the façade and symbolically reinforce it as a living, breathing structure. In some areas, the screens overshoot the building by up to 16 metres, intensifying its urban presence. At night the screens will be LED-lit in green.
FEIT will be open for teaching in late July 2014, at the start of Semester 2. It will operate as a "living lab" hard-wired with sustainable technologies such as a wind turbine, water recycling equipment and solar power panels. Large institutional lecture theatres and classrooms have been replaced by smaller theatres and rooms to try and drive innovation among graduates and researchers. It's part of UTS's Learning 2014 vision, which centers around collaboration and the integration of face-to-face and online learning.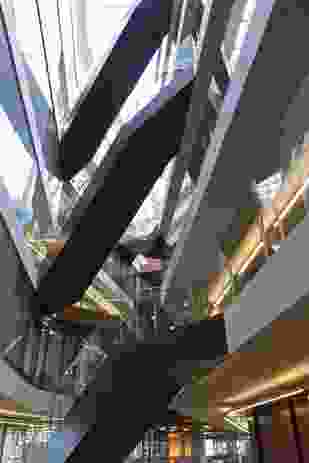 "The building's design has a student-centred strategy at its core, which aims to support graduate outcomes closely linked to both future trends and industry needs," says Professor Ross Milbourne, UTS Vice-Chancellor. "We are changing the face of current learning processes, and one of the design priorities was to create a more integrated and collaborative learning space with facilities that are second-to-none in terms of technology and innovation."
Project architect DCM was selected in 2009 after winning the FEIT Building Design Competition in an international two-stage design excellence competition. Some of the key FEIT elements include:
Sustainability UTS is targeting a 5 Star Green Star rating for FEIT through:
A rooftop wind turbine and solar panels that feeds FEIT's micro-grid to power its laboratories and classrooms, the UTS Sky Sign.
Three electric-vehicle charging stations in the basement car park.
Renewable technologies connect to the Building Management System (BMS) and Energy Management System (EMS) that help determine heating and cooling levels throughout the building.
A façade screen that reduces the building's overall solar load through shading, offering expected energy savings of 10-15 percent.
Internal sensors placed throughout the building, including within the concrete, to monitor air quality, sound, vibration, concrete ion erosion and movement of the structure.
A raised-floor system for more energy-efficient air-conditioning.
A crevasse-like pedestrian atrium that provides natural light throughout the building while encouraging the use of stairs instead of lifts.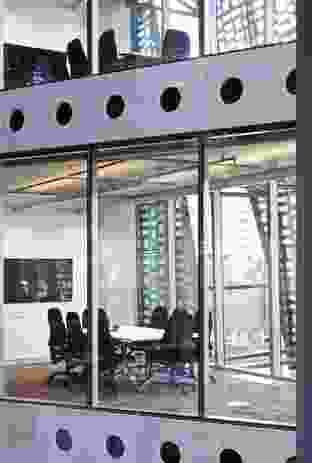 Atrium: The building is incised with a pedestrian atrium running through it horizontally and vertically like a crevasse, that allows natural light deep into the plan and encourages interactions and collaboration between staff and students. Teaching, learning, research and social spaces will be clustered around the atrium, creating a dynamic interior.
Bridge links: A series of bridge links seamlessly connect the FEIT to UTS Building 10 on levels 3-7 on the Wattle Street western side and 4-7 on the Jones Street eastern side. The bridges will cross over the pedestrian arcade, which sits between the two buildings, and will be covered with a glass roof for weatherproofing. There is also a link between the two buildings at ground level and from within the car park.
Living lab: FEIT will display its own performance data on screens throughout the building, collected via sensors in the concrete footings and on various levels. This data will also be available to researchers.
Data Arena: A 3D-visualisation facility, the UTS Data Arena, is located at the Jones Street entrance (level 2). This nine-metre round 'drum' seats around twenty people and features a continuous screen around the perimeter, with five projectors used to generate 360-degree visuals. 3D glasses will add to the experience of presentations. Expected to open in August/September 2014, the Data Arena is expected to be the most advanced facility of its kind in Australia, in terms of projection quality, screen resolution and sound.
Visit UTS future students website for enquiries on studying at FEIT.
Related topics