Singapore-based architect Michael Fiebrich gives the global Nobu brand a distinctively Western Australian restaurant.
It is not news that different cities inspire different eating habits among their people. New York City is the city where everyone eats out – its restaurants, cafes and street kiosks are the dining rooms of its populace. Melburnians, with their Mediterranean/British heritage, drink tea and coffee with equal fervour and would never let a cold winter deter them from al fresco dining and beer-garden socializing.
But what of Perth, that booming city on the edge of the Indian Ocean? How would one describe Perth's culinary psyche? It boasts a sunny climate and an outdoorsy culture, yet these qualities alone are not enough to carry the identity of a city – cultural, culinary or otherwise. Australia's westernmost city has long been home to a handful of restaurant gems, from local institution Lamont's to degustation specialists Jacksons and Restaurant Amusé. But in recent times Perth has expanded its foodie culture, welcoming a bevy of new bars and cafes, each with its own distinct design aesthetic and hospitality experience.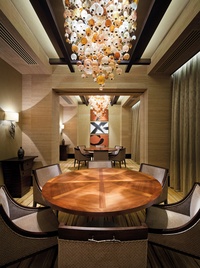 Nobu, a famous name in dining, is one of the latest star additions to Perth's menu. Nobu is a global empire of sorts, the success of its flagship restaurant in New York spawning twenty-three others in twenty-one cities worldwide. The Perth arm opened its doors last year at the Burswood Entertainment Complex, under the careful stewardship of respected chefs Nicolas Mazier and Asao "Pepe" Tsukayama.
Nobu has built a solid reputation as an arbiter of style and substance in modern Japanese cuisine, so it is not surprising that the overall Nobu experience is just as artful. Singapore-based architect Michael Fiebrich was behind Nobu Perth's interiors. As a designer, Fiebrich's work is diverse but unified: his spaces, from restaurants to hotels, convey an opulence, a grandness, but are at the same time warm and inviting. In Fiebrich's words: "We always strive to provide a balance of style, elegance and comfort, but an important element that we always try to bring to our projects is escapism. Whether its dramatic, peaceful or exotic, good design should always make the mind travel."
Words like "beauty" and "style" are commonly used in connection with Fiebrich's spaces and the things that inspire them. His approach is exacting and he always strives for a higher something, aiming to make interiors experiential and artful rather than purely functional or even pretty. In this way his design for Nobu Perth matches the Nobu culinary mandate perfectly. Fiebrich explains: "The menu always has an influence on our work, as does the service style and the target market. In designing a restaurant for the chef Nobu, we wanted to ensure the interior design was as artful and thought provoking as the cuisine, without distracting from the food presentation.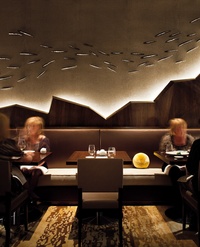 "Our concept was to create an abstracted Japanese water garden that would act as a theatrical backdrop to the beautiful food offerings. Japanese garden designs are so visually pleasing because, even though they are meticulously planned, they feel absolutely natural and layered, much like Nobu's menu offerings. We wanted to create this type of sophisticated 'landscape' within the restaurant."
Fiebrich's design is indeed both "meticulously planned" and "absolutely natural." Every object, every texture, every placement is carefully considered and arranged – most fittings and furniture were custom designed by Michael Fiebrich Design – and each has a spatial and visual discipline reminiscent of traditional Japanese Ikebana flower arrangements. Chairs and dining tables are formally minimalist in structure and are divided neatly among the interlinking spaces that comprise the restaurant. A school of silvery forms made from glazed ceramics glide smoothly across a neutral textured wall. Artworks by Graphis Art and other loose objects occupy specific places and sit quietly as part of the overall design, which wraps all who enter in an elegant yet comforting cocoon of chocolate browns, refined taupes and delicate caramels. There is a distinct sense of order here, but also a sense of warmth and life.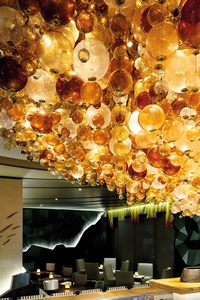 While the space is an exercise in how to achieve harmony via a balanced orchestration of intimate elements, it is not without excitement. At Nobu Perth the persistent points of fascination are the large groupings of glass orbs in the lightest cellophane shades of copper, honey, amber and pearly vanilla. Hanging noticeably low in nebulous clusters from bronze inlay ceilings, they look at once weighty and light. Fiebrich says he designed these to be "reminiscent of flowing water" and while they possess a definite sense of organic movement, they also have a stillness, a stationary expectancy, like fish eggs or the malleable bulbs found on seaweed.
Michael Fiebrich Design's first project in Australia was the refurbishment of the Four Seasons Sydney for the 2000 Olympics, and in Perth he has created other spaces for the Burswood Entertainment Complex. Perhaps this familiarity with the local is why Fiebrich's completed vision for Nobu Perth comes across as cosmopolitan, yet very much at one with, and specific to, the Western Australian urban environment. Burswood sits on the banks of the Swan River, and Nobu's ceramic schools and reed-like sculptural columns (by Charlie Smith Sculpture) mirror the silver-gray tones of the river's wide surface and the slim arches of local eucalyptus trees. The neutral yet rich colour palette speaks to an earthiness that West Australians have long held close to their hearts. A restaurant like Nobu Perth aligns with the zeitgeist, not simply because it espouses a naturalistic order but because it offers a genuinely sophisticated dining experience with unpretentious style.