In an area of Melbourne characterized by enduring Italian immigrant influences, North Fitzroy House thoughtfully takes stock. "The house started its life as a weatherboard Victorian and in the 1970s the Italian owner renovated it himself, turning it into a brick veneer," architect Jean-Paul Rollo explains. Despite considering it a bit of a "dog's breakfast" renovation, with Alice in Wonderland -style holes in the wall, stooped successive doors, strange split levels and cut-off corridors, Jean-Paul reflects that the house was built well and the clients, James and Justine, were keen to give it a third life.
Having moved to North Fitzroy some five years earlier, this growing young family had become thoroughly embedded in their local community. Consequently, the home was not intended to be a form-driven statement, or a loud signature demonstration of architectural ego. James and Justine simply wanted to improve their home by making better use of the space they had and the sunlight that the house had turned its back on. Receiving a brief to this effect may not have been an inspiring starting point for many architects; however, with an understanding of the clients' keen material sensibilities and respect for quality design, Jean-Paul humbly accepted the challenge.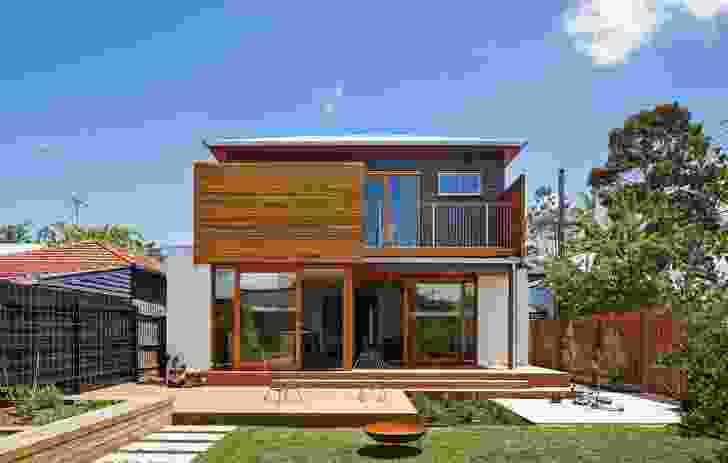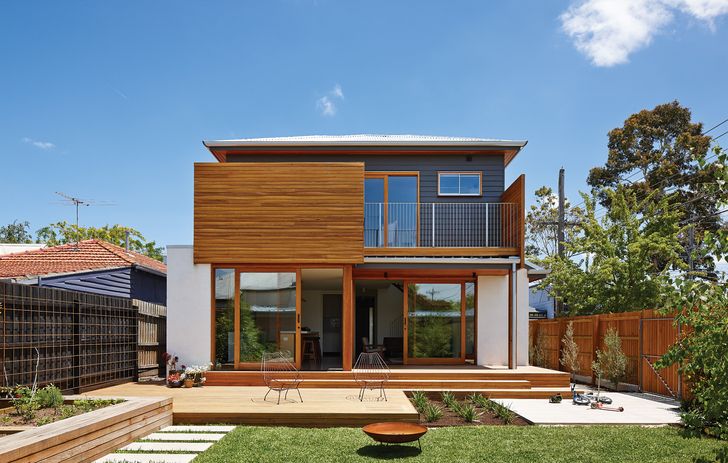 On the sizeable corner block, Jean-Paul kept the footprint of the building largely intact. The ground-floor brown brick envelope was almost wholly retained, bagged and freshened in white. The weatherboard upper level was consolidated and re-presented as a more recessive charcoal volume, while openings were replaced with timber-framed doors and windows, soffits were lined in spotted gum, and the once-tiled roofs were reclad in sheet metal.
James and Justine were vigorously spatial and pored over numerous design iterations and rolls of overlaid baking paper with Jean-Paul. No opportunity went unconsidered and consequently no doubts remained.
The plan is markedly spacious, with several interchangeable living areas that extend eastward, opening out to the rear and taking advantage of the northern aspect. At the core of the home, where the reinstated central corridor unfolds and the tiled slab meets a new timber floor, a black, folded-steel stair floats, hinging between levels. An elegant sculpture poised in the corner of the room, it is a rare moment of pure architectural celebration.
Fragments of an earlier brick wall reappear internally and, alongside the new terrazzo floors, pay homage to the narrative of the house and its Italian predecessors. The interior palette is robust yet tactile, intended to wear and age well. With concrete benchtops, tiled wet areas, birch plywood, crisp white walls, warm timber elements and a suite of blackened steel accents, Jean-Paul's pursuit of honest material expression presents an air of understated modern luxury. Mid-century pendants sourced by the client are combined with locally designed blown-glass fittings. Confidently mismatched contemporary Italian wall lamps and downlights uniquely articulate and give character to the otherwise restrained spaces.
The kitchen is light, open and well composed, with an unhindered view of the rear deck and garden. Incidentally designed around the clients' enthusiasm for good coffee, the plywood, black and white tones of the joinery provide a simple but well-resolved backdrop for the Italian espresso machine and grinder. The over-scaled island prep bench/breakfast bar is sparse yet no doubt conducive to sprawling dinners, impromptu gatherings and conversation.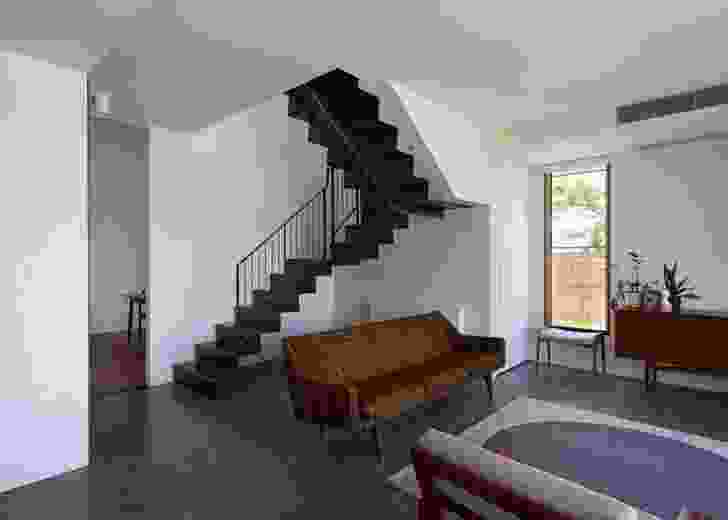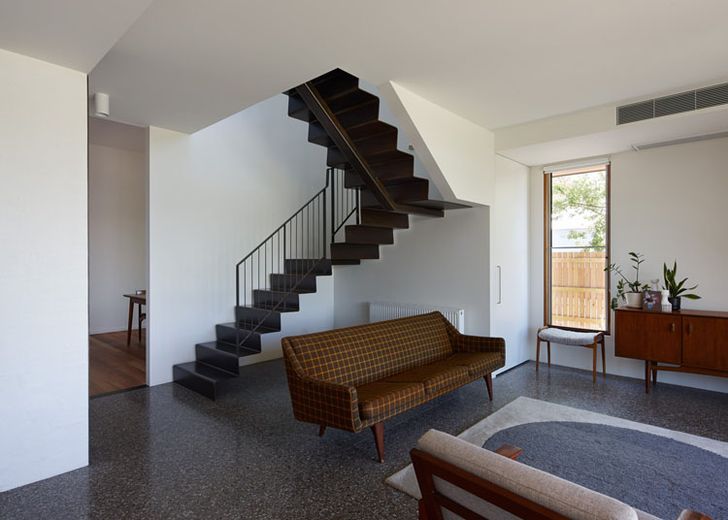 One of the unfortunate casualties of the work was an almost industrial-scale pizza oven and outdoor kitchen. The Italian former owner left behind memories of daylong cooking events where his wife would bake tens of loaves of bread for their family and friends. "It was a real wrench to knock it down," Justine admits. To rekindle the tradition, there are plans afoot to install a smaller oven amongst the vegetable patches of the kitchen garden.
Frequently hosting visitors from abroad (the couple moved to Australia in 2003), the one-car family was happy to forgo their tandem parking for a detached extra-bedroom-cum-teenage-hangout-space. The success of this effective design decision can clearly be measured by the increase in visitors and guests staying longer. For Justine, this has been a "fantastic change."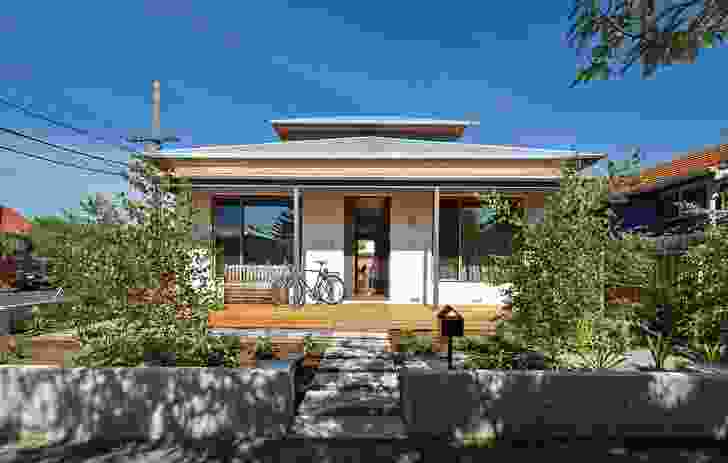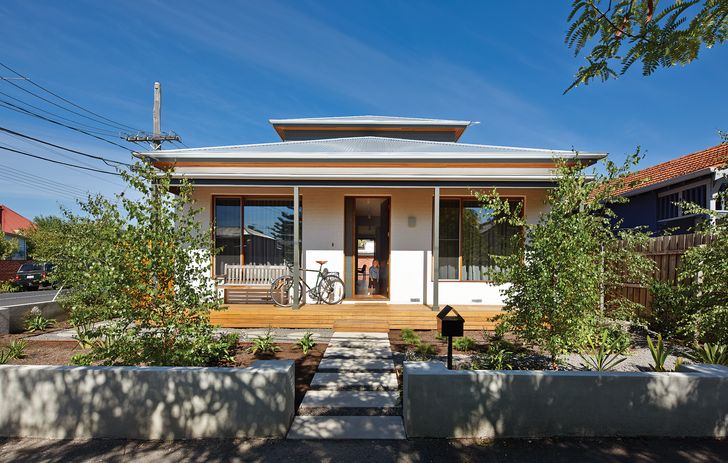 The home now sits comfortably in the streetscape, its low front fence encouraging engagement with its surrounds and its exterior timber accents subtly announcing its third revival. Due to the recessive and unremarkable form, it's not clear where the old finishes and the new begins. North Fitzroy House exemplifies architectural humility in a suburban context, rather than restoring like-for-like established styles or traditions.
Jean-Paul reflects that in renovations where the form is less important or hidden, for him it is about curating well-designed moments within the plan. Having avoided the folly his clients had feared, Jean-Paul has created a humble and admittedly "ordinary house – that is a little bit special."
Products and materials
External walls

Murobond cement paint in 'Pumice' over bagged existing brickwork.
Windows

Kiln-dried hardwood window frames and sliding doors in Cutek CD50 Clear finish; Aneeta double-hung, double-glazed windows; Brio sliding door tracks.
Doors

Sliding door pulls and front door pull designed and hand finished by Jean-Paul Rollo in blackened, waxed steel.
Flooring

Tasmanian oak timber flooring in Feast Watson tung oil; De Fazio Tiles and Stone terrazzo tiles; Tretford carpet in 'Silver Birch'.
Lighting

Artemide; Ross Gardam; Masson For Light.
Kitchen

Rutso Concreting concrete benchtop; Gessi tap; Highland cooktop; Miele oven; Plyco cabinet doors in birch ply.
Bathroom

Zucchetti tapware; Hansgrohe showerhead; Roca Element basins (ensuite and main bathroom); Rutso Concreting concrete benchtop; Laufen basin (powder room); Duravit Scola basin (studio).
Heating and cooling

Hydronic panels.
External elements

Radial Timbers decking and screening in silvertop ash.
Other

8-mm folded-steel stair, blackened and waxed.
Credits
Architect

Jean-Paul Rollo Architects
Carlton, Melbourne, Vic, Australia
Project Team

Jean-Paul Rollo, Grant Dixon
Consultants

Builder Inspiration Building
Engineer Co-Struct
Landscape architect Hamish Freeman
Landscaping Preston Williams Landscape Construction

Site Details

Location Melbourne, Vic, Australia
Site type Suburban
Site area 489 m2
Building area 284 m2

Project Details

Status Built
Construction 11 months
Category Residential
Type Alts and adds, New houses

Source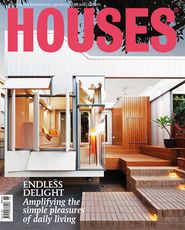 Issue
Houses, December 2014
Related topics