For an architect, designing your own home is never simple – particularly when dealing with a modest, three-hundred-square-metre block. Perth architect Jonathan Lake took these conditions in his stride and positioned them as an opportunity to demonstrate the potential of small housing design. Through the thoughtful organization of space, Lake House belies its floor area of 170 square metres, creating a sense of generosity and spaciousness that allows family life to flourish.
In the inner-city suburb of North Perth, Lake House occupies a rear block behind an established house. The steep, compact block called for a simple yet nuanced response that would balance privacy and outlook for the family. Lake House takes the form of a timber box elevated on stabilizing rammed-concrete walls. The ground level comprises public living areas, with private spaces above.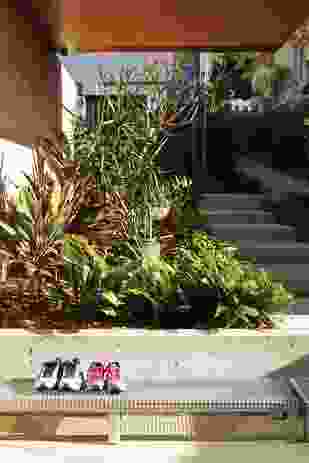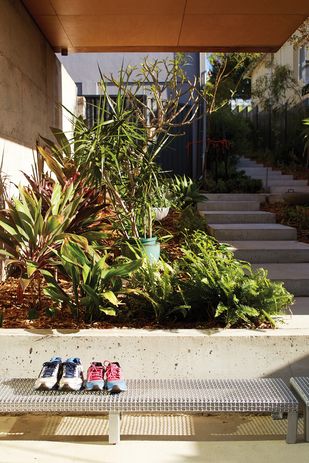 The house optimizes garden and living space by forgoing a driveway and garage. In lieu of a driveway, a narrow garden with a stepped pathway stretches the length of the site, navigating its steep slope. This garden sliver is abundant in native and semitropical plants and makes for a soothing and ceremonious approach to the robust form of the house. Secondary access is granted via a rear right of way, providing off-street parking.
Rammed-concrete walls boldly articulate the ground level of the house. Gliding seamlessly from interior to exterior, these weighty, grounded divisions connect the lounge and dining spaces to a minimalist exterior courtyard. The living spaces are filled with light thanks to a sheath of full-height glazing that creates an indistinct boundary between the interior and exterior volumes. The walls form a solid boundary to the right of way, concealing the house and drawing focus inward.
Internally, a red brick stairwell manages the separation between the lounge and dining area both for acoustic and spatial privacy. The dining space is fused with the kitchen, featuring plywood-edged cabinetry that takes the appearance of an integrated furniture piece. The kitchen's western wall conceals a further preparation space and a laundry that opens outwards to a hidden drying area. These articulated spaces are softened through coalescence with the courtyard that allows for indoor/outdoor entertaining and flexibility of living. The north-facing windows also provide passive cooling and optimize northern light.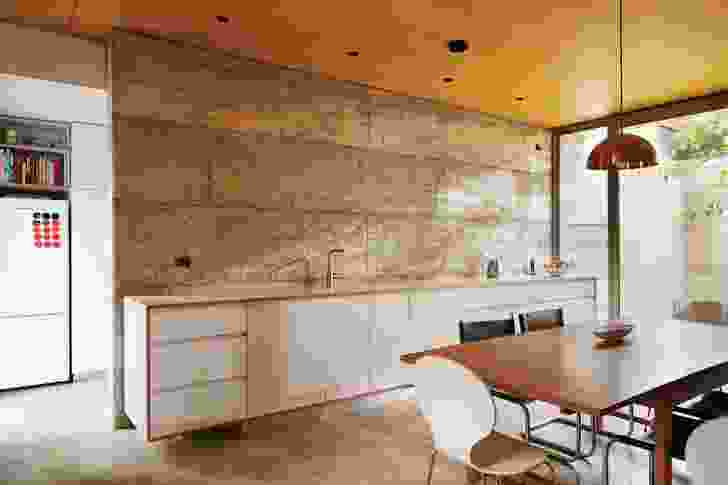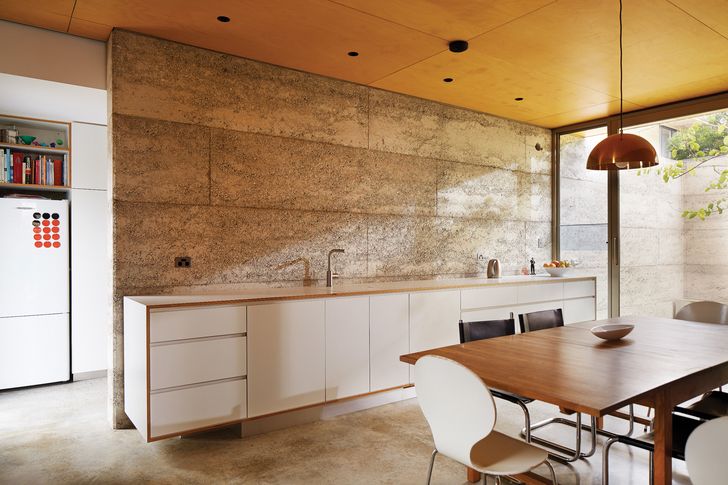 The rammed-concrete walls are accompanied by a restrained palette of materials: polished concrete flooring, plywood cladding and red brick. Consistent with Jonathan's minimalist aesthetic, the courtyard is adorned with a solitary Hong Kong orchid tree. Its delicate purple blossoms complement the neutral materiality of the house and bestow a sense of whimsy upon its robust character.
An enclosed stairwell provides access to the upper level, an elevated timber box that overhangs the concrete walls of the ground floor. The stair leads up to an open study/TV room flanked by the main bedroom, ensuite and bathroom on one side and by secondary bedrooms on the other. Each bedroom has a significant, full-height window opening that is positioned to frame views to the garden, across suburban rooftops and established trees, or outwards to the Perth city skyline. The upper level offers an inviting, elevated experience that reaffirms the inner-city context of the house.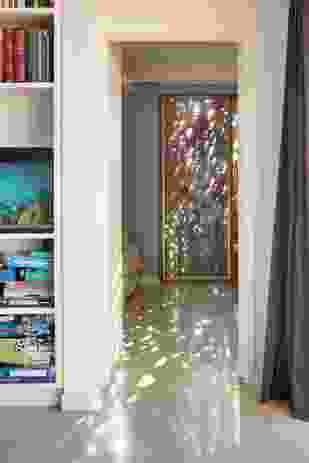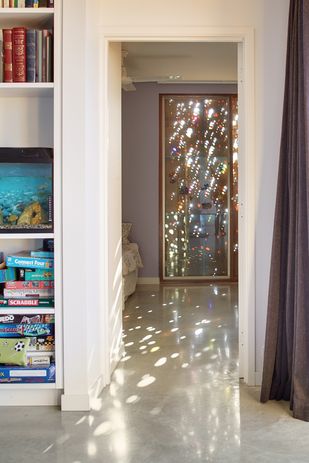 The windows in the secondary bedrooms are fitted with moveable plywood screens featuring a pattern by artist Pamela Gaunt, a family friend of the architect/clients. The screens were CNC routed to create subtle, pebble-shaped penetrations scattered with coloured acrylic infills. Sunlight passing through the screens casts vibrant and ephemeral patterns across the polished concrete floors and white walls. Gaunt's custom design is a poetic living artwork functioning as an effective device for visual privacy, sunshading and temperature control.
Laminated veneer lumber fins provide additional, oblique privacy to the windows of the upper level. With expressed joints and visible manufacturing stamps, these unfinished timber components add a sense of mellow warmth and rawness to the material palette. The juxtaposition of the delicate, customized screens and the arrangement of off-the-shelf timber units is striking, yet the components fuse harmoniously with the house's form and material palette.
This project interrogates ideas of restraint through a reduction of materials. The rammed concrete requires no further finish and the timber cladding is celebrated through the application of a clear finish, allowing its warm, natural tones to shine. Budget constraints forced Jonathan to use materials and detailing inventively and the resulting spaces are delightful without being over-determined.
For an urban home, Lake House is quiet and restful. It is a place to delight in the surroundings, or relax with friends in the living and courtyard spaces. The thoughtful planning allows for moments of privacy and connection between family members. The house is impressive, yet in tune with the scale and procession of everyday life. Jonathan has designed a house for his family, but also a way of life.
Products and materials
Roofing

Lysaght Trimdek roof sheeting; Knauf Insulation Earthwool R4.0 insulation batts and Anticon sisalation.
External walls

Rammed earth from Perth Stabalised Earth with recycled concrete finish; Carter Holt Harvey Shadowclad plywood cladding; Wesbeam laminated veneer lumber timber fins.
Internal walls

Rammed earth from Perth Stabalised Earth with recycled concrete finish; CSR plasterboard.
Windows and doors

Capral 400 Narrowline anodized frames and 275 series sliding door; Viridian ComfortPlus glass; Aneeta sashless double-hung windows; jarrah frames from Kohlen Joinery.
Flooring

Boral concrete slab, burnished with Agar first-base natural sealer.
Lighting

Delta Light Deep Ringo and Inlite Disk recessed downlights.
Kitchen

Neff oven, dishwasher and cooktop; AFA Cubline sink from Reece; A2F Taps Australia Tartana tapware; Austral Timber cabinets; Formica laminate on plywood.
Bathroom

Mizu bath from Reece; Pozzi Ginori basin; Vitra toilet and Tonic shower and basin mixers, all from Rogerseller; Hansgrohe shower rail; Pietra Serena stone floor tiles; Attica Tiles wall tiles.
Heating and cooling

Airfusion Command II ceiling fans.
External

Trowelled concrete slab and steps from Boral.
Other

Custom sliding sunscreens with pattern created by artist Pamela Gaunt; custom laminate-finished plywood benchtops with exposed timber lamination nosing.
Credits
Architect

Jonathan Lake Architects
Perth, WA, Australia
Project Team

Jonathan Lake
Engineer

Scott Smalley Partnership
Perth, WA, Australia
Consultants

Builder Michael Bradshaw
Lighting Inlite, Hunters + Collectors

Site details

Location Perth, WA, Australia
Site type Suburban
Site area 300 m2
Building area 170 m2
Category Residential
Type New houses, Residential

Project Details

Status Built
Design, documentation 9 months
Construction 9 months

Source