Final designs have been unveiled for the proposed Victoria Cross station development, which includes a 42-storey office tower and a new retail laneway.
Bates Smart is the design architect for the above-station tower and retail precinct, Cox Architecture is designing the station and Aspect Studios is designing the public domain.
The project will include a three-storey retail building and a dining and entertainment strip on Miller Street, with the main entrance to be located at the corner of Berry and Miller streets, and a northern entrance on McLaren Street.
A concept proposal for the development was approved in December 2018, with detailed designs put on public exhibition in November 2019.
The proponent Lendlease is seeking minor modifications to the approved building envelope including a reduction in the massing of the building cantilever above Miller Street; relocation of building massing from the low-rise levels north of the through-site link to the high-rise levels of the tower; and reduction of the Berry Street setback from 5 metres to 4.5 metres, extending the building envelope to the north. These changes would increase the ground floor area for the over station development from 60,000 square metres to 61,500 square metres.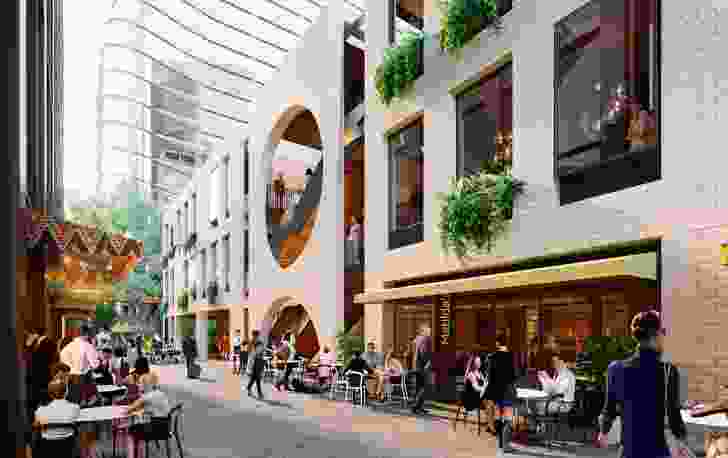 In a submission, North Sydney Council officers generally supported the design but strongly objected to the breach of the 5 metre Miller Street setback above the podium, saying it was inconsistent with all recent developments in the area. It noted that the proposed changes to the envelope and shape of the tower "might be an improvement but are still not supported."
"The application should be amended to comply absolutely with the Miller Street setback for the entirety of the façade of the building which faces Miller Street," the council's submission notes.
The proposal also received eight submissions from the general public, with all but one objecting.
Jeremy Dawkins, urban planner and convenor of Committee for North Sydney, noted that "there is negligible public benefit flowing from the project, despite the well documented deficiencies of North Sydney as a city centre, and the fact that this part of the city centre is the least windy, has the best sunlight, and offers the best or only opportunity for a high quality civic space."
"We also point out that decisions made now may determine whether the legacy of the Metro in North Sydney is a commercial office tower with overcrowded private space outside and no public purpose inside, or a significant, even transformative, contribution to the emerging heart of the North Sydney city centre."
Transport for NSW and the Design Review Panel have endorsed the design.
For its part, Bates Smart says in its design vision statement that Victoria Cross will help to better connect North Sydney's fragmented streets and lanes with the new east-west laneway and the completion of the north- south civic boulevard. "The intimate scale of the laneway network contrasts with the generous civic scale of Miller Street, providing a variety of urban settings for people to occupy and enjoy."
Bates Smart director Philip Vivian previously said of the design, "Integrated Station Developments, such as those proposed for Sydney Metro, represent a strong opportunity to create precincts that enliven their context and set the tone for sustainable contemporary urban regeneration."
Related topics