In 2006, Melbourne-based Lyons Architects won the commission for a new Central Institute of Technology TAFE complex in inner-city Northbridge, Perth. It was a competition program initiated by then WA Government Architect, Professor Geoffrey London, one of several undertaken under the previous Labor government that resulted in notable buildings, in particular the new theatre complex by Kerry Hill Architects. The Central TAFE site posed complex challenges. It slopes substantially to the north-west, where it is encumbered by the easement of the Graham Farmer Freeway tunnel, while the western frontage is onto busy, sloping William Street. Perhaps for this reason, and because of the need for a connection to the existing TAFE buildings – brutalist buildings to the south and east, which are aligned to true north rather than the street frontage – the new TAFE building has its main entrance on quieter Aberdeen Street.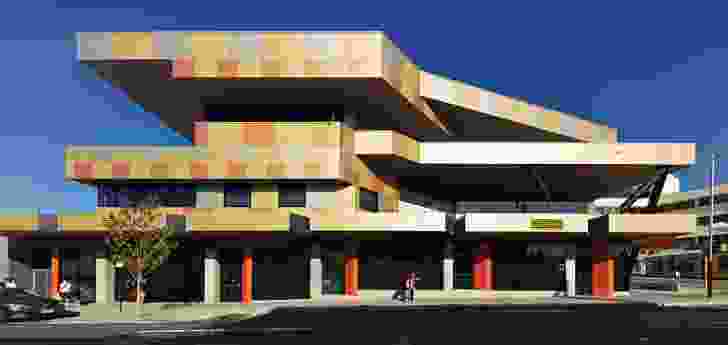 The heterogeneous brief called for multiple facilities, both "soft" (massage therapy, cosmetics) and "hard" (building technology), along with a new social hub for the campus, including an Information Commons (library) and an Indigenous Studies unit. The outcome was a building over four levels, with several frontages, including a beauty school with a lipsticked shopfront onto William Street. One of the building technology studios projects out onto Aberdeen Street like the diagram of a house.
The building takes a very different approach from the neo-modernist decoration that has become common among locally designed public buildings and has attracted its share of debate and criticism from local architects. This is a good start. Lyons brought with it a wide experience designing for the tertiary education sector, including outstanding buildings for the Box Hill Institute of TAFE's Nelson Campus and the Victoria University Online Training Centre. Such buildings have formed a body of work that is essential to understanding Australian architectural culture, and Carey Lyon has confirmed his place as one of Australia's most important architects. So why am I somewhat disappointed with this building? To grapple with this design, it is necessary to outline the trajectory of the development of its design approach.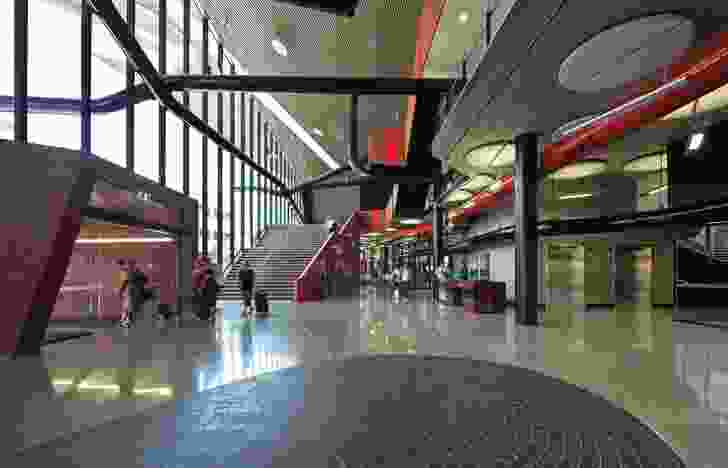 Carey Lyon has often discussed his interest in the cultural significance and sensational effects of Australian landscape, such as the sublime nothingness of landscapes like Pink Lake in the Wimmera. This interest in the voiding of space, and in the qualities of visual sensation, seemed to flow into his early TAFE and hospital designs for Lyons. These earlier projects usually emphasized the idea of architecture as a thin fiction, although this surface occasionally folded into the building as a fragmentary reference to something larger, such as the little "Pantheon" lecture theatre within Box Hill TAFE (described by the institution as an "igloo"). Such occluded references might be understood as dissimulations, deliberate invitations to misreading, akin to contemporary art practice. It is hard to imagine eighteen-year-old youths, studying in these buildings, "getting it." Perhaps getting it is not the point – an informed uncertainty, or necessary ambiguity, seems to be the philosophical position at the heart of such projects as the Box Hill and Victoria University buildings. These appear to reject any formal (structural/linguistic) codes of the Robert Venturi kind in favour of a constellation of images that invite personal misreadings. It remains to be discussed whether such an ambiguity is equally evident in the Perth Central TAFE building. The architects describe its meaning as "fiction," thus acknowledging a debt to the post-structuralist writing of Peter Eisenman, who rejected any notion of architectural expression deriving from either program (Modernism) or precedent (Classicism). In place of origin or end, Eisenman proposed architecture as consciously constructed fiction. This argument was couched in relation to what he saw to be the death of the Enlightenment project in the Nazi concentration camps. His position became extremely influential among the architects of what could now be called late postmodernism (LPM) and was imported to Australia through the work and writing of Michael Markham and Carey Lyon, among others. 1
A key moment in the application of such ideas was the competition for Federation Square in Melbourne. Instead of "strong" images of national symbolism, there were a number of fragmentary assemblages of weak images, notably in the schemes by LAB Architecture Studio, ARM and Lyons. From a post-structuralist perspective, a strong image will always be inauthentic – a representation of the unrepresentable. Instead, the short-listed entries for Federation Square all embraced a weakness and fluidity of meaning, in which metaphors of landscape abounded. The Lyons entry floated a simulated cloud of glass over the site. Under its cover, various sub-landscapes – indigenous, suburban rose gardens, the bush, etc. – were juxtaposed within a fluid topography. These ideas, of misreading, dissimulating architectural landscapes, combined with a sharp appreciation of the clients' needs and expectations, arguably formed a continuous thread through Lyons' major commissions over the next decade. The new Central TAFE building in Northbridge forms a kind of encapsulation, or end point, of these ideas, much as the National Museum of Australia did for ARM.
In attempting to understand this building, I will engage in a bit of my own misreading and address this question: how might publicly understood meaning be fabricated and transmitted through contemporary architecture? Furthermore, do the intentional ambiguities in such Lyons projects imply that there is no need for publicly understood meaning? Like the earlier scheme for Federation Square, the building abounds in allusions to landscape. The colours are earthy. An initial reaction of "why beige?" is replaced by an awareness of subtle shifts of tone, much as the apparently monotonous Australian landscape reveals a subtle multiplicity. Formally, the building – particularly on its eastern and southern flanks – resembles an eroded Murchison cliff face or, at a stretch, the section of an open-cut mine. On Aberdeen Street, the pleated southern facade (think James Stirling at St Andrews University, Scotland) wraps inwards into a cavernous, overhung, glazed space, the "statement space," revealing the workings of the interior and threatening passers-by with huge industrial entrails in the form of steel pipes (again Stirling – his pipe rails at the Stuttgart State Gallery). 2 A strange, saclike form hangs from the canopy – spiders' eggs? Monumental wad of chewing gum? Metallic Uluru? It turns out to be the mould of a suburban swimming pool, a commissioned sculpture by Stephen Neille and Jurek Wybraniec. The suburban motif seems appropriate in a building that traces its DNA back to the populism of Venturi and Denise Scott Brown. Pushing out through the glass wall to the entrance plaza are two objects: a deep red airlock entry (read: industrial plant) and a strange, faceted concrete object surfaced with brown and grey hexagons. What is this? It could be read as a mineral sample (another mining metaphor), but equally as a sampling of gloriously bad-taste kitchen tiles. On both accounts I am wrong – the form is intended, we are informed by the architects, to reference the carapace of a tortoise, apparently a sacred animal for the local Indigenous people. This raises a problem: how can an architectural approach based on uncertainty and fragmentation of discourse then impose meanings upon forms? Logically, it cannot, so what is manifested here, in the architects' account of this building, is the equivalent of the "explanatory text" of modern art.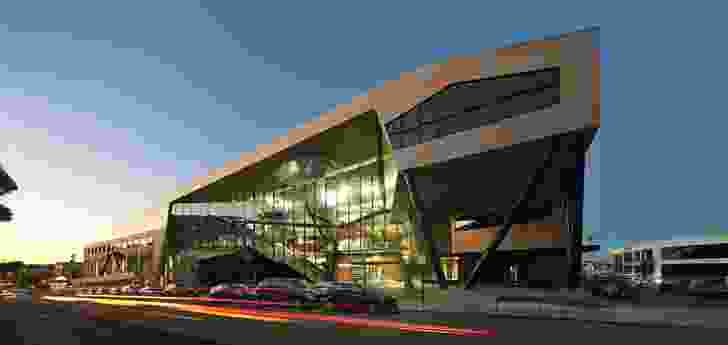 Then there is the tendency for tertiary education clients to call for iconic buildings, "entry statements," in order to brand their campuses. A dilemma is thus posed for an LPM designer. As Eisenman himself states: "Every time I go to an interview I always say, 'We will give you a unique signature.' That is what clients want to hear, and that is how you get selected. Or we say something like, 'We will give you an icon.' You can't be saying 'We are going to give you a non-icon icon,' because that's not what they want." 3
So there is an "official meaning" and an unofficial "non-meaning." Which is saying no more than that public architecture at this scale always possesses political and economic drivers that compete for influence with the design team's concept. This creates unease, a sense that the ironic detachment of the firm's earlier, more intellectually confronting buildings has been lost or compromised. But, arguably, this tension inevitably derives from the disconnection between the architects' experiments with ambiguity and the more prosaic aspirations of the client. This is not to say that the Perth Central TAFE building fails as a work of architecture. It is still infinitely more challenging, accomplished and witty than most other public architecture in this city and has already generated a worthwhile debate. It is also unrealistic to expect a firm the size of Lyons to consistently work with the same edge. But beyond this, there is the issue of the tenability of Eisenman's "non-icon icon." There are two conflicting tendencies in this building – on the one hand a Venturi-derived symbolism (building as decorated shed-monument), and on the other, a play on sensation and misreading (building as conceptual artwork). At the scale of the public realm, this creates an unsettling dissonance. The building thus raises larger questions about the capacity of contemporary architectural approaches to contribute, at a public scale, to the construction of places.
Author's correction
1. Factually Professor Peter Eisenman's intellectual and architectural position was not imported "to Australia through the work and writing of Michael Markham and Carey Lyon, among others". Eisenman's work and ideas had been well published, both in IAUS publications and the journal Oppositions (both of which he founded), along with many other international magazines since 1967. His influential lectures in Australia in 1983 were at the invitation of a generation of architects who began practicing in the 1970s. Michael Markham did not begin writing or publishing until 1984, a year after graduating from the University of Melbourne. The publication record does not support shared interests between Markham and Lyon.
2. The term "statement space" is borrowed from Perth writer and architect Amelia McPhee.
3. Brett Steele (ed.), Supercritical: Peter Eisenman & Rem Koolhaas , (London: Architectural Association, 2010), 36.
Source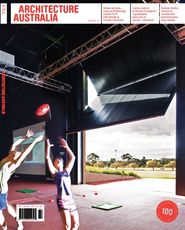 Issue
Architecture Australia, July 2011
Related topics