Reviewing a house can be quite an energizing practice. At its very best it is an opportunity to see physical manifestations of people's thought processes. The good houses display a continuity of thinking through the building and its setting; a set of clear ideas investigated and interrogated. Northern Beaches House by Tobias Partners, in northern beachside suburb of Sydney, is one home that pays careful attention to history while injecting local knowledge and context, all while retaining a sense of clarity and simplicity.
In order for the strength of its ideas to really be understood, a home like this – as contemporary as it is – needs to be read within an historical context. The Farnsworth House by Mies van der Rohe and the Glass House by Philip Johnson, built in the 1940–1950s, became icons of modern architecture. They were completed at a time when technological advancement provided opportunities for architecture, and when society was ripe for new ideas and renewal in the aftermath of World War II. There was large interest from the community in these icons of new world order – for example, Johnson needed to hire security guards for the Glass House so that he could enjoy the expansive views without strangers watching his every move.
At their simplest, these dwellings are a series of floating platforms located within large landscaped estate settings devoid of any transition between cultivated and uncultivated land. The buildings each embrace their entire setting, or perhaps more appropriately the landscaped settings embrace them; the dwellings are marooned within them, and in the case of the Farnsworth House the "natural" landscape continues beneath it. The buildings themselves are composed of floating platforms, with the floor and roof edges bridged by large sheets of glass. The structural support is expressed as part of the honesty of the whole, with the only visual connection between the plane of the roof and that of the floor being the simple contained bathroom spaces which act to both enclose and separate space.
These two buildings set a new agenda for living environments at a time in history when industrialization, spurred on by the war, was impacting every corner of life. This was a remarkable time for architecture; a time when new thinking and new technology aligned to deliver remarkable and sustained change to ideas of housing and dwelling.
Contemporary interpretations of these houses abound. Our modernist embrace of the "external" and our voracious quest for a view has seen interpretation upon interpretation of these glass box homes built across the suburbs. Good examples – such as Northern Beaches House – see an understanding and reframing of the original ideas of flexible and connected space, and respond to site context, environmental conditions and cultural variance. The act of extending and overhanging the roof plane to create shadow to combat the hot northern sun, for example, gives specific variance within an Australian context to the original North American staple. Poor examples capture the glazed aesthetic and shoehorn it onto too-small urban blocks, resulting in significant impacts to both the residents and the surrounding public domain. Stories of people changing inside their wardrobes are not uncommon in a typology where privacy is placed low in the order of priorities.
Northern Beaches House is perched at the top of a steep embankment looking north along a string of outlets and headlands. The view is about as spectacular as they get, and the house respects this by keeping out of the way in a truly quiet and resolved manner. I would suggest that the hardest architectural outcome to achieve is that which appears simple and straightforward, and this is perhaps one of the best examples of this that I've seen. The house has effortlessly negotiated a steep embankment. A strong base accommodates the pool and lower bedroom spaces, anchoring the building, with the remaining two levels appearing to float.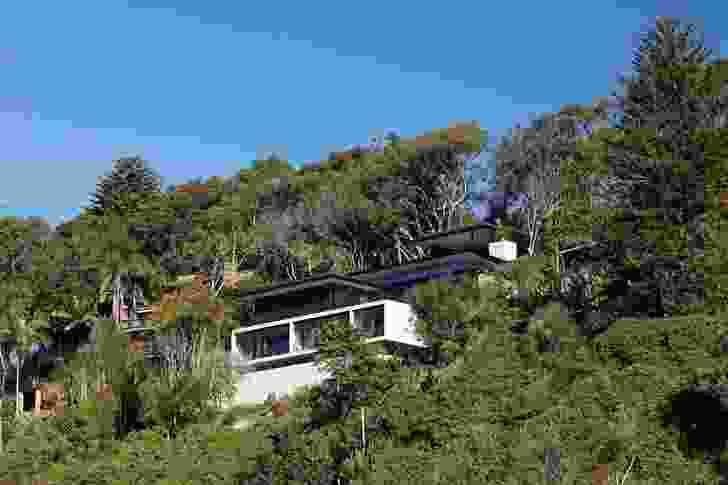 Internalized and integrated structural steel supports allow the roof planes a lightness that engages external spaces without making the building feel deep or compressed, while the arrangement of internal spaces such as bathrooms and service areas are aggregated to form natural separations of space. The structure also hides essential shading devices. Balustrades are kept remarkably simple without resorting to clear glazing, which can often reduce, rather than open up, the visual permeability, due to salt aggregation.
Considering the complexities negotiated in achieving a house that respects the original while innovatively meeting contemporary and regional overlay requirements, it is refreshing to stumble across a home within the Farnsworth genre that has been completed as well as Northern Beaches House.
The planning of this house takes advantage of its location without exposing its family to the prying eyes of the surrounding neighbors, which is no mean feat. It is a clever and classic home that will accommodate the idiosyncrasies and vagaries of this family and those who will follow, while ensuring that the aims of the original staple – open living spaces, large expanses of glazing to capture a view, separation of spaces through the use of joinery and service pods, floating platforms that capture living environments and a structural honesty – are acknowledged. This is a remarkable home. I wish I could live here.
Products and materials
Roofing

Architectural Roofing and Wall Cladding Falzonal roofing in 'Zinc Grey'.
Internal and external walls

Cement render.
Windows

Vitrosca sliding doors and glazing; Horiso external louvres; Viridian glazing; Simple Studio window furnishings
Doors

Nordex internal doors in Dulux 'Natural White'; D Line stainless steel door hardware.
Flooring

OnSite Ignia Grigio stone flooring, honed; The Natural Floorcovering Centre Sisal Pepper and Salt carpet.
Lighting

Zumtobel and Bega lighting.
Kitchen

Miele stainless steel appliances; Square Peg stainless steel benchtop and ply joinery with laminate.
Bathroom

Duravit fittings; Vola tapware; Alucobond wall cladding.
External elements

Warringah Timbers spotted gum decking.
Other

Richard Peters dining table.
Credits
Architect

Tobias Partners
Sydney, NSW, Australia
Project Team

Nick Tobias, Richard Peters, Aubrey Chan, Belinda Wight
Consultants

Audiovisual Matthew Whealy
Builder Coddington Constructions
Electrical Brian Lomas
Engineer Partridge
Geotechnical Douglas Partners
Hydraulics Cardno Brisbane
Joinery Square Peg Woodworks
Landscaping Myles Baldwin, Justin Lawrence
Metalwork Kostas Engineering
PCA Tom Bowden
Planning Boston Blyth Fleming

Site Details

Location Whale Beach, Sydney, NSW, Australia
Site type Coastal
Site area 1654 m2
Building area 455 m2

Project Details

Status Built
Design, documentation 9 months
Construction 18 months
Category Residential
Type New houses

Source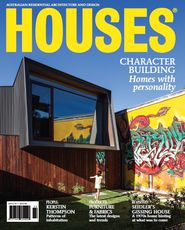 Related topics