Northshore Pavilion by Anna O'Gorman Architecture constitutes a momentous opportunity for an emerging architect. With surprising sophistication, it succeeds in syncretizing the competing complexities of an abandoned riverside site for a client whose aspirations blended ambition with ambiguity. The project was essentially an exercise in marketing Economic Development Queensland's (EDQ) future plans for the Hamilton Reach masterplanned community – a development located in what has been tagged as the state's largest waterfront urban renewal precinct.
Marketing has evolved from the spoken to the printed word, with subsequent transmission by electronic media. Today, the message is propagated throughout the public realm, pervasive enough to saturate our private domains through handheld devices. But, as Crystal Bennes asks, can marketing be architecture?1
Generally considered the spawn of George Orwell's Big Brother,2 marketing is not always evanescent: think of Harry Chandler's giant billboard promotion of the 1923 housing development "Hollywood," still standing after ninety-five years, restored and maintained by donations.3 Various proposals have recently been advanced to increase accessibility to that same sign: a group of Danish and Belgian architects advocated enclosing the ground beneath the sign to build a vast public landscape for ceremonial functions, physically an act of gigantic underlining, while Christian Bay-Jorgensen posited a hotel infilling the font of each of the nine letters.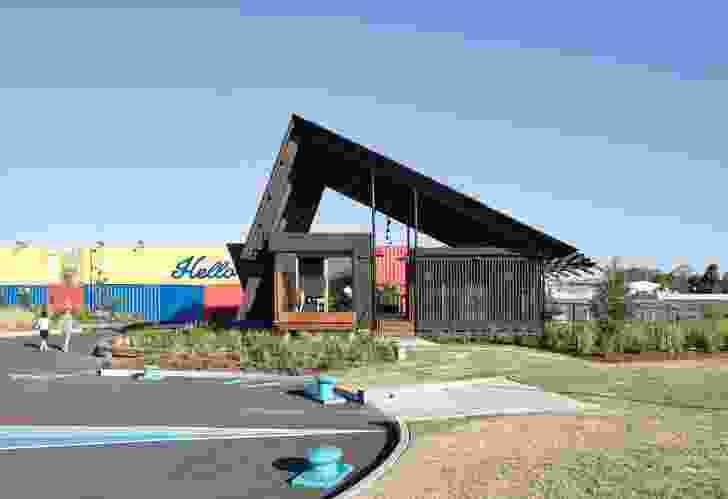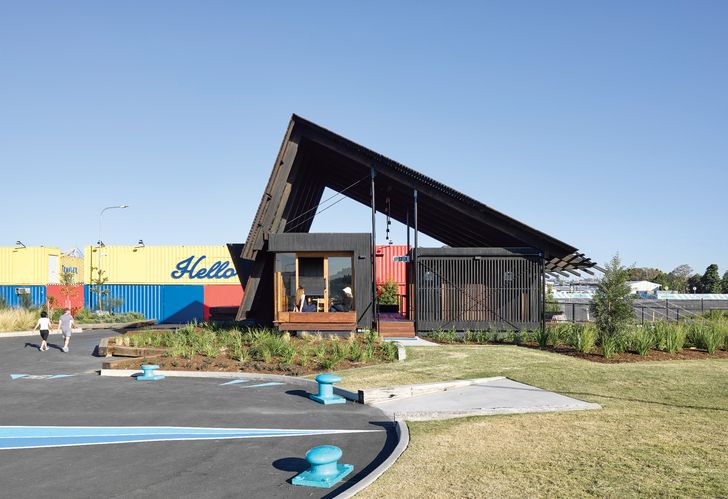 Architecture's association with marketing has produced transformational consequences. Witness the obscure Spanish town of Bilbao, placed on the international uber-cool map for artistic and architectural pilgrimage by Frank Gehry's 1997 Guggenheim. Louis Vuitton also chose Gehry for Paris's Fondation building, not to reanimate the Haussmann era, but in the hope that his futuristic design would help flog overpriced handbags. Hordes of so-called "starchitects," from Zaha Hadid to Rem Koolhaas, have been commissioned to add design merit as well as currency (in both senses) to flagship stores across the globe; some benefactors prevailed on their architects of choice to design limited-edition merchandise such as jewellery, shoes, valises and similar accoutrements.
This trend was followed by brand-savvy Australian universities, equating starchitect campus buildings with pulling power for student enrolments, especially lucrative overseas students from designer- merchandise cultures. Most disturbingly, such universities have forsaken their own architectural graduates for foreign starchitects, sometimes partnering with interstate firms: homegrown starchitectural aspirants lacking the cachet of their international collaborators, whose little-credited involvement helps bypass mandated requirements to utilize domestic talent.
EDQ, disenchanted by such cynicism, favours young, locally trained talent for its marketing agenda.4 O'Gorman's dilemma of marketing versus architecture is resolved by essaying an architectural worthiness, which itself becomes the attraction, eschewing the "Learning from Las Vegas" approach.5 Unencumbered by such overtness, her inspirations are Chilean and Japanese precedents, modest and simple structures within landscapes, not conspicuous promulgators.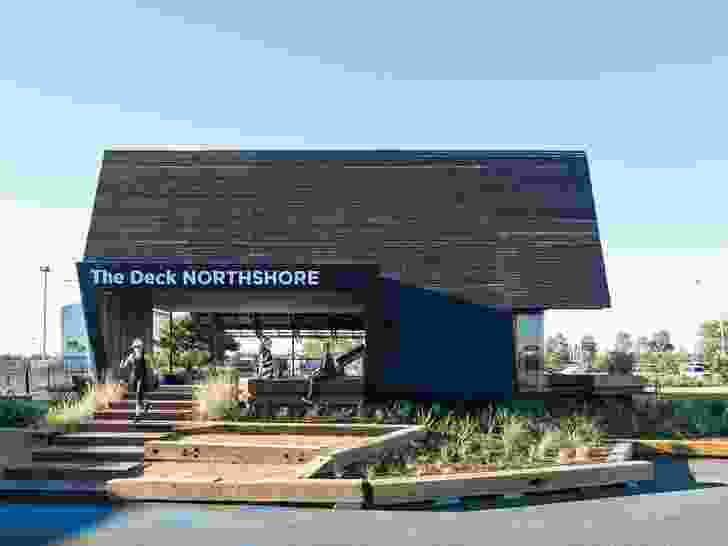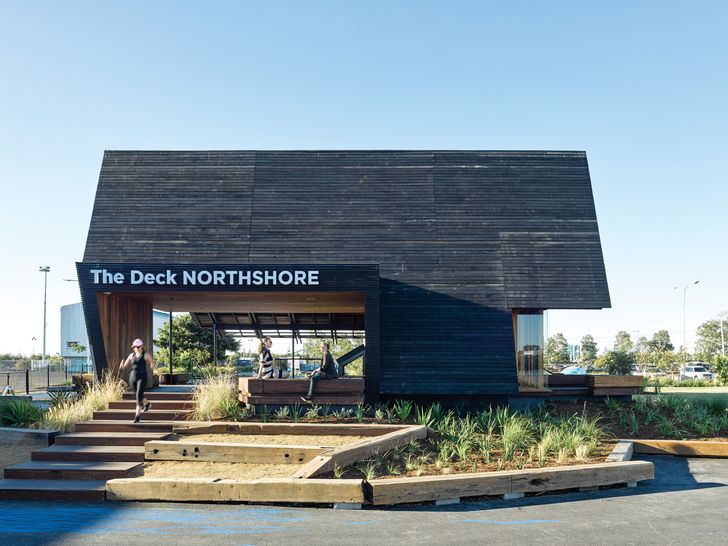 O'Gorman's brief was a limited-lifespan structure fronting Harbour Road that would serve as an information centre for Northshore, located amid the 304 riverside hectares of the Northshore Hamilton urban development area. But her astute behavioural insight recognized that people are drawn to riverside rather than roadside. She convinced EDQ to relocate the building site closer to the riverbank and at once the silhouette and far view became critical to the success of the structure, particularly given the abandoned landscape's barren ambience.
O'Gorman's approach relies on a favoured mise en scène from her repertoire of ideas: playing with the ambiguity of building as landscape, creating a metaphorical landscape from the building itself. Thus the structure attracts the public from afar with its curious atypical building form, while subtly exquisite detailing delights the experience of those drawn closer. This metaphorical landscape is tripartite, fashioned mostly from the canopy roof, but supported by a datum of box-like pods and a raised platform base.
Programmatically, the structure has a loose fit: a folded timber canopy shelters an expansive platform – known as "the deck" – connecting the smaller pod buildings of restrooms and a small meeting space. Generously, the structure is for public amenity, accessible 24/7 and available by appointment; only the airconditioned meeting room is primarily for EDQ use.
The use of the roof predominantly as a topographical device references the work of Kengo Kuma. O'Gorman's canopy, part wall and part roof, draws upon the formal language of the Shadow Pavilion by Chilean firm Elton and Léniz Arquitectos Asociados, but also references, more locally, the shed structures that can be seen along riverbanks, shaped and cropped to shelter watercraft and associated equipment. Beyond the hulking form, exquisite details bathe filtered light through the layered structure, shape the edges to views and masterfully alter the experience from civic to personal.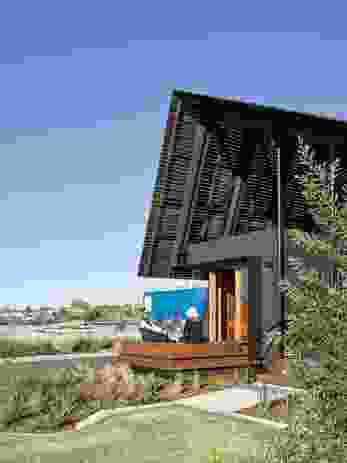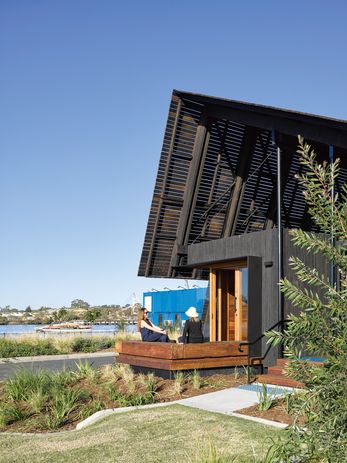 The structure's ambiguity gains powerful external emphasis from the blackened, burnt- charcoal-stained appearance of the rough-sawn timber (actually a prophylactic against tannin leaching stains, which often accompany timber structures in the subtropics), striking against the horizontal backdrop of a decommissioned 1923 wharf and endless riverscape. By contrast, internal areas are lined with smooth dressed timbers oiled with a natural finish that produces a warm, honey-coloured glow. The exterior/interior diremption is deftly handled through incremental transitions from exposed landscape to private oasis.
The raised deck and "pop-up park" landscape placed atop an as-found slab afford the structure a commanding view of the river and adjacent EDQ land; more pragmatically, it dispenses with excavation or sub-ground footings and affords easy service access. The canopy structure is differentiated clearly, with its columns and bracing entirely free from the pod buildings. The sequent footprint is stepped yet organic, much like those of Alvar Aalto's architecture.
The deck is a wandering, elevated timber platform that O'Gorman describes as "a ribbon path and a journey within." It cunningly curates the river view while affording a generous gathering space in the protective comfort of shade in an otherwise harsh landscape. As the unifying elements, the canopy's form and materiality are beacons within typically flat reclaimed land. A framed view of the Brisbane River from the viewing portal is the single largest gesture, differentiating interior and exterior scales.
O'Gorman has long been interested in the use of timber to clearly articulate use, elements, character and space. She explains that the design was "informed by research into the site's history and timber wharf structures," so "the use of wharf timbers salvaged from the site made a tangible link with the site's history."
The architect was conscious of the material's preciousness and the structure's temporary lifespan, and the construction methodology focused on re-use and repurposing. Detailed investigation favoured a panel system that allows future unbolting and disassembly for envisaged repurposing elsewhere in the Northshore development. Forty-six timber panels – sixteen for the roof, eighteen for the screens and twelve for the deck and ramp – were made off site, craned into position and fixed in place.
Designing a pavilion is many architects' dream project. But the typology's deceptive simplicity belies its challenges. Even for established practitioners, it is extremely difficult to add something meaningful to an already saturated reservoir of precursors, including the likes of Ludwig Mies van der Rohe's Barcelona Pavilion. For O'Gorman to do so with a modestly budgeted marketing pavilion exacerbates an already difficult quest. Then to make the pavilion without any signage, other than what is incorporated into the structure and embedded in its heavy timbers, and to handle it so masterfully, exhibits an architectural talent well beyond her years. This exemplary pavilion of sumptuous materiality is memorable now and will remain so in its future lives.
1. Crystal Bennes, "Where does architecture end and marketing begin?" The Architectural Review , 20 April 2015.
2. George Orwell, Nineteen Eighty-Four (London: Secker and Warburg, 1949).
3. The restoration was promoted by Playboy magazine founder Hugh Hefner (who sponsored the letter "H"), with other donors including movie producer Giovanni Mazza (the first "O"), actor Gene Autry (the second "L") and singers Andy Williams ("W") and Alice Cooper (the third "O"): Leo Braudy, The Hollywood Sign: Fantasy and Reality of an American Icon (New Haven, Connecticut: Yale University Press, 2012).
4. EDQ is (at the time of writing) developing a strategy to create a network of support for students and emerging architectural practices. This will include working with universities, industry groups and associations; developing design competitions; and selecting projects through which upcoming architects can develop industry experience.
5. Robert Venturi, Denise Scott Brown and Steven Izenour, Learning from Las Vegas (Cambridge, Massachusetts: MIT Press, 1972).
Credits
Architect

Anna O'Gorman Architecture

Project Team

Anna O'Gorman
Consultants

Builder Charles Warren Construction
Landscape architect Lat27
Project manager Greenlight Creative
Services engineer Webb Australia Group
Structural engineer Ad.Structure
Timber processing and prefabrication Kennedy's Timber

Site Details

Site type Suburban

Project Details

Status Built
Completion date 2017
Type Small projects

Source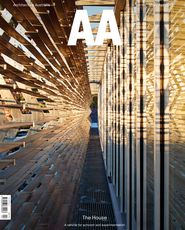 Issue
Architecture Australia, March 2018