A schooled knowledge of a client's brand is a common starting point for designing corporate interior fitouts. When Carr Design Group was briefed to design Norton Rose's new Brisbane offices, there was a solid ten-year history of collaboration with the client to draw on. Carr Design Group had developed a prototype floor in Sydney for the international legal firm that was then rolled out in Melbourne and Perth. Concepts in Sydney, Canberra and Jakarta followed.
Familiarity with Norton Rose's aspirations and working styles was thorough. While that might normally lead to some shorthand in the communication process, and a bit of intuitive understanding between client and designer, Carr Design Group in fact approached the Brisbane brief with a detailed analysis of the law firm's brand. The highly participatory process of consultation with staff and stakeholders that followed would warm the heart of any marketing outfit. But, for all that, in the final outcome, the lawyers' brand is not shouted on banners or signage. Discretion is the key, and messages are subtle, subliminal and communicated within Carr Design Group's signature refinement.
"There was the usual directive for a global look," says Carr Design Group director Dan Cox. "But also the need for local appeal. The firm joined with Deacons in Brisbane and that was a local practice."
Intensive briefing sessions (involving eight groups of twelve people from different practice areas) asked respondents to identify the most iconic thing about Brisbane. The Brisbane River was almost unanimously named. The river features prominently on the site, and is celebrated in Cox Rayner Architects' design of the base building, One One One Eagle Street. Carr Design Group's plan also makes the river the main canvas, while keeping the interior design minimal.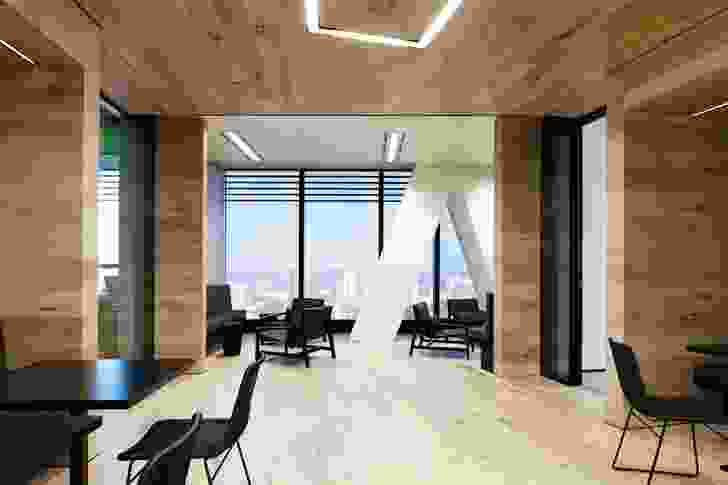 In perhaps its more literal interpretations, the snaking course of the Brisbane River is mapped on a watery image in the foyer's translucent shoji screen divider. Its twists and turns are also translated into a block pattern on the ceilings, where acoustic waffle tiles are arranged accordingly. In a less literal way, the water's colours reassert themselves in bands of glass along the top of office partitions. Various shades of blues, greens and yellows (also acting as wayfinding elements on the colour-coded floors) recall the different depths and vegetal content of water. The colour bands correspond in dimension to the base building sunscreens, and visually connect to them as part of a neat grid of intersecting lines achieved throughout the program. The coloured glass sends feint washes of hues over the ceilings.
Reflection, transparency and translucency are also orchestrated carefully with the locally manufactured glass walls of the offices and meeting rooms, where workers can look out, but only be registered as shadows from passers-by.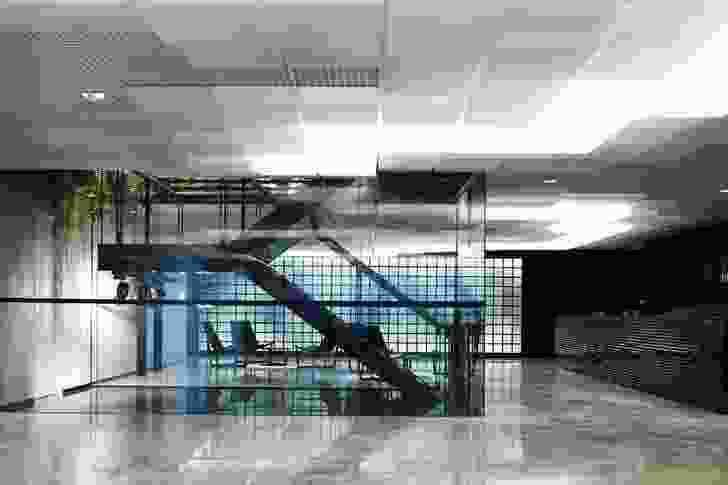 The foyer is a clean, large volume dominated by a sleek black reception desk that serves as a power-dressing introduction to the firm. Compiled of stacked horizontal strata made of black-mirrored stainless steel layered with anodized aluminium shadow lines, it is a chic boundary marker to a series of spaces that rigidly comply with a clean-desk policy. A matching bar-cum-television console sits in the communal gathering space beyond the reception, where large functions take place.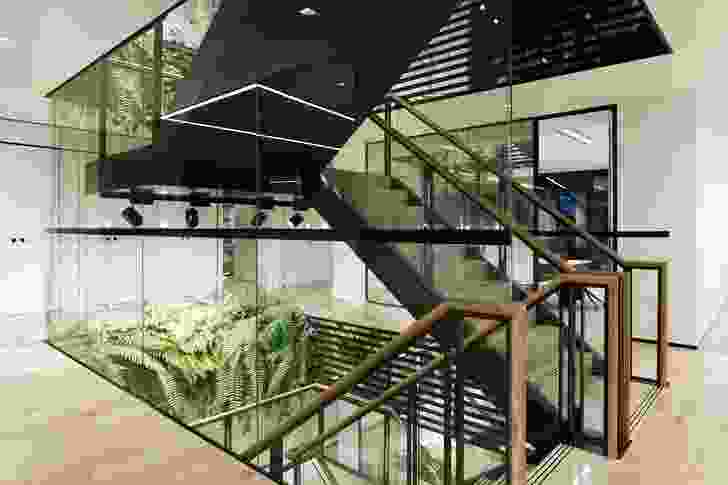 The clean, adamantine palette of the foyer, including on its stone floors, has its softening feature in the green central stairwell that is established as a vertical garden of ferns and creepers. Limed oak floors around the core demark staff breakout zones, where timber-lined booths and felt-covered benches and chairs add a tactile and human dimension.
"The social spaces show clear connections to the home and domesticity," says Cox. "It's important that people have private spaces to retreat to when on a break, and these niches are relaxed and informal [and provide] a level of privacy."
Workspaces are utilitarian and organized, with about one quarter of them open plan and the remainder closed modules. A 1200-millimetre plimsoll line, above which there are no solid objects, reinforces a quieter workplace. "There's an etiquette about noise when people can see one another," asserts Cox. Areas facing the river are left open for all to share. The base building's distinctive angled columns, which spear through each of the five levels at random angles, are clearly expressed and kept clear of furnishings. As an essay in reductionism, the space is symbolic of the clarity and concision that can be expected from the legal services that take place within.
Norton Rose Brisbane by Carr Design Group was a finalist for Workplace Design at the 2013 Australian Interior Design Awards.
Products and materials
Walls and ceilings

Viridian glass partitions. Reception walls painted in Murobond 'Crushed Shell'. Work area partitions powdercoated in Dulux 'Black Satin'. Sapphire Aluminium polished Bright aluminium doors. Plexiglas Satin Ice ceiling from Performance Polymers. Knauf ceiling tile. Magna Grid open ceiling grid from Hunter Douglas Commercial. Laminex Crystalgloss laminate. Atkar acoustic panel from Decor Systems. Dulux 2-pac finish.
Windows

Coloured glazing film from Reflex Technology. E-Screen sheer blinds and Flocke blockout blinds in black from Mermet.
Doors

Keeler Hardware Marc Newson D Line door lever. Lockwood door lever. Designer Doorware door pull. Barben flush pull.
Flooring

CDK Stone Grigio Antico marble floor tiles. Signorino polished black floor tile. Continuum Sea Salt carpet tile from Interface. Ripzon Kontrakt loop pile carpet from Halcyon Lake Rugs and Carpets. Havwoods oak timber flooring. Altro vinyl safety floor.
Furniture

ody task chair, Very Wire Stacker chair and Planes folding table from Haworth. Lilly chair, Busk and Hertzog side table, custom coffee table, Cafe chair, Rialto lounge chair, and Basile and Evans touchdown stool all from Interstudio. Miles armchair from Jardan. Hay About A Chair, Magis chair and Steelwood high stool from Corporate Culture. Lottus chair from Zenith. Materia Obi table, Materia meeting table and Skandiform tea trolley from KFive. Moooi table and cafe lounge side table, and Porro chair and side table from Space. Confair table from Wilkhahn. Herman Miller lounge chair, Eames Maple Base armchair and Nelson end table from Living Edge. Vitra Joyn bench supplied by client.
Kitchen

Miele stainless steel microwave. Smeg dishwasher, Franke Planar undermount sink and Liebherr underbench freezer from Harvey Norman Commercial. Zip Industries Zip Hydro Tap and mixer. Astra Waker soap dispenser and mixer. Hafele cutlery tray and tea towel rail.
Credits
Design practice

Carr Design Group
Melbourne, Vic, Australia
Project Team

Dan Cox, Maurice Toniolo, Kate Jackson, Florian Kaiser, Natalie Aganoff
Consultants

Builder Built
Hydraulic and fire services engineer Cardno Brisbane
Landscaping Plant Up
Lighting concept Carr Design Group
Mechanical and electrical engineer/lighting designer Medland Metropolis Brisbane
Project manager Savills Australia
Staircase Arden Architectural Staircases
Structural engineer Odyssey Consulting Group

Site Details

Location 111 Eagle Street, Brisbane, Qld, Australia

Project Details

Status Built
Design, documentation 5 months
Construction 5 months
Category Interiors
Type Workplace

Client

Website nortonrose.com

Source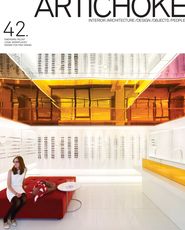 Issue
Artichoke, March 2013
Related topics