The University of Notre Dame Australia's Fremantle campus, housed in old warehouse and commercial buildings in the city's heritage-listed West End, is often credited with saving that part of the port city from dereliction. In truth, concerned locals established the Fremantle Society in 1972 to protect and preserve the city's built heritage, some of which dates back to the convict era of the mid-1800s and some from the gold-rush era of the 1890s.
As commercial activity moved to Perth in the 1950s and '60s, Fremantle's fortunes declined. It underwent a renaissance of sorts when the America's Cup was held offshore in 1987, but an economic downturn followed, and many buildings fell into disuse and disrepair. The University of Notre Dame Australia began acquiring and repurposing them, opening its doors to students in 1992.
The university continues to acquire new real estate much to the concern of some local business owners who resent its spending power and ongoing appetite. Others lament the loss of public access to these handsome structures that tell the stories of Fremantle's past.
The new Student Hub by Cox Architecture addresses some of these concerns by deliberately opening up to its context and activating ground-floor spaces as a way of blending academic and public activities.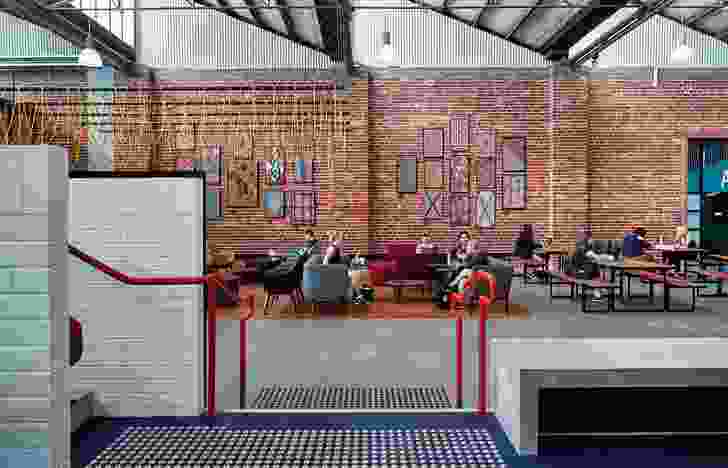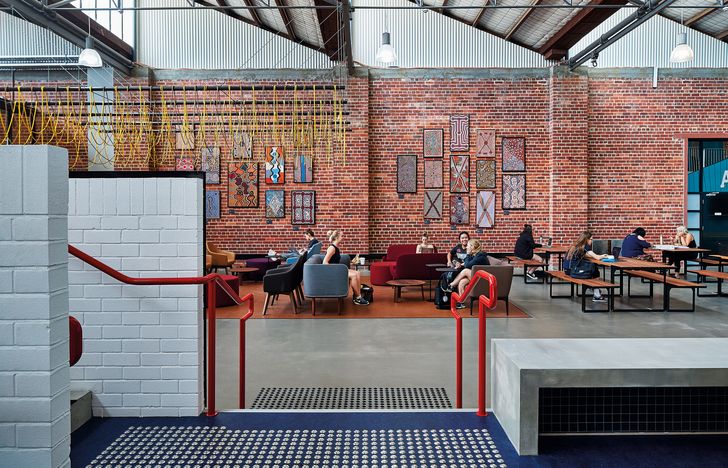 Housed in a former rope-making factory opposite the campus's main library, the Student Hub's internal face brick walls are topped with a sawtooth roof; it's a solid container with great overhead natural light. However, according to Cox Architecture director Emma Williamson, the previous iteration was dark and closed off, and didn't capitalize on its prominent corner location.
"There were two main aims with this project: to provide an attractive and useable space where students could remain on campus between or after classes, and to provide a sense of porosity between the campus and the city, to improve accessibility between the two," Williamson says.
The new design achieves those objectives with several key manoeuvres. The side entry on Croke Street has been pulled inward from the external skin to create an outdoor terrace with generous seating, and large sliding windows that open to the interior. On the Mouat Street elevation, the previous partitioned office area has been opened up and repurposed as a quiet lounge. Parts of the floor were intentionally raised to elevate banquette benches to the height of the high windows to the street, further activating that facade.
The new entry is a large glazed "garage door," and careful attention was paid to accessibility to the various internal zones – a new lift and steel-framed bridge connect two mezzanine areas upstairs.
The project initially began in the offices of CODA Studio before that practice merged with Cox Architecture, and it features Williamson's bold use of colour – turquoise and red in this case – inspired by the interiors of architect Adolf Loos' home.
Williamson says they envisioned the various zones as pod-like insertions within the cavernous space and varied the ceiling heights to denote them. A large sculptural rope installation brings down the ceiling height over the main lounge to create a sense of intimacy while referencing the building's past life.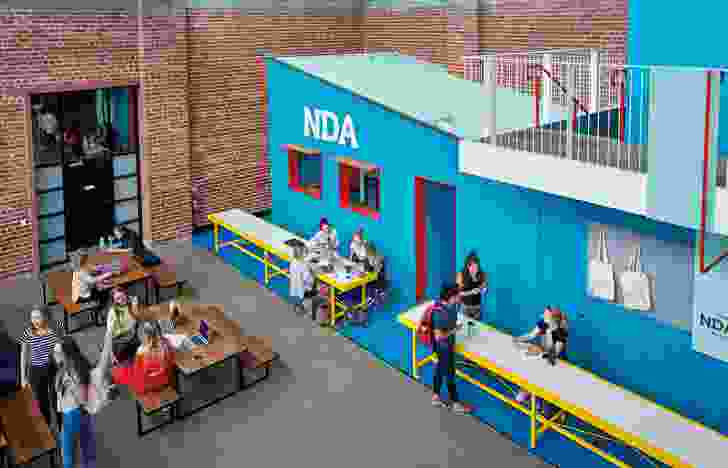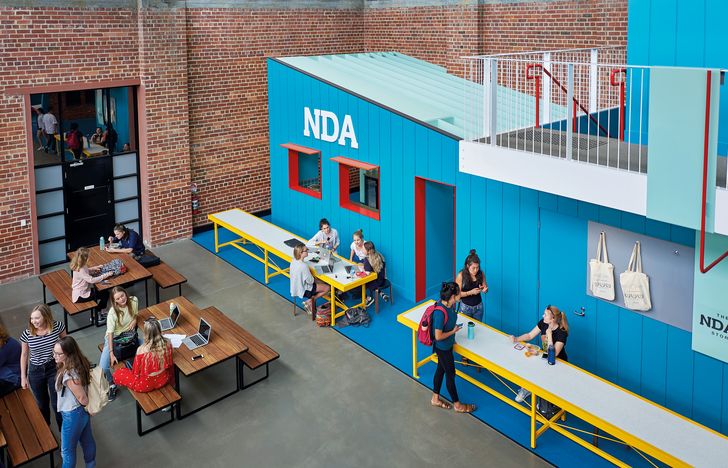 The furniture selection is more in keeping with an airline lounge than traditional student digs – it responds to technological changes that mean students now work anywhere, at anytime. Custom-designed yellow-framed tables serve both as desks for collaborative projects and servery surfaces during functions, and lightweight stools can be moved around in the space.
The zones can be easily rearranged to accommodate events, exhibitions and large-scale gatherings. A heavy black curtain slides across the main entry to create an intimate entry vestibule. And the glazed garage door entry can be raised to enable food trucks to drive right in, augmenting the capacity of the commercial-style kitchen provided for students to use on the ground floor.
The building was previously home to the university's student association and various clubs, which occupied partitioned offices on the ground floor. Now the association occupies its own pod near the main entry and the clubs have moved upstairs into custom-designed mini-offices that provide all the amenity they need – desk, signage and storage – in a compact, secure footprint.
Today, the space is a more welcoming environment for students, tourists and the public, who can drop in and view paintings from the university's extensive collection of Indigenous art. And if people are keen to see more of the campus, Notre Dame runs free tours every Friday, providing a glimpse into the buildings and courtyards that impart so much character to the city's West End.
Products and materials
Walls and ceilings

Scyon Stria Cladding painted in Dulux 'Alpine Landing.' CFC sheet finished with textured roll-on Dulux Acratex Sedona in 'Vivid White.' Brickwork finished with textured Dulux Acratex Sedona in 'Vivid White.' Steel feature work powdercoated in Dulux 'Mint Twist' and 'Orange Wood.'
Windows

Steel joinery powdercoated in Dulux 'Matt Black.' Feature joinery powdercoated in Dulux 'Signal Red.' Breezeway Altair louvres.
Doors

Smartech GlideAway vertical bifold door powdercoated in Interpon 'Black Satin.' AWS Series 50 Commercial Suite, powdercoated in Interpon 'Black Satin.'
Flooring

Existing concrete slab polished. Existing jarrah parquet. Resilient Flooring in 'Goa,' 'Teal,' 'Deep Ocean' and 'Mercury.'
Lighting

Faze light, Novalux Lucky Evo light, Daro Bell pendant, Pro lamp, Daro Gisario light and Global Track Pro 3 lighting, all from Radiant Lighting.
Furniture

Three Table, Spike Stool and Spike Table, all from Stylecraft. Sprint Chair and Wes Lounge from Zenith. Croissant armchair, Ace sofa, Tap stool, Era lounge and Era low chair, all from District. Concrete planters from Quattro. Custom modular lounge from Lounge Innovation.
Other

Rope ceiling and hammock custom designed by Cox Architecture. Artwork on page 110–111: Tammy Wilson, Joan Nagomara, Bridget Mutji, Elizabeth (Noonie) Lulu, Gemma Galova, Palmer Gordon, Margaret Anjullu, Vanessa Nelson, Sallie Connie Skeen, Wumali Joan Nagomarra, Linda Daniels, Teresa Sunfly, Patrick Smith, Elizabeth Lulu, Jimmy Tchooga (Tjooga), Yingie Tchooga, Portia Daniels, Michael Mutji, Magda Yumari, Ruth Nungarrayi Spencer, Bridget Mutji, Sadie Sunfly, Daniel Rockman.
Credits
Design practice

Cox Architecture
Australia
Project Team

Emma Williamson, Nick Juniper, Kate Woodman, Akira Monaghan
Consultants

Builder Western Projects
Building surveyor Taycon
Engineer Forth Consulting
Fire services Strategic Fire Consulting
Heritage consultant Griffiths Architects
Lift consultant Engineering Consultants Australia
Quantity surveyor Donald Cant Watts Corke
Section J consultant Cadds Group

Site Details

Location Fremantle, WA, Australia
Site type Urban

Project Details

Status Built
Design, documentation 6 months
Construction 10 months
Category Education, Interiors
Type Universities / colleges

Source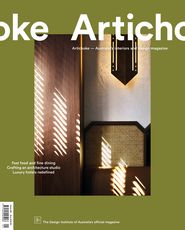 Issue
Artichoke, March 2019