Our annuals awards issue of Landscape Architecture Australia marks an opportunity to reflect on the ideas, opportunities and challenges that have shaped the profession in 2019.
After attending the Global Climate Strike in Melbourne in September, and following declarations by both the Australian Institute of Landscape Architects (AILA) and the International Federation of Landscape Architects (IFLA) of a climate and biodiversity loss emergency, I have been struck by an even more extreme sense of urgency around the need to respond with sustained and committed action that leads to measurable change. How landscape architecture takes on the challenge of embracing and harnessing the potential of the profession to effect political change and drive reform at an institutional level will be definitive of its path ahead.
Collected between these pages are the outcomes of two national award programs that present a peer-judged cohort of projects that demonstrate the breadth of Australian landscape architectural and urban design endeavours. On page 14 are the winners of the Australian Urban Design Awards, while on page 49 we present full coverage of this year's National Landscape Architecture Awards. Both programs assemble exemplary projects from around the country and celebrate the transformative potential of design to address the complexity of issues facing urban and regional areas. These challenges include the interconnected issues of climate change and biodiversity loss, population growth, social inequity, diminishing resources and shrinking green space. The projects featured in this issue collectively advocate for the value of design to Australia's cities, towns and settlements. They are evidence of how our profession can play a vital role in shaping better futures.
We warmly congratulate those practices whose hard work and commitment has been recognized with national awards and commendations this year.
In this issue:
2019 Australian Urban Design Awards. Presenting the winners and commendations from Australia's premier awards for excellence and innovation in urban design.
Unfinished landscapes. University of Greenwich academic Ed Wall talks design education and ecological crisis and the importance of bridging theory and practice. Interview by Liam Mouritz.
Lines and Tangles. Our latest Field Trip maps the colours and textures of
Tanzania's Tarangire National Park in the dry season. Photos by Dianna Snape.
National Landscape Architecture Awards. Full coverage of the 2019
National Landscape Architecture Awards.
Portrait. Landscape architecture students Rachael Roberts and Claire Morford-Waite, and recent graduate Hayden Matthys, talk to AILA Fresh. Interviews by Daryl Tian and Benjamin Horne.
End note. Photographer Dianna Snape on drifting above the Tanzanian landscape at dawn.
Source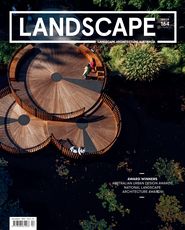 Archive
Published online: 5 May 2020
Words: Emily Wong

Issue
Landscape Architecture Australia, November 2019
Related topics