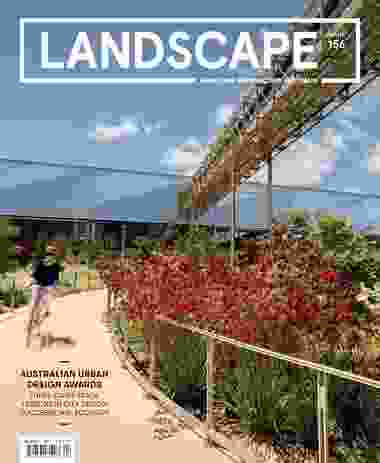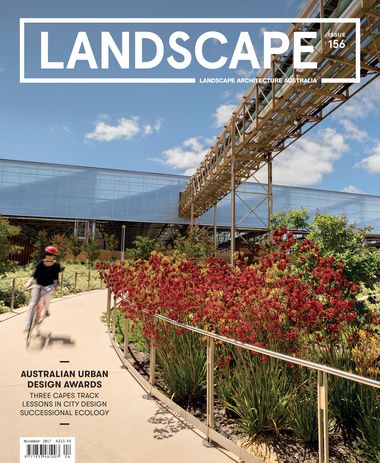 In this issue of Landscape Architecture Australia we present full coverage of the 2017 Australian Urban Design Awards. The program is unique in that it's truly multidisciplinary, open to professionals spanning engineering, architecture, landscape architecture and planning, and it only recognizes entries that successfully transcend any one discipline, acknowledging that good urban design outcomes come from integrated responses.
The awards program, originally known as the Australia Award for Urban Design, was initiated by Paul Keating's Urban Design Task Force in 1994. In fact, it was one of the first of the taskforce's recommendations to government announced by Keating, who was keen for the Commonwealth to play a much more active role in the design of Australian cities.
Urban planner John Mant, who was appointed as convenor of the taskforce, was highly critical of the administrative and legislative frameworks governing the built environment at the time, as well as the lack of holistic thinking evident in urban projects. "Everything is controlled, but very little is designed. Each design problem is treated as an island in a huge sea, with no relation to its neighbour," he said in an interview with The Canberra Times (Yvonne Preston, "Tackling Visual Urban Blight," 23 April 1994).
Keating lamented that "no whim or fancy should be subjugated to a common purpose or the greater glory of the greater whole," and pleaded, in classic Keating prose, for a "bit of poetry in the souls of our town clerks and shire engineers."
Keating had a particular aversion to the shopping centre and craved a more vibrant street life culture in Australian cities. A couple of decades on and the transformation of this aspect of Australian cities has been remarkable, owed much to the progressive, long-term policies implemented by city councils.
Rob Adams, director of City Design and Projects at the City of Melbourne, has been instrumental in the city's transformation from the sleepy "doughnut" centre it was in the 1980s into the vibrant metropolis it is today. Adams, who is profiled on page 44 by writer and landscape architect Lucy Salt, champions the role of design thinking in the council's achievements, explaining that having a design team operating inside government is critical – by doing some of the work in-house, governments are better able to understand the sort of contracts they need to write.
"One of the reasons I've stayed in local government is that to have an in-house capability – that actually builds and designs stuff, and provides policy advice – means you get good policy advice," he says on page 48.
In this year's Australian Urban Design Awards, transformational civic projects in Adelaide, Murray Bridge, Melbourne, Perth, Fremantle, Parramatta and regional New South Wales have been awarded and commended, and in New South Wales two policy documents have received recognition. As the jury have noted in their citations, these entries demonstrate contextual, integrated, resilient and equitable responses to complex challenges.
While our inner urban areas have seen a lot of positive change since the awards were first initiated, the outer urban areas, where most of the population resides, have been far less successful. A lack of coordinated, long-term, evidence-based thinking at state and federal levels has seen our cities grow outward with inadequate planning and infrastructure investment.
We're now seeing state governments across the country belatedly scrambling to regain control of the transport situation with big-ticket infrastructure projects as they realize the cost of inaction is greater than action. But due to the same administrative and legislative issues that Mant highlighted back in 1994, many current state and federal-backed initiatives violate the long-term, strategic visions of local governments, and debate becomes partisan very quickly.
But the role of the awards is not to lament, but to identify and celebrate the finest urban design projects, policies and initiatives across Australia to provide a clear benchmark for built environment professions to work towards. On the whole, the trajectory of urban design in this country is looking up, and we look forward to covering its evolution into the future. Congratulations to this year's winners.
— Ricky Ray Ricardo, Editor
In this issue:
2017 Australian Urban Design Awards. Full coverage of the awards, including citations for winners and commendations.
Rob Adams: A lesson in city design. Rob Adams has played a key part in the City of Melbourne's transformation from the sleepy core it was in the 1980s to the lively twenty-four-hour city it is today. Profile by Lucy Salt.
Grassland: A provocation. Wootten Reserve on Melbourne's western fringe evokes the plight of Victoria's threatened grassland ecologies. Review by Ricky Ray Ricardo.
California dreaming: The gardens of Bernard Trainor. Originally from Victoria's Mornington Peninsula, Bernard Trainor has become one of California's most revered landscape designers. Profile by Howard Tanner.
Designing with ecological succession. Ecological succession is a naturally occuring phenomenon that's not often integrated into designed landscapes. Should it be? Article by Alistair Kirkpatrick.
Lessons from dry lands. In the arid south-west of the United States a number of early-twentieth-century landscape designs can teach Australian designers much about designing for dry climates. Article by Michael Wright.
Gardens of the High Line. A review of Piet Oudolf and Rick Darke's recent book, Gardens of the High Line: Elevating the Nature of Modern Landscapes. Review by Claire Martin.
Three Capes Track. In this instalment of our Field Trip series, we visit a recently opened walking trail on the south-east coast of Tasmania. Article by Johnny Ellice-Flint.
Subscribe to Landscape Architecture Australia from only $53 per year for print (four issues) and $12.95 digitally.
Follow Landscape Architecture Australia on Twitter, Facebook and Instagram.
Email me at landscape@archmedia.com.au
Source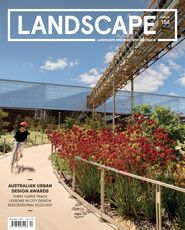 Issue
Landscape Architecture Australia, November 2017
Related topics