NSW government architect names members of pilot state-wide design review panel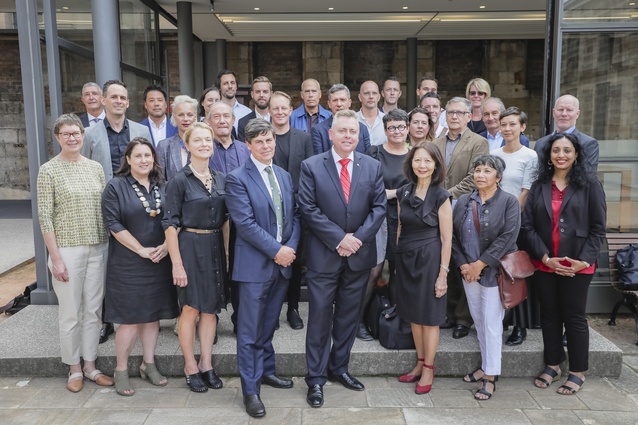 The Government Architect NSW (GANSW) has announced the 40 independent and expert members who will be called upon to advise on significant, large-scale developments.
The panelists, who are predominantly architects, were selected from more than 200 applications following a call for applications in December 2017. They include former NSW government architect Peter Mould, former national presidents of the Australian Institute of Architects Shelley Penn and Ken Maher and the newly elected 2019-2020 national president Helen Lochhead.
The NSW State Design Review Panel (SDRP) pilot will take place over 12 months, and is being organized by GANSW on behalf of the Department of Planning and Environment.
The experts will form four-person, typology-specific panels chaired by the government architect or a nominated representative. The panels will provide feedback to the government or a project's private proponents during the early stages of design to "promote improvements to the design quality of projects when changes can be made easily, rather than after a development application has been lodged."
Local perspectives will be reflected through the involvement of locally nominated panel members for the assessment of particular applications.
Peter Poulet, NSW government architect, said, "By consulting with the SDRP, both government and private sector projects will benefit from expert design advice at no cost for the period of the pilot program. This will further ensure their projects are at the forefront of community-focused design innovation."
Designs will be assessed against the principles of Better Placed, the GANSW-authored architecture and design policy for the state that was released in August 2017.
The document outlines the principles, objects and directions for creating well-designed built environments.
Although a number of design review panels already exist in the state, there hasn't yet been a uniform process for evaluating the design of state-significant projects, with major projects often having discrete design review processes. 
Anthony Roberts, NSW planning minister, said, "Having a diverse group of expert and experienced voices guiding the decisions of the Department will not only ensure that we continue to have a strong assessment process, but also ensure the community has an even greater say on the future direction of planning and design." 
At the end of the 12-month pilot period, the department will decide whether or not to continue with the program.
The State Design Review Panel members are:
Abbie Galvin, BVN
Adam Haddow, SJB
Amanda Roberts, SJB Urban
Ashley Dunn, Dunn and Hillam
Bill Tsakalos, TDDP
Deborah Barnstone, UTS
Diane Jones, PTW
Gabrielle Morrish, GM Urban Design
Garth Paterson, Paterson Design Studio
Helen Lochhead, UNSW
Ingrid Mather, JMD
Isabelle Toland, Aileen Sage
John Choi, CHROFI
Justine Clark, Parlour
Ken Maher, Ken Maher Consulting
Kim Crestani, Order Architects
Lynn Hancock, Architectus
Mark Tyrell, Tyrell Studio
Mary Anne McGirr, Design Inc
Matt Davis, Davis and Davis
Matt Devine, Matt Devine and Co
Matthew Bennett, Bennett and Trimble
Matthew Pullinger, Matthew Pullinger Architect
Mattias Hollenstein, Stewart Hollenstein
Michael Tawa, University of Sydney
Oi Choong, Context
Peter Mould, Peter Mould Architect
Peter Smith, Smith and Tzannes
Philip Pollard, Amenity
Richard Nugent, Conybeare Morrison
Roger Jasprizza, Oculus
Sacha Coles, Aspect Studio
Sam Crawford, Elemental Architecture
Sara Stace, Link Place
Sarah Koshy, Jacobs
Shelley Penn, Shelley Penn Architect
Simon Kilbane, UTS
Sophie Cleland, ARM Architecture
Sue Anne Ware, University of Newcastle
Timothy Hill, Partners Hill