The Government Architect NSW (GANSW) and the Heritage Council of NSW have collaborated on a design guide for heritage projects.
The Design Guide for Heritage is a companion to the GANSW-authored Better Placed, the state's first dedicated policy on architecture and design that was released in 2017. It is also an elaboration of the principles on managing places of cultural heritage laid out in The Australia ICOMOS Charter for Places of Cultural Significance, The Burra Charter. A draft guide was released in 2018.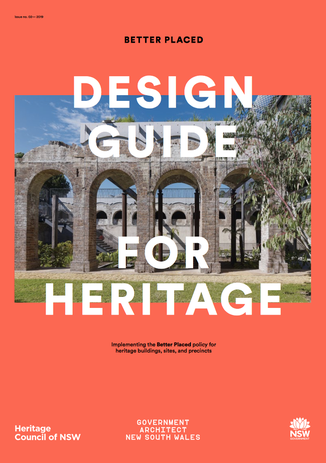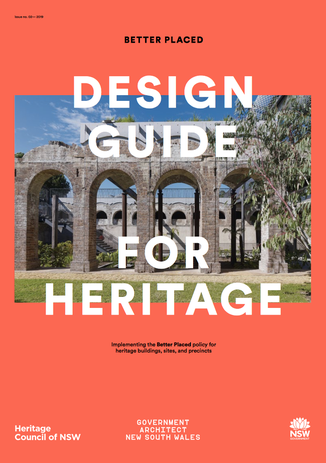 NSW Heritage Council chair Stephen Davies said the guide would help those in architecture and other built environment professions manage a commitment to both good design and the preservation of heritage value.
Davies said, "It will encourage all those who work with heritage to carefully and appropriately use good design to enable heritage significance to be protected, while enhancing the experience of heritage places for everyone.
"I firmly believe this publication will place heritage at the forefront of thinking, planning, and designing for many years to come."
In her foreword to the guide, acting NSW government architect Olivia Hyde said the guide "seeks to support and educate those working with our built and cultural heritage, to encourage the very best responses to keeping these important places so that we can be told our own story, and understand from that the potential of our future."
The guide is divided into three principal parts. The first defines heritage and explains why it matters. The second "explores the importance of good design outcomes and the processes that support these" and then uses these to identify the value heritage has in creating and sustaining communities. Finally, the third outlines how heritage significance is determined and describes the legal and regulatory mechanisms that underpin heritage projects.
Hyde added that the guide pays attempts to adequately acknowledge Australia's "chequered past when it comes to respecting and integrating our history.
"Upon arrival, our colonial ancestors disregarded the rich living culture of the local Indigenous people and saw the country as a "blank slate" on which to write a new chapter of their history. Despite this poor beginning, we are making progress in acknowledging our Indigenous cultural heritage, a shared post-contact history essential to our understanding of our future."
The guide also provides a number of examples of successful heritage projects across a wide range of scales and types, from McGregor Coxall and Chrofi's Ballast Point Park to Johnson Pilton Walker's ramp addition to main entry of the Art Gallery of NSW.
The guide can be viewed here.