Gladys Berejiklian, the NSW premier, has announced that an unsolicited proposal for a pair of office towers integrated with a new metro station on Sydney's Martin Place has received governmental approval.
Designed by Johnson Pilton Walker and Tzannes, the towers will rise to 39 and 29 storeys over the under-construction metro station, designed by Grimshaw, and jointly house more than 9,000 office workers.
The towers will be located between Castlereagh and Elizabeth Streets, with the 29-storey southern tower, by Tzannes, flanking Martin Place. The 39-storey northern tower, by JPW, will sit adjacent to, and be integrated with, 50 Martin Place, a Beaux-Arts revivalist building originally designed by Ross and Rowe in 1925 and refurbished in 2014 for Macquarie Group to a design by Johnson Pilton Walker.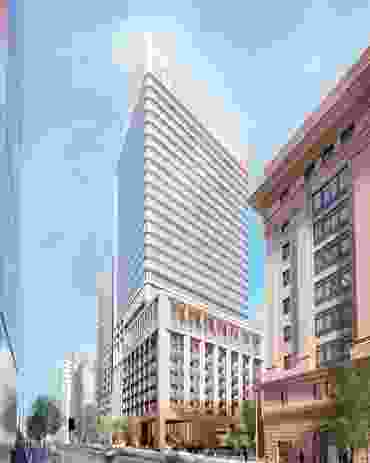 Both towers will comprise mostly office space, with Macquarie the main tenant of one of the towers. The new buildings will integrate with the station, including a public walkway connecting the development beneath Martin Place.
In a ministerial release, NSW planning minister Rob Stokes said, "These towers, which underwent a rigorous assessment by the Department and an independent design review panel, will enhance Martin Place's position as a jobs and transport hub in the heart of the CBD."
The design of both towers borrows from the existing buildings in the Martin Place area, which has historically been the heart of the city's commercial and financial district. The southern tower in particular makes direct reference to 50 Martin Place, in order to tie the development together. The podium facade will be made from granite, ceramic glass and bronze, which will echo the materiality of the heritage building.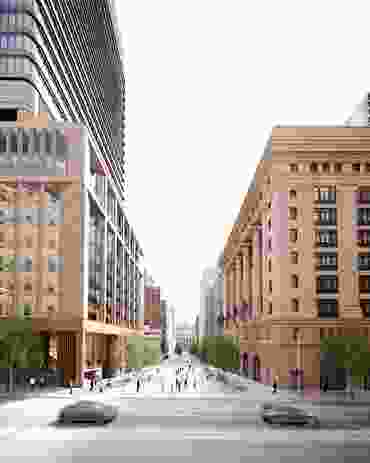 The north tower will have a curved form that responds to an existing glass dome atop 50 Martin Place.
The towers were the subject of an unsolicited proposal from Macquarie Group in 2017.
The station is being built as part of the Sydney Metro, a stand-alone, privately operated railway from Rouse Hill in Sydney's north-west to Bankstown in Sydney's south-west, via the CBD.
In a statement, the premier spruiked the savings the government would make on the construction of the station.
"The Martin Place development is a win for the community and a win for taxpayers, with Macquarie Group helping pay for the metro station build as part of the deal," she said.
Correction (22/8/2019): This article originally attributed the architects of the general project as Grimshaw, JPW and Tzannes. This has been amended to more clearly state that JPW and Tzannes are the designers of the two towers.