The NSW Department of Planning and Environment has recommended trimming the podium of the Wilkinson Eyre-designed Crown Resorts casino tower at Barangaroo, to lessen the impact of the building on public space.
The draft recommendations were suggested to Crown and Barangaroo developer Lend Lease in November 2015, as reported in the Sydney Morning Herald.
The department recommended the 40-metre high podium be reduced in size, and be set back a further 10 metres from the waterfront. In the current proposal, the public walkway is narrower than other parts of Barangaroo.
The casino tower is also 100 metres taller and has more than double the gross floor area (GFA) of its original 2007 proposal. The proposed tower now stands at 275 metres with a GFA of 77,500 square metres (up from 33,000 square metres).
Concerns about the bulk of the podium have been voiced by a number of objectors to the casino tower, including the City of Sydney and the National Trust.
"Not only does the proposed hotel/resort usurp the designated public open space on the foreshore but it relegates the parkland to the area behind the building and it totally blocks views northward along the southern promenade and partly blocks views northward from the southern section of Lime Street," wrote Brian Scarsbrick and Graham Quint of the National Trust.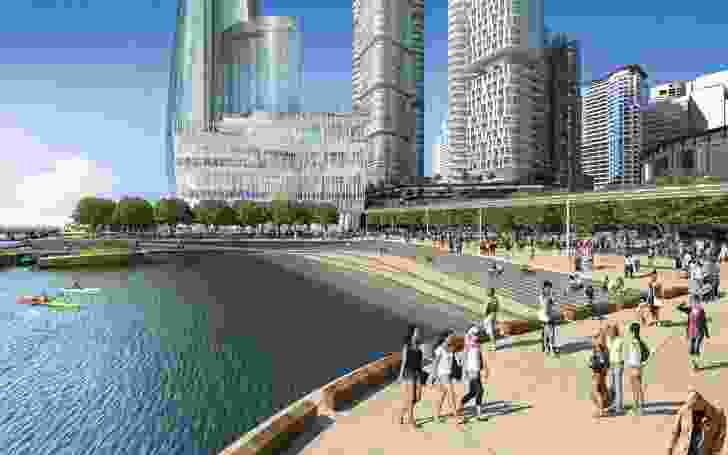 Hill Thalis, which along with Paul Berkemeier Architects and Jane Irwin Landscape Architect, won the 2006 urban design competition for Barangaroo, said the casino tower, "is diametrically opposed to the principles of the 2006 International Competition Winning scheme and subsequent Approved Concept Plan, which reserved the entire foreshore, comprising continuous parkland and an edge public street, as inalienable public space."
"Its placement colonizes the public foreshore for its own private purposes, and narrows the foreshore promenade to a […] token walkway, completely inappropriate given its place in the city."
Both the National Trust and Hill Thalis called for the proposal to be rejected. Philip Thalis described the development as "scandalous" and it should be "refused outright."
"Sydney deserves better than this," Scarsbrick and Quint said.
The Barangaroo Design Advisory Panel, comprising Peter Poulet, Meredith Sussex and Shelley Penn, also indicated some misgivings about the proposed building.
The panel asked Crown and Lend Lease to "provide further detail on the design of the podium including: place making for external spaces shaped by or adjacent to the built form, amenity – its quality and mitigation of impacts including wind and over-shadowing, and spatial modulation; details and extent of 24 hour physical permeability of the podium; visual permeability within and through the podium from the exterior."
It also asked for "clarification of the varying dimensions of the fully publicly accessible promenade for the length of Barangaroo South."
Crown and Lend Lease have yet to respond to the Department of Planning's recommendations.
Related topics