NSWARB launches design competition to modernize the Architects Medallion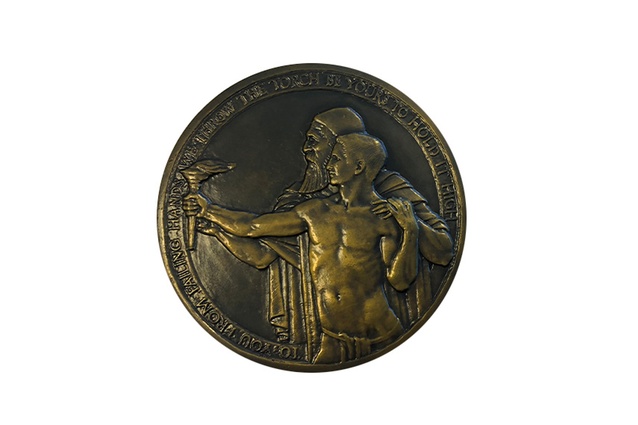 The NSW Architects Registration Board is seeking designs for a reimagined Architects Medallion that better reflects the realities of modern architectural practice. A $2,000 award will be given to the creators of the winning design.
Since 1924 the NSWARB has each year awarded the medallion, accompanied by a $5,000 prize, to a recent graduate of a Master of Architecture course at a NSW university.
Candidates for the prize are nominated by the state's various architecture departments, schools and programs to the board for consideration.
In its current form the medallion depicts on one side a goddess in profile – likely Minerva, the Ancient Greek goddess of wisdom – while the obverse shows a robed, bearded elder passing a torch to a young man dressed only in a loin cloth. 
The brief states that the medallion's design is archaic, and that, "When the medallion was first awarded in 1924, architecture was a boys club."
"We think there is an opportunity for the Medallion to reflect a more contemporary time, and to represent a more contemporary view of architectural education and practice," says the competition brief.
The brief notes that, 90 years after the first medallion was awarded, "around a quarter of architects registered in NSW were women. Around the same time, women represented more than 40 percent of graduates.
"What's more, a majority of medallion winners in the last five years were women. In 2016, all four nominees were women." 
While design teams must include an architect registered in NSW, collaboration with designers and makers is encouraged, to better reflect the "collaborative nature of contemporary practice."
The competing designs will be evaluated by jury comprising NSWARB president Deborah Dearing; board members Melonie Bayl-Smith (architect) and Peter Salhani (writer and publisher); and Good Design Australia CEO Brandon Gien.
Entries should comprise an "aspirational written statement on the future of architectural education and research," the design itself, and a statement explaining the technologies and materials to be used in the medallion.
Submissions close on 9 February 2018. For more information on the design competition, go here.