NSWARB reveals new Architects Medallion design
The New South Wales Architects Registration Board (NSWARB) has unveiled the winning design in a competition for a reimagined Architects Medallion that better reflects the realities of modern architectural practice.
Since 1924 the NSWARB has each year awarded the medallion, accompanied by a $5,000 prize, to a recent graduate of a Master of Architecture course from a NSW university.
The team behind the winning design was led by H. Y. William Chan and included Ramin Jahromi (nominated architect) and Rob Asher (computational design) from Cox Architecture, with support from Kristie Fitch (Bunda Jewellery) and jeweller Palloys. The team will receive a $2,000 prize.
The new medallion has the same shape and size as the 1924 version and makes the identity of the recipient a key part of the design.
The medallion will be made using 3D printed brass. A custom script uses the recipient's name, university and the year as geometric elements in the generation of a coherent and structurally integral design. Because the personalized information will vary every year, each arrangement is di­fferent.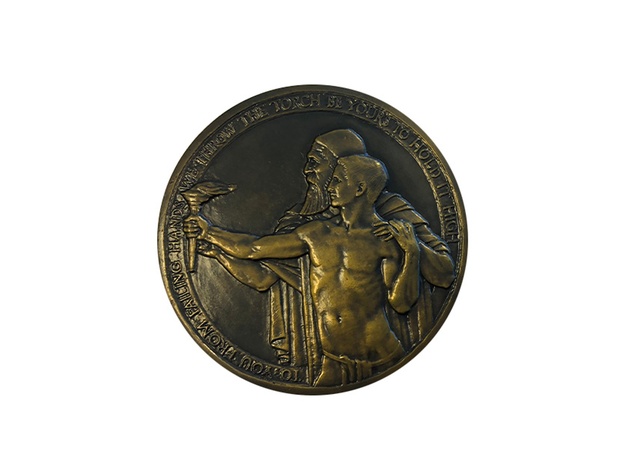 Explaining his team's design, H. Y. William Chan said, "Architects devote their lives perfecting their craft through education and applying research to innovate the future of our environment. We design architecture that is sensitively unique and contextually complex, yet responds to competing challenges through creative problem solving.
"So why not have an Architects Medallion that is crafted to be equally bespoke in its design and embraces the ever-changing need to generate creative solutions?"
Deborah Dearing, NSWARB president, said, "This new design allows the NSW Architects Registration Board to refresh the relevance of the Medallion by combining its long tradition, with the latest in computational design and fabrication. 
"This ensures legibility and printability of the medallion, each individualized for the recipients. The outcome is a richly complex, beautiful medallion."
The existing medallion depicts on one side the bust of a goddess in profile – likely Minerva, the Ancient Greek goddess of wisdom – while the obverse shows a robed, bearded elder passing a torch to a young man dressed only in a loin cloth. 
The competition brief stated that the medallion's design was archaic, and that "when the medallion was first awarded in 1924, architecture was a boys' club.
The winning design was chosed by a jury comprising NSWARB president Deborah Dearing; board members Melonie Bayl-Smith (architect) and Peter Salhani (writer and publisher); and Good Design Australia CEO Brandon Gien.