Imaginative and creative play is important for children's cognitive development. By manipulating materials, experimenting with ideas, testing their abilities, contemplating different resolutions and trying different roles, children can develop critical thinking skills and problem-solving abilities. Imagination and creativity are also important for good architecture and design as Hong Kong firm PAL Design Group and local studio Frost Collective prove at Nubo in Alexandria, Sydney. Nubo is a new indoor playground where children are encouraged to "exercise [their] imagination," and it required the design team to exercise their imagination to create a space that would stimulate children's creativity and resourcefulness.
Nubo opened in March 2017 as a space for children to engage in "pure play," an experience intended to inspire curiosity, exploration and invention and to encourage parents to be present and part of that play. "Nubo wanted to emphasize how children engage in play by exploring their environment, so we created a simple, clean and uncomplicated space that focuses on the program," says Joey Ho, design partner at PAL Design Group.
Nubo is strikingly different to the highly colourful and overstimulating children's playgrounds. Instead, the minimalist approach to colour (white, blue, light grey and brown), low- maintenance materials (rubber, laminate and timber) and equipment and structures (just enough for children to invent their own games) have created a visually subdued environment that is overlaid with the noise and energy of children.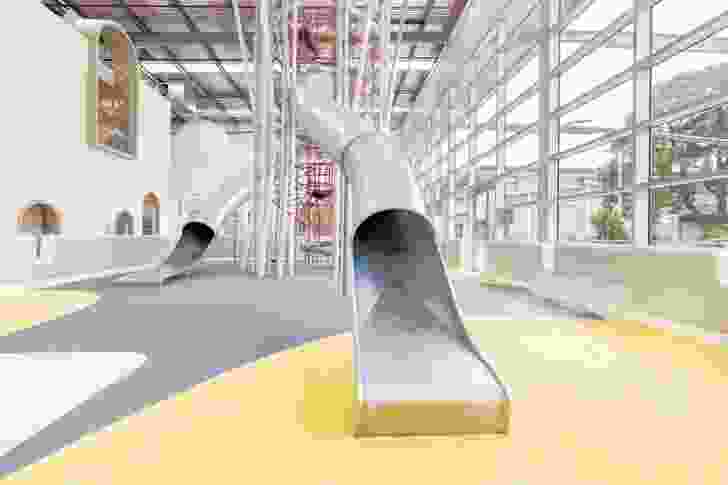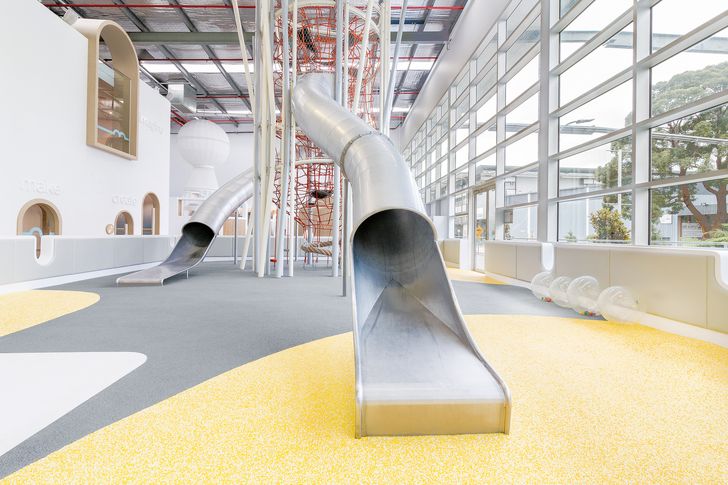 The warehouse space has been designed to cater for facilitated and free play, providing areas for stationary but engaged activities such as reading, crafts, building and role play, as well as for more physical and dynamic movement such as climbing, running, sliding and jumping. At the entrance, a slide curves around the reception counter so that children can play while adults pay. They then store their shoes in lockers with white boards for their names before charging up the stairs to the library. Children can play in the hot air balloon that floats above the stepped reading area with other alcoves providing quiet places for children to enter the imaginative world of stories.
A two-storey structure is designed like a simplified castle with arched doorways sized for adults and children. Inside, children can play with materials to "make" and "create" things in the arts and crafts room, and with interlocking foam blocks and tubes to "build" things in the building block room. Two flexible rooms upstairs are used for parties, workshops and dance classes and have equipment for role play and pretend.
Three free play areas with architectural play equipment enable children to develop their spatial awareness and coordination and to test their abilities, and in some cases, courage. Older children can climb and slide on the spaceship-like tower, and younger children can navigate the custom-designed cruise ship-like structure with a ball pit, slide, stairs, steps and trampoline. Toddlers can play in a separate but connected area with padded nooks and ocean-themed toys.
The cafe is positioned so that it offers open sight lines to all play areas and it features toadstool-like tables and balloon-shaped pendant lamps. A bathroom designed specifically for children has a large basin in the centre with an illuminated globe, six silver arms and a swirling light set into the ceiling. These octopus-like forms are intended to encourage children to play with the water and thereby wash their hands. "When children engage in play they forget the things they don't like to do," Ho says.
Frost Collective designed Nubo's branding and signage and the brand is expressed throughout the environment. Signage indicates the activity areas with the words "make , " "create , " "build , " "slide" and "explore," and a wayfinding system of symbols for pre-school age children is sized and positioned where it can be understood from their perspective.
If children can develop their critical thinking and problem- solving skills through imaginative and creative play – by manipulating materials, experimenting with ideas, testing their abilities, contemplating different resolutions and trying different roles, skills that are undoubtedly needed for architecture and design – then perhaps Nubo will help give rise to a budding new generation of architects and designers as they learn to make, create and build, gain spatial awareness and come into close contact with imaginative architectural structures.
Products and materials
Walls and ceilings

Formica laminate clad over MDF backing.
Windows and doors

Alsupply aluminium with laminated and toughened glass from Gecko Glass Solutions. Formica laminate clad over MDF solid doors. Lockwood mortice locks. Madinoz door handles. Kaba door closers.
Flooring

Surestep Original safety vinyl floorcoverings from Forbo. Rubber floor from Synthetic Grass & Rubber Surfaces.
Lighting

Memory Collection lights from Brokis. Downlights and LED strip lighting by Omni Electrical and Lighting.
Furniture

Customized furniture by Na Creator Design.
Bathroom

Custom- built children's basin. Caroma Junior toilet suites. Geberit concealed cisterns. Wolfen hob sensor tap.
Other

Play tower by Corocord. Blue blocks sets by Imagination Playground.
Credits
Design practice

PAL Design Group
Hong Kong
Consultants

Joey Ho, Joslyn Lam
Branding and signage Frost Collective
Builder Blue Group Projects
Engineer BVG Consultants
Joinery Nouva Group
Lighting Omni Electrical and Lighting
Playground consultant CCEP Consulting Coorindation
Project management Argentum Group

Site Details

Location Sydney, NSW, Australia
Site type Urban

Project Details

Status Built
Design, documentation 6 months
Construction 10 months
Category Interiors
Type Playgrounds

Source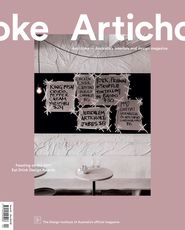 Project
Published online: 16 Jan 2019
Words: Rebecca Gross
Images: Michelle Young, Amy Piddington
Issue
Artichoke, December 2017
Related topics