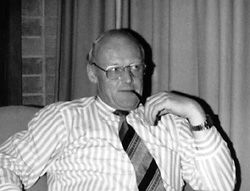 National presidents rarely spring from Tasmania; you can count them on one hand – R. S. Smith, 1944–46; K. W. Shugg, 1971–72; J. S. Allom, 1991–92. Bill Shugg was rare. In an interview with The Australian in 1971, he denounced most of the talk of doomsday as "hogwash" and declared war on "wafflers". He was forty-five at the time and was the newly elected national president of the then Royal Australian Institute of Architects and was awarded a life fellowship the following year.
As partner of Bush Parkes Shugg & Moon Architects (BPSM), along with Jim Moon, Bill Shugg built a successful practice – hung up the shingle in 1956, and it is still there today. Notable buildings include the Education Department offices and the former SBT office tower building in central Hobart, along with a number of fine modern houses, including his family courtyard house. BPSM has received awards from the Institute of Architects dating back to 1963, for work including Devonport Ferry Terminal (1963), Parkes House (1963), Moon House (1966), Clarence Municipal Chambers (1976), Galleria Salamanca (1987), Sorrell Municipal Library (1989), Cradle Mountain Visitors Centre (1990), Dance Studio University of Tasmania (1992) and the Tasmanian Aboriginal Centre (1999).
Bill Shugg was a member of the Institute from 1956, Tasmanian Chapter President 1968–1970, a member of the Tasmanian Building Regulations Board 1963–71, deputy chair of the Advisory Committee to the Minister for Housing 1970–72, a member of the special Commonwealth Advisory Committee on the Environment, director and past president of the Tasmanian Society for the Care of Crippled Children (now Tascare Society for Children), a founding member of the Tasmanian Committee on Employment of the Disabled, and a member of the Tasmanian committee of the CSIRO and the Tasmanian Liaison Committee for the Australian Council for the Rehabilitation of the Disabled (ACROD, now National Disability Services). Bill Shugg received the Australian Medal in 1991.
I first met Bill Shugg in the BPSM office in the mid 1980s, with a group of recent graduates studying for the dreaded registration exam. Having waded through the practice and contract notes of the day, and with no formal practice course available, we sought out who could provide insight into practice, and Bill Shugg was suggested as "the best".
I was delighted to meet a professional architect who could instantly demystify contracts, defect liability periods, practical completion, retention funds, provisional sums and contingency sums; he effectively and effortlessly turned hogwash into plain English. He talked the group through the main stumbling blocks of the building process as it relates to contracts, in a way that anyone could understand, and the penny dropped. Twenty years later, having successfully applied Shugg's principles to my own practice, I met him again, this time in a hardware store in Hobart. We were both looking for that errant bolt or piece of common hardware that could be adapted to an emerging idea in a building. He came up to me, shook my hand, and inquisitively welcomed me back to Hobart.
This commonsense approach had a profound effect on me; here was a man with the ability to speak "all languages" intelligently and with respect for the other person, whether politician, magistrate, client or bricklayer. In Bill Shugg's own words: "We have to bring properly thought-out influence to bear on society. We have to earn this right by example. We've got to get up first and show that the Institute is competent to talk and do things. We've got to demonstrate that we have guts."
The architectural profession owes much to Bill Shugg. Notwithstanding his straight-forward approach and a successful and awarded architectural career, his legacy for our profession was wider, and included the following: the idea that an architectural practice could be a company, with BPSM Architects the first to be incorporated in Australia; direct participation in the introduction of disability access provisions to the Tasmanian building regulations; the establishment of Commonwealth legislation for environmental impact assessment procedures for urban development; and the establishment of a legal mechanism for building appeals – all of which we now take for granted.
Bill Shugg is survived by Pauline, son Bert and daughters Mary, Marion and Alice.

James Jones is the President of the Tasmanian Chapter of the Australian Institute of Architects.