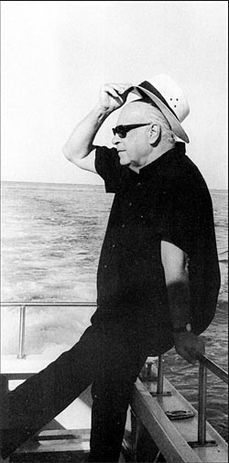 Geoffrey London remembers Jeffrey Howlett, founding partner of Howlett and Bailey and one of Western Australia's foremost Modernist architects.

Jeffrey Howlett AM died on 20 December 2005. The year before, he had been honoured by the Western Australian Government as a State Living Treasure for his contribution to culture and the arts, the first architect to receive such recognition.
Howlett spent the early part of his life in Hyderabad, India, before accepting a scholarship in 1945 to the Architectural Association School of Architecture in London. This experience, including the exposure it enabled to key figures of postwar Modernism, was pivotal in the development of Howlett's architectural sensibilities. After completing the diploma in 1950, Howlett worked for a year in the London County Council under the direction of Sir Leslie Martin before a return to India and marriage to Kath, his lifelong love.
Because his family had shifted to Perth, Western Australia, Howlett decided to follow and test the waters for a year. While in Perth he worked with several local practices before relocating to Melbourne and accepting a position as senior design architect with Bates Smart and McCutcheon.
It was from Melbourne that he and Donald Bailey won the Australia-wide competition for the design of the new Perth City Council administration buildings. This brought Howlett back to Perth, where the firm of Howlett and Bailey was established and where he remained for the rest of his life.
Council House was opened by the Queen during the 1962 Perth Empire Games. This wonderful civic building became a point of reference for modern optimistic Perth, which was about to embark on the process of rebuilding large parts of the city as the result of a major mineral boom. Few of the resulting buildings came anywhere near the design quality of Council House. Howlett's old partner, Donald Bailey, described him many years later as a particularly gifted and inventive designer.
The Public Suite, the second component of the competition won by Howlett and Bailey, was to house a series of performance halls. Its original site behind Council House was subsequently abandoned and the building redesigned by Howlett and Bailey.
The Perth Concert Hall was opened in 1973 on a site a little further to the east along St Georges Terrace. This building, with its solid opaque interior, giant projecting roof, and use of white off-form concrete, forms a counterpoint to the transparent filigree of Council House.
The period between these two buildings was an exceptionally fertile one for Howlett and Bailey. The firm won the competition for the Reserve Bank in Canberra in 1962.
The Beatty Park Pool kiosk and manager's house, now demolished, was designed for the Empire Games. There was a series of very fine Modernist houses, the Onslow Street townhouses, St Columba College at The University of Western Australia, Century Batteries warehouse and Mt Newman House.
During this period the practice was at its most experimental, using materials in an inventive manner and testing forms in establishing an architectural approach.
The resulting architecture was ordered and axial but modern, joining with other Modernist architects who incorporated an interest in classical principles. At the same time Howlett was adapting this work to the particular conditions of Perth. He acknowledged the reality of late-twentieth-century cities and, through his architecture, suggested a way of making sense of the disorder.
Howlett and Bailey won many design awards and commendations from the Royal Australian Institute of Architects and in 1978 Jeff Howlett was honoured by the RAIA with Life Fellowship. In 1992 a retrospective exhibition titled Howlett: Architectural Projects was curated by Michael Markham and Peter Brew and held at the University of Western Australia, coinciding with Howlett's period there as visiting professor at the School of Architecture. In 2000 he was made a Member of the Order of Australia for service to architecture as a designer and educator.
Howlett survived a major stroke in 1993 but was unable to continue practising as an architect. Nevertheless, he again attempted to make sense of the disorder, this time through the medium of oil pastel and paper.
For this, he had to learn to work with his left hand on small tray-bound pieces of paper which were later assembled into larger sheets. He used oil pastel like paint, with rich surfaces and often startling colours. Like his architecture his forms were bold and simple. Howlett's desire to express himself visually took on a new urgency. It became, for him, a major form of communication, a way of evoking memories, of making visible his past and his present, and a way of telling his stories.
He was always a great storyteller.
In 2002 an exhibition of his pastel work was held at Perth Galleries. The drawing used for the invitation showed Jeff Howlett staring straight out, foursquare, strong and forthright, his jaw thrusting forward in a determined set. And behind him is the city of Perth, the city he took on and made better through his architecture. Howlett has his back turned to the city, his previous life, and he's perched high like a space explorer, his wheelchair strapped to his back, going where very few go. Through the drawings in the exhibition, he invited us to enter with him his new life, in the process of being explored and exposed.
Sadly, there was not to be another exhibition. Jeff is survived by Kath, son Greg and daughter Deborah.
Source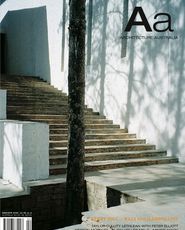 Issue
Architecture Australia, March 2006
Related topics