VALE GAVIN WALKLEY 1911-2005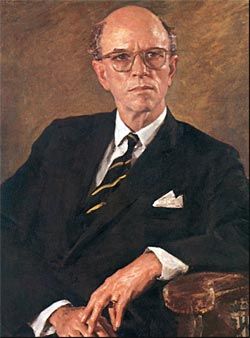 Architect, landscape architect, town planner, academic. Giles Walkey remembers the many achievements of his father, Gavin Walkey CBE LFRAIA.

It is said that one can construct a biography by inspecting a person's bookshelf. In the case of Gavin Walkley who has died, aged 94, one can analyze not only a sizeable library, but also a mass of photograph albums, a map of the world crisscrossed by hand-drawn land, sea and air routes, a vast assortment of institutional and club ties, a collection of pewter mugs, most of them commemorative, scrapbooksful of dinner menus – all personally sampled – and a sheaf of certificates and testimonials: enough to paper a small room. One can, furthermore, read much into the letters which followed Walkley's name. He accumulated dozens, among them those denoting four degrees, the first of which was a BE of 1934 and the last an honourary doctorate conferred by the University of SA in 1994. This honour, together with a Distinguished Alumni Award presented by Adelaide University in 1992, revived recognition of outstanding achievement in Walkley's educational and professional fields originally acknowledged when a CBE was bestowed in 1968.
Born into a North Adelaide family, Walkley was to excel socially, athletically (albeit in a coxswain's slump) and academically at St Mark's College while studying engineering and while articled to Louis Laybourne-Smith. Salad days spent at Cambridge in between working holidays and tours of Europe saw him secure two supplementary degrees as well as disport with success at the tiller and on alpine ski runs. War service took him to the Middle East, the Torres Strait Islands and Melbourne's First Army HQ. Returning, newly married, to Adelaide, he began residential planning work under (Sir) John Overall at the SA Housing Trust, which they both left to set up a private practice, if only briefly. Appointed head of Laybourne- Smith's school of architecture at the SA School of Mines, later the SA Institute of Technology (SAIT), in 1951, Walkley was to remain at the helm there until 1976.
Having shown his intention to expand the options available to tertiary students entering the professions by opening, in 1949, the first postgraduate planning course in the nation, Walkley proceeded to offer an equally pioneering course in Building Technology in 1958. Trail blazing diplomas in landscape and interior design were added to the mix in 1964. In order to establish due authority, Walkley himself submitted to examinations in town planning and landscape architecture set by the respective British institutes.
Behind the North Terrace scenes, Walkley sought to invigorate the professional and regulatory bodies – not least the Architects' (Registration) Board of SA to which he gave forty years, fifteen as chairman – which represented and controlled practitioners in these disciplines. He involved himself similarly in the governing councils of St Mark's and St Peter's Colleges, managing development of the former for a parallel forty years and the latter for twenty.
By 1960 Walkley had been elected president of the SA Chapter of the Royal Australian Institute of Architects (RAIA) and elevated to the National Council on the strength of an ability to convene meetings, prepare publications, conduct appeals, and so on – the hard graft familiar to dedicated committeemen. Concurrent secretaryships and vice-presidencies at state level of the Royal Australian Planning Institute (RAPI, now PIA) and the nascent Australian Institute of Landscape Architects (AILA) led him likewise into their higher offices.
During the period 1964–66, Walkley undertook national presidencies of both the RAIA and the RAPI at the same time. Later, in 1971–73, he also became national president of the AILA, creating a threefold regency unmatched in this country and, perhaps, in any other.
Already a seasoned member of the National Capital Planning Committee, Walkley recognized the problems inherent in our other cities, consequently taking a major role to shape and endow the Australian Institute of Urban Studies. Had he been able to prolong his initial directorship (1968–70) of this research and advisory foundation, he would have resigned from the SAIT. Even after obligatory retirement from his School, an undiminished appetite for leadership and fellowship realized a growing association with the Council on Overseas Professional Qualifications and the National Trust of SA.
Long-term chairmanship of one and, ultimately, presidency of the other found him, at 80, the complete administrator of the agencies of the man-made environment.
Such a position did not come easily; it required working, unpaid, a second life after hours, surviving a coronary in the process. His wife having died after just ten years of marriage, Walkley took his own counsel amidst a multiplicity of responsibilities. Loyal, generous and clubbable – again on his own terms – he was thought honourable and ambitious less for himself than for his many causes. Close friends knew of a fondness for fast cars, his pride in a singular house designed for him by Robin Boyd, his love of foreign travel and the satisfaction he drew from the consummation of coordinated pre-laid plans – his organizing skill recognized to be second to none. Even a momentary glance at his study shelves – Sellar and Yeatman, 1066 and All That, 1930; CAA Conference delegates, Ta Cene Hotel, Malta, 1965; Khabarovsk–Novosibirsk, USSR, 1978; gold-striped black silk (Clare College), 1939; "Wizard of the West Wing", 1952; Boodles Club, St James, London, 1960; President, AACA 1974–75, 1977–78 – would reveal a little man of great stature. GILES WALKLEY IS GAVIN WALKLEY'S SON.