Ronald Voller, an exacting architect and sartorial gentleman, was part of a Brisbane architectural dynasty. He is remembered by his son Jon Voller.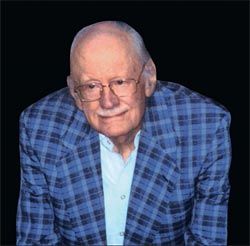 Ronald Voller recently passed away peacefully just a few weeks before his 91st birthday. Jean, his wife, unexpectedly passed away 22 years earlier and Ronald's loneliness since then had been quite palpable at times. He is survived by his two children, Jon and Rosalind, four grandsons and three great-grandchildren.
The brother of Ronald's grandfather, Walter Voller, was the first in the Voller family to practise architecture in south-east Queensland. That was during the late nineteenth and early twentieth centuries.
Walter's son, Roderick Voller, commenced practice in Brisbane in the 1930s. At the end of the 30s Ronald became the third generation of Voller architects, his son Jon the fourth, and soon his grandson, James du Plessis, will graduate from Queensland University to become the fifth.
In the mid-1930s Ronald was one of the inaugural students in the Diploma of Architecture at the University of Queensland. At that time UQ was co-located at the end of George Street with the Technical College – now QUT. He chose not to complete this course and went to Sydney, where he found work with the architect James Black. While working in Sydney he passed the Board exams and thus became an architect.
In 1939 Ronald was offered a position in Perth with the Government Architect's Department. While in Perth he met and married Jean Hayles. He returned to Brisbane in 1946 to set up practice in Queen Street with Rod Voller, as Voller & Voller.
This practice became The Architects Group and by the beginning of the 1950s had become Ronald J. Voller Architect. At the end of the 1950s Ronald amalgamated his practice with Bligh Jessup Bretnall & Partners and soon after became a partner himself. He remained a partner in BJB&P until his retirement in 1985. Jon had joined him at BJB&P in 1972 and this practice continues today as Bligh Voller Nield.
Throughout his life as a practising architect, Ronald set very high professional standards for himself, and from very early days he was a member of both the Australian and British Architectural Institutes. He always aimed for the highest level of integrity in all personal and professional endeavours. He was knowledgeable in all aspects of the practice of architecture and in his later years gained a reputation as a "tour de force" in technical matters and specification writing.
He was a sartorial gentleman who always insisted on being addressed as Mr Voller when on site to administer a contract.
Although demanding when carrying out such duties he was always fair in his interpretation of the contractual documents.
He was lucky to work in an era of trust, when both architect and builder worked with a common purpose and concern for getting the job completed properly and ensuring that the client would be happy.
Ronald might be somewhat out of place in today's more litigious environment, working with less explicit documentation.
Even though Ronald often worked six and seven days a week he did find time to spend with his family and to be involved in many extracurricular duties. These included his local St Lucia parish of the Church of England, the Royal Australian Planning Institute, the Brisbane Development Association and the Rostrum Club.
His work over fifty years of practice encompassed an eclectic mix of building types. There were numerous houses, a number of Brisbane Fire Stations, buildings at the Royal Brisbane Hospital, the First Year Sciences Building at UQ and the one he regarded as his most satisfying: Christ Church St Lucia, where his ashes will be interred. He was my dad and our family and his friends called him Ronald.
Jon Voller FRAIA is Ronald Voller's son.
Related topics