PETER MYERS, CATHERINE LASSEN AND NEIL DURBACH HONOUR THE MEMORY OF HUGH BUHRICH.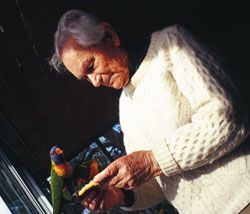 MANY IMPORTANT works of architecture have started with the Socratic question, "How should we live?" From a personal perspective I find it difficult to separate Hugh Buhrich from the house that he lived in and built at 375 Edinburgh Road, Castlecrag. I will never forget the first time I saw it as a recent graduate, having heard nothing of Hugh or his house in my entire undergraduate education. The sheer daring of its reinterpretation of a European Modernist aesthetic, atop a sandstone ledge overlooking Middle Harbour, inspired awe and demanded recognition. Its subtlety and near invisibility within the landscape made it all the more unexpected and intriguing.
In the course of documenting the building for a book (House, Hugh Buhrich) and exhibition, Neil Durbach and I visited there many times. Hugh's explanations of the more confounding parts of the structure invariably revealed the most complicated pieces of geometry and unexpected forms or materials as inevitable, and quite straightforward. Almost every part of this highly inventive building was made for a specific purpose within an envelope of repetitive simple parts and off-the-shelf materials. And all this achieved with a minimum of fuss or preciousness, without any rhetoric of "technology" or "function".
We shared memorable meals over the course of preparing the drawings, listening to music from his extensive and carefully catalogued collection, drinking wine retrieved from a magical cellar accessed through a secret door in the floor of a bedroom cupboard. The experience of eating at the fantastic glass table – supported by clear acrylic ribs from a single chrome bar, dissolving into an opening in a rough sandstone wall – suggested a seamless way of living with the natural environment, of living deliberately, as Thoreau put it. From the sense of exhilaration (and fear!) experienced on descending the exterior precast concrete spiral stairs to the suggestion of boundless liquidity in the organic deep red fibreglass bathroom, the imagined life of the building is one of endless delight, a constant reminder of the wonder in the world, natural and constructed. The building neither imitates nor simply contrasts with its bush setting. The use of familiar and unexpected materials, some associated with the surrounding "nature" such as sandstone, and some self-consciously artificial, are here woven together masterfully.
The vigour and playfulness of the building and its engagement with the landscape, and the kinds of experiences it makes possible, will continue to make present for us a joyous celebration of the possibilities of a fully human life, and of Hugh's life in particular.
CATHERINE LASSEN
HUGH BUHRICH WAS an architect-constructor of exceptional ability who lived long enough to see most of his work either demolished or "improved beyond recognition". Aware that, like his unstated mentor, Ernst Plischke in New Zealand, he too was an architect building at both the edge of the city – on cheap but difficult sites – and at the edge of a still nascent local Modern architectural culture, Hugh certainly understood that his work was always at risk. Hence the intensity of, effectively, Hugh's last building, the beautiful house at Castlecrag he built between 1968 and 1972 for himself and his wife, Eva, the distinguished architectural journalist. Though Eva predeceased Hugh by thirty years, her critical discernment permeates this house; to visit them was to enter a crucible of questions answering questions, discussions that could embrace their student day heroes, Barlach, Kollowitz and Hofer, as well as Joyce and Kerouac; for Hugh and Eva architecture could only ever be an expression of radical Modernism. Together they studied in Berlin under Hans Poelzig; Hugh told me that tours with Poelzig would always be to buildings such as sewage works or turbine halls or abattoirs, never to the ordered conformity of, say, Gropius's Siemenstadt housing. Consequently, when Eric Mendelsohn, by then also an enforced expatriate, chipped in five pounds to Edward Carter's 1938 RIBA appeal to send Hugh and Eva to Australia, he had already shrewdly assessed them as a partnership with real intellectual tenacity. In Sydney, however, Hugh was to suffer the ignominy of his qualifications being unrecognized and so, being unable to register as an architect, he was forced to practise as a "planning consultant" for decades. Eventually official recognition came, but it was too late to bring any significant commissions; a couple of synagogues and a now much mutilated Chinatown building were among his few non-domestic projects. Ironically, an ingenious clandestine car park design for Melbourne's St Vincent's hospital was built exactly to Hugh's unsigned drawings and survives unscathed.
At Castlecrag Hugh built two houses; the second, his masterpiece, was built onto a Griffin remnant on land he purchased with reparations received from Germany. Here Hugh, with sometimes maddening determination, constructed with his own labour a very great work of architecture and easily the best modern house in Australia. For Hugh it was a struggle both to overcome years of obscurity and to somehow transcend Plischke's wonderful houses. Like Utzon with Pietila, Buhrich always matched himself in a silent but no less taxing contest; Hugh recently sheepishly showed me a much-used monograph on Plischke, and then he just smiled enigmatically. This house has everything he was taught by Poelzig, particularly the acceptance of consciously rough technique in the pursuit of a spatial idea, and yet it is also far beyond, say, Scharoun or Haring. Hugh's house at 375 Edinburgh Road, Castlecrag, is, for all of its creator's European intellectual legacy, finally an expression of its unique site: a profound work of architectural genius that shows unequivocally just how much Hugh understood and loved this landscape.
PETER MYERS
I HAD BEEN in Sydney for some time when a student told me that I really should see this house in Castlecrag. It was a moment of dazzling comprehension. Hugh had made a house for himself that folded the familiar forms of Modernism into the (for me) strange landscape of Sydney's North Shore. It is a house all tangled up in green and it allowed me for the first time to see this place I was newly arrived in, in a way that made architectural sense and suggested a clear and open future. I wish I could say that the book and exhibition of Hugh's house (borrowing heavily from Frampton's impeccable drawings of Maison de Verre) were primarily in order to thank him for this but in reality I was so taken with this complete vision of a building that I attempted to possess it totally through documentation. I will never forget Hugh's unassuming and refined pleasure on the night of the opening at Gary Anderson's Gallery in 1991 nor will I ever forget that incredibly vivid image of Hugh at 90 gleefully scampering down those coiled stairs that seemed to project out into space like some tentative form of infinity.
NEIL DURBACH