SUCCESSFULLY MIXING THE TECHNICAL, THE INTELLECTUAL AND THE AESTHETIC, BRYCE MORTLOCK MADE SIGNIFICANT CONTRIBUTIONS TO ARCHITECTURE HERE. KEN WOOLLEY REMEMBERS HIS ENGAGING AND THOUGHTFUL PARTNER.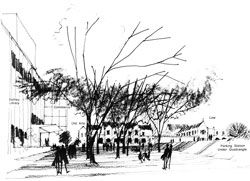 AT THE END of 1950, Bryce Mortlock finished Sydney University with First Class Honours and the University Medal, then travelled overseas on the Byra Hadley scholarship where he worked under Robert Matthew in the London County Council. He received the Alfred Bossom Medal from University College in London, and returned in 1952 along with Stuart Murray. Both had worked with Sydney Ancher and they became Ancher's partners, forming Ancher, Mortlock and Murray.
It was a small practice, mainly devoted to Ancher's houses and some suburban hotels.
Ancher's "white" style was at its peak. Bryce was a founding member of the Architectural Society in 1957 and it was there I first met him. While it was a mixed bag of young progressive architects with a variety of attitudes, its attraction was as a place of discourse, ideal for intellectual analysis of a range of concerns from aesthetics to specifications, from architectural education to classification. Those early years had a great spirit, if in ways typical of the sixties. That is, liberal and humanist attitudes, a great period of design, the advent of the Sydney School and involvement in the worldwide movement of the now-misunderstood New Brutalism, which was really a somewhat ironic term for frankness in design, rather than crudeness.
Eventually Bryce attracted clients of his own and there emerged in his work, around 1958, a more subdued, natural colouring – grey bricks, brown timber, plywood ceilings and very simple direct detailing. This coincides with a strand of the discussion in the Architectural Society, related in part to the New Brutalism of Peter and Alison Smithson and the writings of Reyner Banham. Several others, including the writer, produced similar domestic work, which anticipated aspects of the Sydney School that emerged in 1962. The famous Badham House, the Sulman Award Winner for 1960, was undoubtedly Bryce's best work up to that time.
Ancher, Mortlock and Murray were appointed master planners for the engineering precinct at the University of Sydney and Bryce's 1963 Civil Engineering Building was the firm's first large building. Ancher, who was then completing the Northbourne Avenue housing in Canberra and the ANU Students' Union, was contemplating retirement, the firm needed to expand for its university work and the writer joined as a partner in 1964. It then rapidly grew and became one of the places where young architects gained experience at the leading edge of architectural thought of the time.
Bryce's writing ability and his intellectual approach to both technical and philosophical aspects of design came to the fore. It was in that setting of architectural politics, with his involvement in the NSW Chapter of the RAIA, as President in 1970–72 and as National President in 1975–76, that he became widely known for thoughtful, provocative and sensible essays on architectural subjects.
When the Opera House affair exploded in 1966, Bryce was on Chapter Council. He was much affected by the dilemma facing it in trying to support Utzon while confronting, as a profession must, the difficulties that the project was encountering. Another problem at that time was Ancher's difficulty with his design for the RAIA Headquarters in Canberra. After problems with his client and the authorities, Ancher retired, leaving it to his partners to start all over. Bryce took charge of that and the three of us collaborated in the design and construction in order to make it clearly the response of the firm in carrying out its duty. It remains an excellent building, with which Bryce maintained his involvement for the remainder of his life. Recently it received a 25 Year Award of the RAIA.
We collaborated on the design of one other project – the Macquarie University Union Stage I. Then we submitted a successful master planning concept for the University of Melbourne. Bryce was appointed master planner in 1969 and remained so for many years, being awarded the RAIA Victoria Bronze Medal in 1981 and an Honorary Doctorate in Architecture from the University of Melbourne in 1988. Bryce was also honoured with the Gold Medal of the RAIA in 1979 and was made a member of the Order of Australia in 1982. He successfully embodied a balanced mixture of the technical, the intellectual and the aesthetic.
That range included the development of a standard national building specification known as NATSPEC for which he was the original co-author and, over many years, the editor. Perhaps a dry subject, but essential to the practical enterprise of architecture and building.
The firm took a pioneering, but brief, shareholding in an enterprise to build townhouses with Pettit and Sevitt in 1968. One of the groups, designed by Bryce at Mosman, won an RAIA Merit Award in 1972.
Bryce's was a formidable intellect, managing to balance a lifelong quest for knowledge.
Like many bright people, he was also shy and self-contained, but developed a public persona from which he could represent policies and lead debate on important architectural subjects.
Personally, he was engaging, humorous and thoughtful, inclined to long bushwalks and equally punishing philosophical and humanistic discussions. He was Visiting Professor at the University of New South Wales in 1981 and author of, among many other things, Aesthetic Judgements: The Case for Tolerance, 1980, the A. S. Hook Memorial Address.
When he retired from Ancher, Mortlock and Woolley in 1982, Bryce was able to expand many of those personal activities, writing extensively on architecture while carrying on his appointment as Master Planner of the University of Melbourne, editing NATSPEC and giving expert advice on legal issues in architecture and building. He considered the University of Melbourne to be his highest achievement. It was based, from its earliest concept, on the establishment and ensuing preservation of spaces between buildings, rather than just placing buildings on sites. As we proposed in 1968, that also happens to be the most efficient way to contain the height of buildings for a maximum floor area. Thus it was a typical, intellectually satisfying technique with an aesthetic outcome.
The quality of his drawings and his handwriting is outstanding, despite concern by others, in his early years, about his being left-handed. He was also a keen rower of lightweight sculls, a champion skiff sailor, an exhausting bushwalker, and in his late years the restorer of native bushland near his house at Cammeray.
KEN WOOLLEY