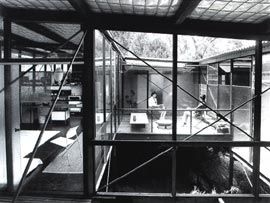 When Bill was at Castlecrag and later Paddington, I, like many of us, used to drop in from time to time. I never ceased to marvel at Bill's working drawings for his wonderful houses, usually one A2 sheet of tracing paper with all the plans, sections and elevations, plus a handwritten specification down one side in his decisive italic script.
That was all he needed to begin construction; the economy of means of Bill Lucas's houses began with an austere sheet of working drawings and continued right through to the understated elegance of the completed project.
For example, his little timber and glass pavilion up on the slope at Surf Road, Palm Beach, will, if it has withstood the ravages of Sydney's real estate maelstrom, be one day even more treasured for what it is – an architectural masterpiece!
You see, it is easy to miss Bill's commitment to the idea of the "solo architect in mass society" and maybe just relegate him to the margins of the so-called Sydney School. 1 However, unlike many of his then contemporaries, Bill Lucas never lost sight of the idea of the architect as a maker of prototypes, from which others could learn and progress.
So, like his mentors Amancio Williams, and Rafael Soriano, Bill Lucas always saw the universal possibilities in even the most modest commissions, such as the stillcathartic Bennett's Grove housing Bill did with the late Michael Coote in Paddington. 2
That all work is purposeful and to be done "at the edge of the possible" is a concept we more readily associate with painters and sculptors, except in a rare occurrence of an architect of Bill Lucas's vision and ability. 3
I remember, at the time of Bill's studies for a proposed multi-storey building in Potts Point for the Clune family, that we went over to look at a prototype housing extension somewhere in Cremorne. In this little extension were all the principals Bill wanted to further refine in the Clune tower; it was a marvellous demonstration of just how a truly creative mind can transcend even the limitations of a new front verandah.
Of course, like Williams and Soriano, Bill was way ahead of his time: the Clune project was to have walls of vegetation sustained by its own recycling systems, etc, etc, all of twenty-five years before it even began to be discussed here in Australia.
If there is a call that we can make at this time I believe it is for the establishment of a W. E. Lucas Archive at the State or National Library to further the study of his work and to facilitate the drafting of some sort of advanced permanent conservation order status for those still-intact Bill (and Ruth) Lucas houses, such as their ever-exhilarating 80 The Bulwark, Castlecrag.
Bill Lucas was one of those really important Australian architects, whose renown will grow exponentially in coming generations.
Finally, I think Bill Lucas, and especially his architectural journey, can be best described in that old garment district oneliner, "forget the width, think of the quality!" 4  
1. Famously coined by Frederick Starr to describe his architect hero Konstantin Melnikov (1890-1974).
2. Amancio Williams (1913-1989) radical modern Argentine architect. Rafael Soriano (1970-) Greek modern architect active on the West Coast of the US. Michael Coote (died several years ago, Bill told me this year), AA Dipl, Rhodesian expatriate and architectural design lecturer at UNSW during the 1960s.
3. Statement made by Joern Utzon during a 1973 BBC television interview.
4. Of which the obverse is "forget the quality, think of the width".
A career in brief
Bill Lucas, born 31/12/1924, Sydney. 1943-46 RAAF Air Crew active service. 1946-50 School of Architecture, University of Sydney, awarded B.Arch(Hons), studies visual art at East Sydney Technical School. 1948 Works in New Zealand with Hugh Grierson Architects, and designs and builds first home at Gymea Bay, Sydney, with his brother Neville.
1948-51 Designs Gymea Bay Community Hall and Gymea Bay Baby Health Centre. 1950 Buys 3 adjoining house sites in Castlecrag. 1952-55 Designs and builds furniture with Lucas-Gee Associates, the Kearns House at Sylvania, and various other steel and timber houses. Designs factories. Develops systems for furniture manufacture. 1955-57 Design Group with Neville Gruzman, Ruth Harvey and Tony Moore. They lobby for an international competition and jury for the proposed Sydney Opera House. 1956 Marries colleague Ruth Harvey. Wins Forestry Commission Furniture Competition.
Designs and builds Mt Irvine Village Hall. 1956-60 Designs road haulage depots and offices for Kwikasair & Ipec.
1956-63 Works with Marion Best, interior designer and Carl Neilsen, industrial designer on Elizabeth Arden Salon and Moonbah Ski Lodge, Thredbo. 1957 Designs The Glass House, 80 The Bulwark, Castlecrag, with Ruth Lucas. 1960 Gyngell House,Woollahra, and Saltis House, Castlecrag. 1961 Works to reclaim the Marion Mahony/Walter Burley Griffin parkways and outdoor amphitheatre in Castlecrag. 1962 Designs Orange Tree Grove Cooperative Art Centre with Owen Tooth, Marion Best and Mary White. Moves to Underwood Street Paddington and helps to develop The Paddington Society and its objection to inner city slum clearance. 1960s With selected architects creates the inaugural UNSW architecture program and begins tutoring. 1965-75 Design tutor, co-ordinating students (UNSW, USyd, NSWIT) on projects for R. Buckminster Fuller's World Design Science Decade. As a result RBF visits Australia on several occasions. 1966 Designs and builds final house at Castlecrag. 1967 Clune House, Avalon. Designs medium density housing project, Orange Tree Grove, Paddington, on proposed arts centre site, and supervises construction.Works to develop proposals for Tranby Aboriginal Cooperative at Mission Beach Queensland. 1968 City Council plants Paddington street trees as proposed. Designs Blackheath Motor Inn. Designs a motel tower with perimeter indigenous plants each level (retaining the "Yellow House"), for the Clune Family. 1969 Integral role in establishing the Paddington Market Centre with Uniting Church. 1970 Arranges purchase of "Sea View Villa", Oxford St, Paddington, (built by Alfred Fairfax, 1841) where Ruth helps helps to establish Guriganya Progressive Community School. Designs and builds Bourke Aboriginal Housing with community. 1973 Works with students on the major Woolloomooloo redevelopment proposal. Designs and installs hygiene infrastructure at the Aquarius Festival in Nimbin. Codesigns Murawina – Kindergarten & Hostel for Aboriginal Mothers, Redfern. 1975 Begins documentary of Paddington's renewal and regrowth. Loses Underwood properties. 1978 Designs Sieverding House. 1979 Visits Bali on study tour for proposed Masters Degree, "The Greening Of Cities". Media Room for Reg Grundy, Bayview: a four-hour fire-rated prototype for rebuilding cities. 1981 Begins collaborations with Theatre Unlimited. 1983 Designs sets for One Extra Dance Company. 1985 3 month study trip working with the people of Erromango, Vanuatu. 1985-2001 Honorary technical advisor to many individuals and community groups here and Europe. 1990-2001 Occasional associate, Cracknell & Lonergan Architects (Tranby Aboriginal Coop). Recent studies and proposals testing evolving systems include: UTS Redevelopment, Broadway; Taylors Square Redevelopment; Reservoir and John Thomson Reserve, Paddington; Alexandra Canal; Green Square; Everleigh Workshops; MCA; Circular Quay; West Circular Quay; Circular Quay; UNSW Redevelopment; White City Redevelopment; Police Citizen's Youth Club, Paddington. 2001 Dies of a heart attack at Thredbo. Bill Lucas is survived by his ex-wife Ruth and six children.
Source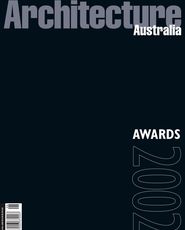 Archive
Published online: 1 Nov 2002
Words: Peter Myers

Issue
Architecture Australia, November 2002
Related topics