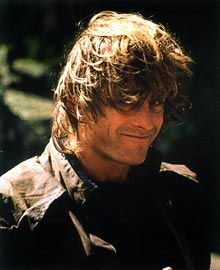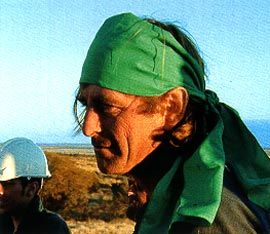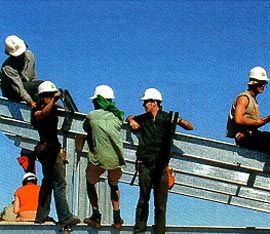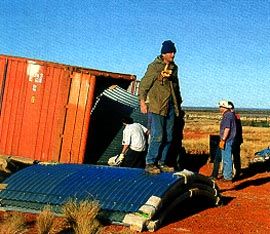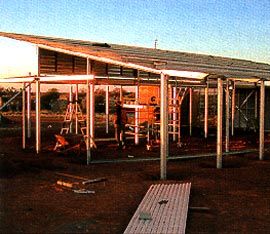 Nick Opie was an angry young man. Over the many years I worked with, travelled with, and was his itinerant friend, he managed not so much to lose the anger but to focus the energy into teaching, making some great sheds and developing an architectural practice.
Whether working for clients who would not normally use an architect, connecting future architects to the edges of the country, or delighting in the processes of design and building, Nick was comfortable on the margins of architecture where great change occurs.
Many of us loved him. Many of us I'm sure felt angry at the world on hearing of his death. I hope we can use his example to focus our energies into finishing the great work he started.
Paul Pholeros
Nick Opie was a remarkable architect and a passionate educator. In early July 2002, he travelled with four other teachers and twenty-two students to Patjarr, a remote Western Australian Aboriginal settlement 600 kilometres west of Uluru, to build a visitor and community arts centre. At Patjarr, Nick oversaw the first week of construction before suffering a stroke. He was airlifted to Adelaide, where he died on July 12.
Nick was committed to environmentally and socially responsible architecture. After graduating with a Bachelor of Architecture from the South Australian Institute of Technology in 1991, he worked on a range of teaching projects including the design and construction of teaching and research facilities for the University of South Australia at Kanmantoo, the Wheal Hughes Mine Visitor's Centre at Moonta, and the Patjarr Visitor's Centre. His consultancy work included collaborating on the Eco-tourism Guidelines for South Australia, the Stamford Court student housing project in Adelaide and numerous houses and extensions.
Nick began as a tutor at the University of South Australia's Louis Laybourne Smith School of Architecture and Design in 1993, and was appointed as a lecturer in 2000.
He was a coordinator of the school's workshop and site construction programs, and he continued to practice architecture through his private practice, Shed Architecture.
On receiving news of Nick's death, students working on the Patjarr project were given the option of returning to Adelaide, but instead they chose to stay and finish the work that Nick had begun. As a tribute, messages were written on his hard hat and buried on site at the completion of the building. These messages show just what an inspiration he was to so many:
"Nick, I'm so grateful for being taught by you in so many ways and also honoured to be a part of your dream and its success. You will be remembered by all." ›› "Thank you Nick for showing me how one's dedication can enrich so many people's lives." ›› "Nick Opie, teacher, friend and one hell of a great guy. You will be missed mate." ››
Edited from a tribute by Matt Rumbelow and Charlotte Knottenbelt published in the UniSA News, with further input from David Morris
I am extremely fortunate to have known Nick Opie as a lecturer and a friend.
Nick had a big impact on my development as a student of architecture, particularly as we worked closely together on the "Moonta project" for over two years. The Moonta project, as we called it, started out as a competition studio to produce a design for the Wheal Hughes Mine Visitor Centre at Moonta.
The design proposal of David Saunders and myself was selected by the client and this was the start of my steep learning curve on design, detailing and construction. The project reflected the ideas of Nick and fellow lecturer David Morris about total student involvement in all stages of the design and construction process, on the basis that if you "do", you understand. For the group and for me this provided invaluable experience and insight.
Nick was our wise leader; our trainer in the ways of the designer, detailer and builder.
Our affectionate name for him was Opie- Wan (Kenobi), the wise one.
Nick taught me a lot over the two years of intense extra-curricular activity. He would always challenge my solutions based on his practical approach to design and construction detailing. "How do you expect to build that?", he would ask, requiring me to come up with a workable alternative. He made me take responsibility for producing a design that could be built by students under his supervision. His guidance and leadership played a large part in the success of the Moonta project, which gained a commendation from the RAIA.
Nick was equally at home in the design studio, the workshop or on the building site, solving problems and resolving details. He was doing what he loved to do. His work gave him great satisfaction and he went about his business without fuss or nonsense.
His knowledge of design and construction was something that all those who worked with him would appreciate.
Nick could also play hard, staying up as late as the last student after a big day on site, but he would be up at the crack of dawn, knocking on cabin doors to ensure a prompt start to the days work.
I will remember Nick as a key player in the success of our year group at university.
He was always around and he was highly respected and an influential character. I owe so much to Nick for giving me those opportunities and experiences that have been invaluable to me in life and work.
Farewell Opie-Wan.
Tom Vinall