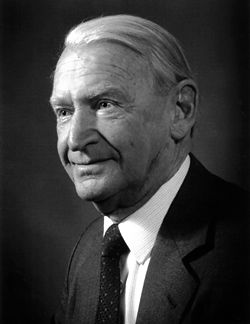 Timothy Horton remembers Colin Hassell, one of the founders of the national practice that now bears his name.
A well-known quirk of Australian architecture is that the commercial success of practices originating in Adelaide appears disproportionate to the scale of their home context. Chief among these is Hassell. The idea of a multidisciplined studio, incorporating architecture, interior design, landscape architecture and planning, was first devised in 1970 by Colin Hassell. His vision for a collaborative design workplace established the foundations for a practice that now incorporates 12 studios across Australasia.
Frank Colin Hassell was born in 1910 to English parents who migrated to South Australia and established the Hassell Press. As the youngest of three children, Colin was educated in Adelaide at Prince Alfred College, a connection he maintained throughout his life.
In 1928 Colin was articled to Hubert Cowell during his architectural studies, and in 1933 he graduated with both an Architectural Draughtsman's Certificate and a joint Fellowship Diploma in Architectural Engineering. Following graduation, Colin Hassell travelled to Europe on an Orient Line Scholarship to study and work in London, where he was exposed to the "fervour of Modernism", to the Bauhaus and to Dutch Modernism, which served as a key underpinning for his subsequent work.
On his return to Adelaide, Colin worked with Philip R. Claridge and Jack Hobbs McConnell on the Bank of New South Wales building, and in 1938 became a partner in Claridge, Hassell and McConnell. The Bank of NSW was a landmark for its time; described as inter-war stripped classical in style, it represented the first wave of the Modern movement in South Australia. With Claridge's retirement in 1949, the partnership became Hassell, McConnell and Partners. The collaboration with Jack McConnell was to last until 1970.
At the outbreak of WWII, Colin Hassell and Jack McConnell agreed to "toss a coin" to determine which of the partners would enlist for active service. Colin Hassell served in the Middle East and New Guinea and achieved the rank of major. Prior to leaving for war, he married Katherine Robertson in 1941, and after his return had three children: David, John and Mary. In 1950, Colin was widowed with the death of Katherine. He continued to maintain his role as a senior partner in the practice and provide care for his children. In 1961 he married Marjorie Johnson.
In 1962, John Morphett joined the practice and further reinforced the cultural legacy of the Bauhaus that viewed collaboration as a powerful design methodology. Colin was committed to further broadening the structure of the practice, recognizing the skills of others that allowed an expansion interstate. The pursuit of this vision ultimately catalysed a change in the partnership with McConnell, and in 1970 the practice was incorporated as Hassell and Partners. Colin's commitment to achieving a sustainable model for collaboration between the design professions is still pre-eminent in the modern ethos of Hassell today.
Across 45 years of practice, Colin's roles included that of a Senior Principal and Managing Director, and as Chairman of Directors until 1983. Throughout his career, Colin actively contributed to the development of the profession, including the establishment of the South Australian Practicing Architects Association in 1963 (now the Association of Consulting Architects), and served on the South Australian Chapter Council of the RAIA. Colin was active in promoting dialogue with the construction industry through the development of a liaison group with the MBA that continues today. In 1972 he was made a Life Fellow of the RAIA. He was a Fellow of the Planning Institute of Australia and Associate of the Royal Institute of British Architects (RIBA). In 1982 Colin Hassell was made an Officer of the Order of Australia (AO) for services to architecture.
Although a natural and confident leader, Colin Hassell liked to work in the background and avoid personal acclaim. His strict code of ethics demanded integrity, honesty and fairness, consistent with the ethos of the postwar period. This extended to congratulating competitors when their success was at his expense, and an insistence that a client's budget was a strict, not a notional, element of the brief.
Colin Hassell is survived by his wife Marjorie, children David, John and Mary, and a multitude of grandchildren and great-grandchildren. Colin is also remembered in each of the 12 Hassell studios across Australasia. As an architect he is remembered for his contribution to the development of the profession in South Australia, and for the foresight of his vision for a collaborative and inclusive workplace.

Timothy Horton is an associate with Hassell and gratefully acknowledges the work of Dr Christine Garnaut and the recollections of David Hassell and Keith Neighbour AM.