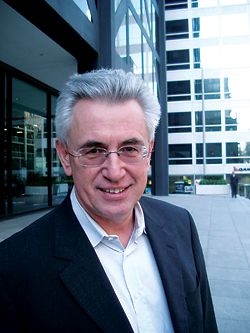 Roger Fay and Ceridwen Owen remember David Oppenheim, a generous and principled pioneer of sustainable architecture.
David Oppenheim, known to his many friends and colleagues as Oppy, died at the age of 59 after a short fight with cancer.
David was educated at Melbourne Grammar School and studied architecture at the University of Melbourne at a time when architectural sciences were strong and students and practitioners imagined that through practice they might make a positive contribution to human wellbeing. After graduation David worked in Melbourne, first at Yuncken Freeman Architects and then at Whitford and Peck Architects, both highly regarded practices in which architecture mattered, though in different ways. However, even at that early stage of his career, David had a vision of the sort of work that he wanted to do – solar architecture, what we now know as sustainable architecture. True to that vision, he made his way to probably the leading international solar practice, Solar Energy Developments in the UK, where he worked from 1977 to 1979. During this era he wrote a book, Small Solar Buildings in Cool Northern Climates, published by Architectural Press in 1981. From that time on, David wrote scores of scholarly papers, professional reports and articles.
Professionally, David is best known as the director of two architectural practices, between 1980 and 2007, first Taylor Oppenheim Architects and then Sustainable Built Environments (SBE). While in practice, David maintained continuous active involvement in many professional societies that sought to advance built environment sustainability. He was a member of many committees, including the RAIA, the Australian and New Zealand Solar Energy Society, the International Energy Agency and the Olympic Co-ordination Authority Expert Advisory Panel, to name but a few. He was a member, from their inception, of the RAIA's National Environment Committee and the Environment Design Guide Planning and Development Committee. David also lectured at many universities but especially at Deakin University, where for more than ten years he coordinated and taught design and building science units.
These are the colourless facts. However, no commentary on David Oppenheim's contribution to public life can be undertaken without attempting to understand how the many strands of his life were mutually reinforcing. Professionally, he was a distinguished Australian architect who was respected and awarded, nationally and internationally. He was a sustainability pioneer with strong roots in architectural science and quantitative assessment. He was also deeply spiritual and reflective, not only in his work as a designer but also in his relations to family and friends. With this spirituality came a deep sense of ethics that was evident in his personal and professional life.
David was a very public figure who knew everyone, and everyone knew him. He was an entertaining presenter, whether to laypeople or to other experts at international conferences. In one memorable public lecture, David dressed in a suit he made of foil insulation to demonstrate graphically and unforgettably the mechanisms of heat transfer. On the other hand, he was a ruthless chair of conference sessions, cutting short those who exceeded their time allocation to maintain equity to other presenters. In his role as director of SBE, David's executive position required him to be tough at times. However, he also saw SBE as a "potting mix from which innovative and sustainable thinking can grow" and for this to happen the practice had to operate within a relatively non-hierarchical structure to provide a truly collegial workplace for the multidisciplinary team to work at its best.
While his professional activities were important, they were not the most significant aspects of his busy life. Always close to his family, with love and gentleness David took on the role of sole parent to their three young sons Jono, James and Tom when his first wife Mary died in 1996. At this time, David was working in his practice Taylor Oppenheim Architects, while travelling to and from Deakin University's Geelong campus to teach. These were trying times, but later, when David remarried, his life with Perri and their blended family was a source of great joy to him.
David enjoyed the good things of life. He had a large circle of close friends, many of whom were as passionate as he was about food and wine. He loved to draw and paint. Above all, he loved his family deeply and with unabashed sentimentality. From childhood to adulthood, his three sons were always referred to as "darling", privately and publicly. He was always unembarrassed about expressing his feelings for his family or his friends – he loved openly and generously.
David Oppenheim was a warm, generous and loving husband, father, friend and colleague. His sense of what was right permeated his thoughts and actions. While no saint, more than most of us he acted on deeply held beliefs and principles that guided him in his personal and professional lives. They were, in the end, one and the same. At a time of climate change, environmental and social degradation and professional inaction, David Oppenheim will be missed. For those who loved him, the loss will be even greater.

Professor Roger Fay and Dr Ceridwen Owen were friends and colleagues of David Oppenheim.
Related topics