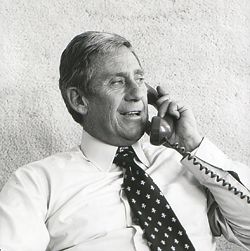 A "jewel in the crown" of Australian architecture. Don Bailey remembers Gres Cohen, LFRAIA, Hon. FAIA and RAIA National President 1977–1978.
Gres was the son of Eustace Gresley Cohen, a well-known and respected pre-WW2 architect who, postwar, founded with John Fitzhardinge one of the leading firms of Perth architects, Forbes and Fitzhardinge. Gres was a prefect and graduate of Hale School, Perth, highly acclaimed for academic excellence and for its sporting prowess. He was one of the "jewels in Hale's crown", being a cricket and football hero of the time, later becoming a single-digit handicap golfer (at Royal Perth), a respected tennis player (at the Dalkeith Tennis Club) and a yachtsman, dedicated to the Royal Perth Yacht Club. And having inherited, as many fellow sportsmen would concur, "a good feel for the play of the ball!", he was also a club champion billiard player, particularly at his downtown recreational venue, the Weld Club.
In 1943–1944 he served in the Royal Australian Navy and following the war became one of the early students of the first School of Architecture in Perth. Having joined the firm of Forbes and Fitzhardinge in 1950, in 1952 he won the EG Cohen Medal, an award established by the RAIA WA Chapter in honour of his father, for outstanding final year studentship. Gres became a partner of the firm in 1959 and was responsible for commissions for many of the first postwar multi-storey commercial office buildings in Perth – the ANZ Bank, the T&G Building, AMP and Westpac in the CBD. He retired from F&F in 1985, taking on consultancy work thereafter.
Along the way, Gres's natural leadership qualities were recognized by his peers and this encouraged him to serve his professional body, the RAIA. To his credit he managed to cope with the demands of his firm's practice and yet still find the energy and commitment to juggle successfully the various calls upon his time, both nationally and internationally. He served as National Councillor from 1971 to 1979, and as President in 1977–1978. In these roles he was able to exert considerable influence for the better in national and international architectural professional affairs. One of these projects was the putting together of a team of architects to produce and promulgate a "first-ever" guide specification for Australia-wide application. He became deeply involved with the Master Builders Federation of Australia (MBFA) and the Building Owners and Managers Association (BOMA) in the development of commonly acceptable head contracts and subcontracts for subsequent use by the Australian building and development industry.
In 1978 he instigated a Building Industry Task Force (BITF) comprising organizations representative of the industry – including owners and developers, builders, professional bodies and unions – bringing all parties together regularly in an endeavour to redress the economically adverse effects of the then significant disruption in the area of industrial relations. This actively built upon the Boyer Lectures of the then ACTU President Bob Hawke, which had made a plea for "resolution of conflict" through consensus. The BITF had the full support of Bob Hawke when he became prime minister, advocating a "wages accord" that became a major plank of government economic policy.
And at the regional level, Gres Cohen accepted numerous responsibilities on behalf of the architectural profession. For example, he was a member of the inaugural Bonus Plot Ratio Committee of the Perth City Council, whereby developers providing public open spaces and arcades and preserving/restoring heritage buildings could obtain certain plot ratio bonuses in exchange. For these services he was awarded the Helen Dance Medal for Civic Improvement from the City of Perth.
As a component of his numerous extracurricular activities, in 1981 Gres was an active member of the Employee Relations Committee of the WA Chamber of Commerce, becoming that body's chairman in 1982.
On a personal note, those who associated with Gres Cohen over time in business and recreational pursuits came to know and respect him as a man who was indeed "larger than life" – who was always courteous, with a ready and endearing smile. Everyone privileged to know him was always at ease and reassured in his company.
The architectural profession has lost one of the jewels in its crown with his passing from life.

Don Bailey was CEO of the RAIA from 1974 to 1991. He was a friend and colleague of Gres Cohen.
Source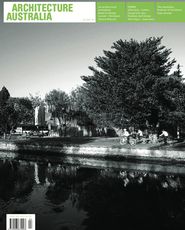 Archive
Published online: 1 Jul 2008
Words: Don Bailey

Issue
Architecture Australia, July 2008
Related topics